Lenovo Yoga Tablet 10 HD+ hands-on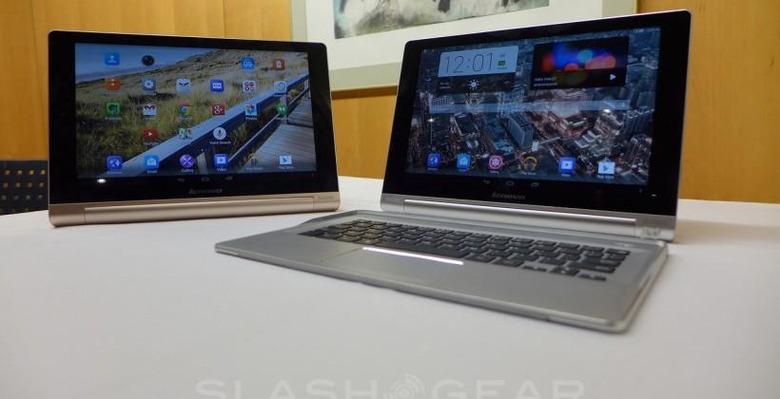 This week the folks at Lenovo have revealed the Yoga Tablet 10 HD+, and today we're getting out first hands-on experience with the machine. This device is easily the finest tablet the company has put forth thus far with Android aboard, rolling with a three-mode delivery with a 10.1-inch "20/20 Vision" Full HD (that's 1080p) display to boot. This device also rolls with a Qualcomm Snapdragon 400 processor under the hood.
This device's display is quite nice – coming up with 1920 x 1020 pixels up front, you'll have automatic adjustments to your lighting conditions on the go. Thus far we've seen the tablet turning dim or bright based on the very tiny lighting variations we've got here in the test room with Lenovo in Barcelona at Mobile World Congress 2014 – rather impressive from the start.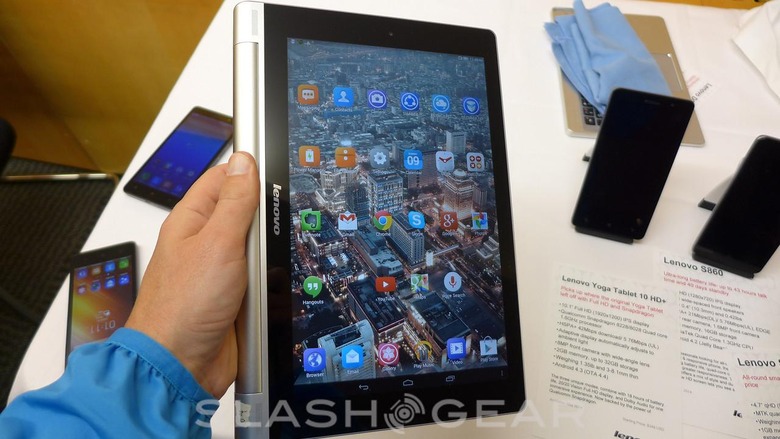 This machine is made to be a stand-alone tablet as well as a do-everything slate. With an 8-megapixel camera at its back, you can use this as a go-anywhere shooter, but you can also kick out this machine's kickstand to hold, tilt, or stand it up like the previously-released Lenovo Yoga Pad 8 and 10. As we've seen with the previously-released 10, this makes the tablet an entirely travel-friendly device for long trips as well as normal everyday usage.
This machine takes what the original Lenovo Yoga Tablet 10 was and makes it a whole lot better, kicking out a much better display resolution whilst keeping the original's long-lasting battery. While we'll have to review this new device at length to get the full story, for now we've got Lenovo's promise that it'll last 18 hours a charge.
We're also excited about the new Smart Cover for this tablet, starting in on the original from the first Yoga Tablet 10 but here coming with a more premium look and feel. This cover fits over the tablet's display for transport, if you wish, and has a Bluetooth-connected keyboard. You'll also be able to charge this keyboard cover up with a basic microUSB cord.
This device is also outfitted with a number of software features that'll connect it with the devices around it. These apps include SHAREit, SECUREit, SYNCit, SNAPit Camera, and SEEit Gallery.
With SHAREit, users will be able to send media between devices with a local wi-fi network with extreme ease. With SECUREit, you'll have an app that's all about data protection, preventing threats and keeping the tablet run at optimum performance.
With SYNCit, we've seen this device back up and restore contacts, SMS messages, and call logs for transfer to another device. This is especially helpful if you're switching from an old tablet to the new Lenovo tablet with ease.
With SNAPit Camera, users are able to roll out with photo effects that work with live preview. SNAPit Camera Gallery also works with facial recognition and a number of skin-tone enhancements and "face lift" features that work instantly.
We'll be seeing a full review of the Lenovo Yoga Tablet 10 HD+ some time between here and April, while this machine will be available to the world starting in April with a friendly $349 USD price tag.