Lenovo YOGA Tab 3 PRO hands-on with projector action
This week Lenovo has brought about a new set of YOGA tablets, the most powerful of which works with its own projector up front. While previous projectors on Lenovo YOGA tablets had their light projecting down the side of their heads, the PRO model YOGA Tab 3 shines forward. Lenovo YOGA tablets work with a bit of a ramp up their back leading to a tube-like head unit from whens a kickstand also folds out – this is where the projector sits for the PRO.
The Lenovo YOGA Tab 3 comes in three versions – or six if you count the LTE versions of each size. A 10-inch Lenovo YOGA Tab 3, a 10-inch Lenovo YOGA Tab 3 Pro, and an 8-inch Lenovo YOGA Tab 3 are being shown by Lenovo this week, each with a very similar look to the next. It's the Pro that stands apart.
The Yoga Tab 3 10 and 8-inch tablets both have Dolby Atmos 3D Surround Sound as well as Qualcomm quad-xor processors and 1GB of RAM. Both are running Android 5.1 Lollipop right out of the box and have microSD card slots which support 128GB of additional storage space.
The 8-inch device has a 8-inch HD 800 x 1200 IPS display, while the 10-inch device has a 1280 x 800 IPS display.
Both devices also work with their own 8-megapixel camera which rotates in the head of the device, front to back and back again. While the larger device has a quoted 18-hours of battery life, the smaller has 20.
Both devices work with Lenovo's AnyPen technology – meaning you'll be able to use any instrument you like to write on their touchscreen displays.
Both devices have LTE versions and Wi-Fi versions. The 8-inch will cost $169 USD for the WiFi version, and $199 USD for the LTE version. The 10-inch version will cost you $199 USD for the WiFi model, and $249 USD for the LTE model.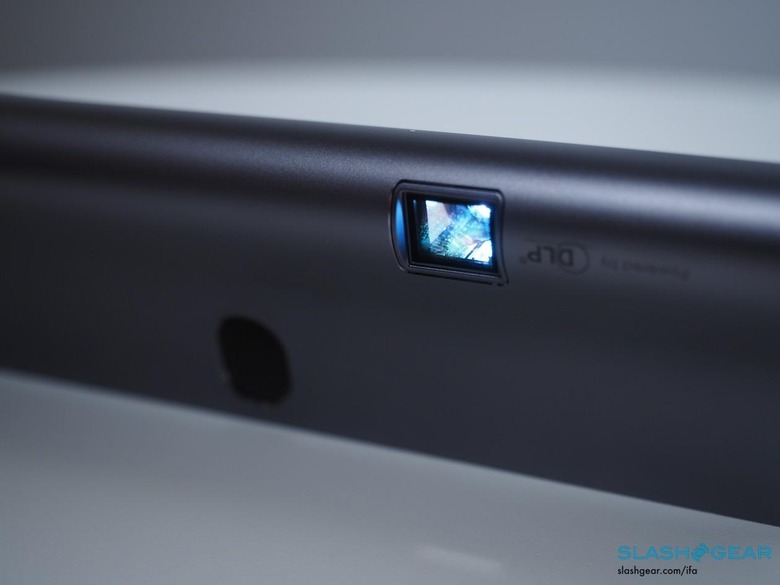 The YOGA Tab 3 PRO works with a 10-inch display with 2560 x 1600 resolution – far exceeding either of the lesser tablets. This device has a powerful Intel Atom x5-Z8500 processor as well.
Instead of a rotating camera on the Pro, there's a 13-megapixel camera at its back and a 5-megapixel camera up front. Inside you'll find Android 5.1 Lollipop and Dolby Atmos 3D surround sound and a 10,200mAh battery, as well as four (for some reason or another) front-facing speakers.
Crowning this device is a Pico Projector capable of projecting an image 70-inches large, with both digital focus and gesture control.
This Pro tablet will cost users $499 for a Wi-Fi version, while an LTE version will cost $599 USD. Release times and potential carriers are unknown at this time.