Lenovo Yoga Book hands-on: 2-in-1 ultraportable blends Wacom and TRON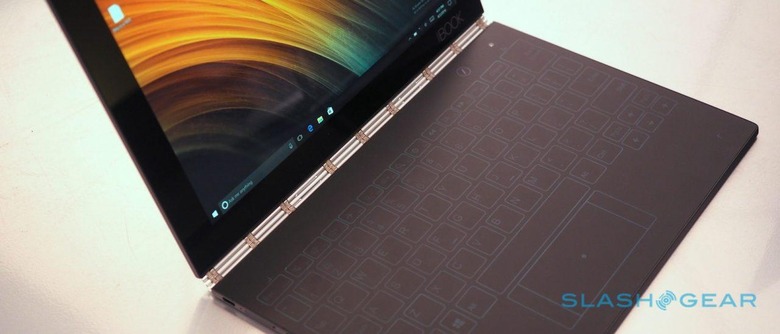 You may think you know what a 2-in-1 laptop is, but the Lenovo Yoga Book might surprise you. Targeting what Lenovo describes as the "Touch Generation" – digital natives who have grown up with touchscreens – the hardback-sized computer packs not only a choice of Android 6.0.1 Marshmallow or Windows 10, but a full Wacom digital pen for art and note-taking.
Like Lenovo's existing Yoga notebooks, the Yoga Book has a watchband hinge for 360-degree rotation. In this case, it's obviously smaller than before, with a total of 130 different pieces rotating along three axis.
It's certainly compact. The magnesium and aluminum alloy casing measures 10.1 x 6.72 x 0.38 inches and weighs 1.52 pounds.
Powered off, the lower half of the Yoga Book is almost entirely unmarked. Turn it on, though, and what Lenovo calls the "Halo Keyboard" lights up: a TRON-esque outline of a QWERTY layout.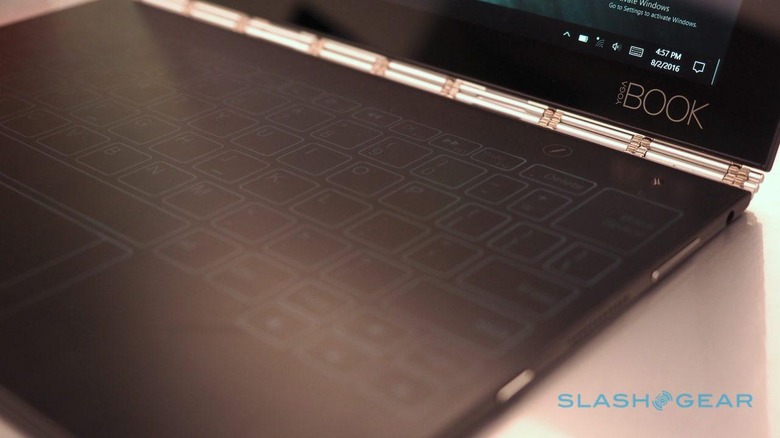 I confess, I was suspicious of just how usable the Yoga Book's absolutely flat keyboard would be. Obviously you sacrifice key-feel in return for that zero-profile design, though the buzz of the haptics does give a little more reaction than hammering your fingers against a tabletop.
I was able to fire off a few paragraphs with no great difficulty or inaccuracy – the Android version has autocorrect and predictive text, which the Windows 10 version does not – but while it should do fine for lecture notes I can't imagine you'd want to use the Yoga Book to write a novel.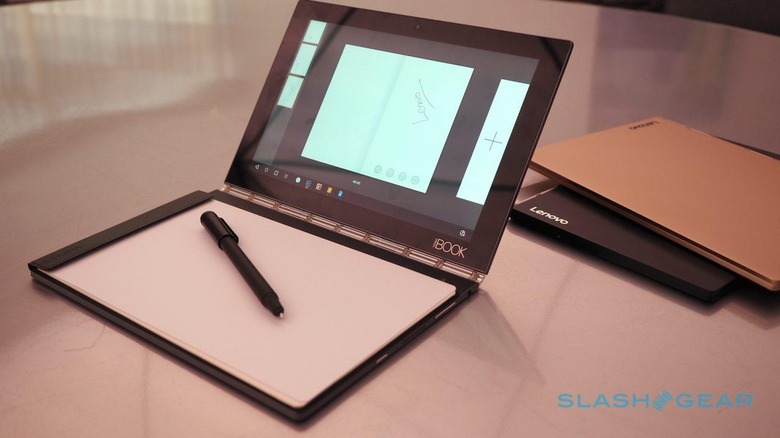 Not unless, that is, you want to hand-write it. The trade-off of key feel is that Lenovo has built a Wacom digitizer into the Yoga Book: press a pen button and the whole surface works with a battery-free digital pen. Lenovo calls it the "Real Pen" and it supports 2,048 levels of pressure and 100-degree angle detection.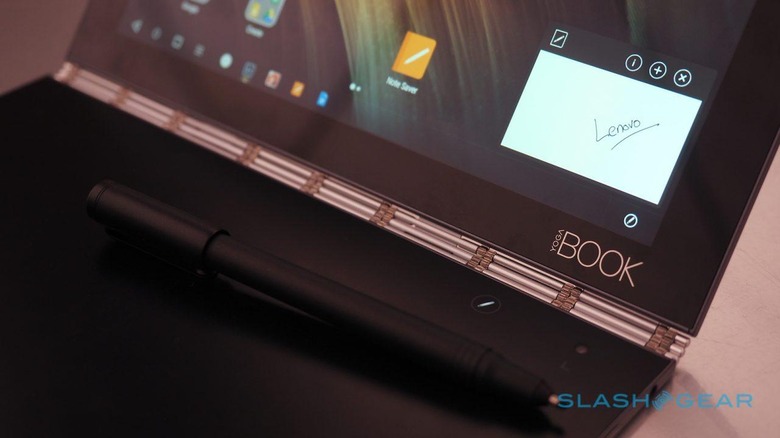 The idea, Lenovo tells me, is that artists can use the Yoga Book as a portable sketching and image editing tool. Early feedback from students has also been positive, with some who are currently using iPads or other tablets to take notes in class wanting something quicker and less greedy about display real-estate than an on-screen keyboard.
However, Lenovo also bundles a Book Pad, a sheaf of regular paper which magnetically clings to the digitizer surface and – by switching nibs on the Real Pen – captures digital versions of anything you draw or write on the pad.
On the Android Yoga Book, sketches are stored in Lenovo's own Note Saver app. While it's designed to be used with the screen on, if you've folded the Yoga Book around and are holding it like a tablet, you can take handwritten notes even with the screen off, but still have them digitized. Double-tapping the pen button switches to a new digital page.
The Yoga Book with Windows, meanwhile, doesn't get Note Saver, but relies on Microsoft's own OneNote to do the same thing.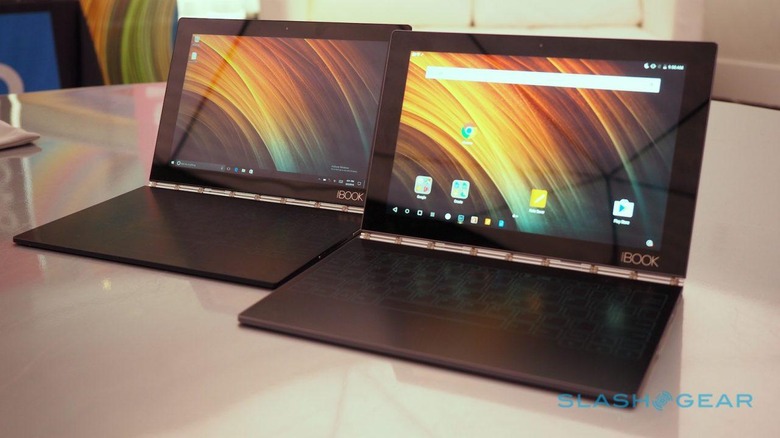 Whether you choose Android or Windows 10, both use a 2.4 GHz Intel Atom x5-Z8550 quadcore processor, with 4GB of LPDDR3 memory and 64GB of storage. There's a microSD slot for up to 128GB cards, along with WiFi 802.11 a/b/g/n/ac (2.4/5 GHz).
An 8-megapixel camera on the rear supports autofocus, while the 2-megapixel front camera above the touchscreen is fixed-focus. The display is a 10.1-inch 1920 x 1200 IPS panel, with 400 nits brightness, 70-percent color gamut, and capacitive touch.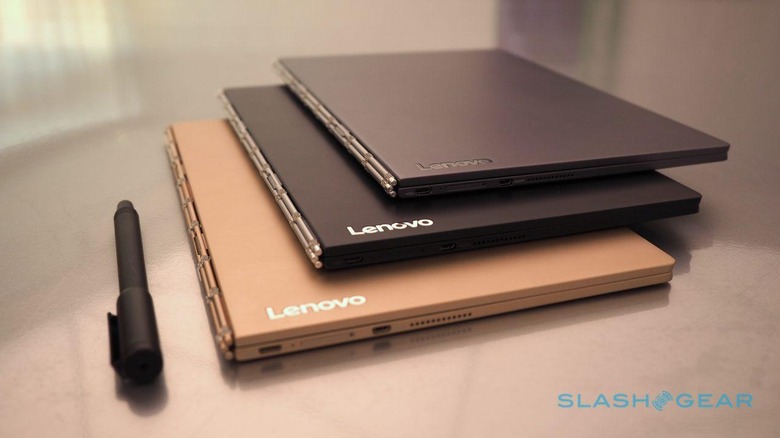 Sensors are more akin to what you'd find in a smartphone than a notebook, with the Yoga Book packing an accelerometer, G-sensor, digital compass, ambient light, hall sensor, and GPS. Lenovo will make a model with integrated LTE, too, though it's not quite decided whether that will make it to the US.
Both get an 8,500 mAh li-ion polymer battery, though runtimes vary depending on OS. The Android Yoga Book should last for up to 15 hours of general use, Lenovo says, while the Windows version does 13 hours; both can stay in standby for more than 70 days on a full charge.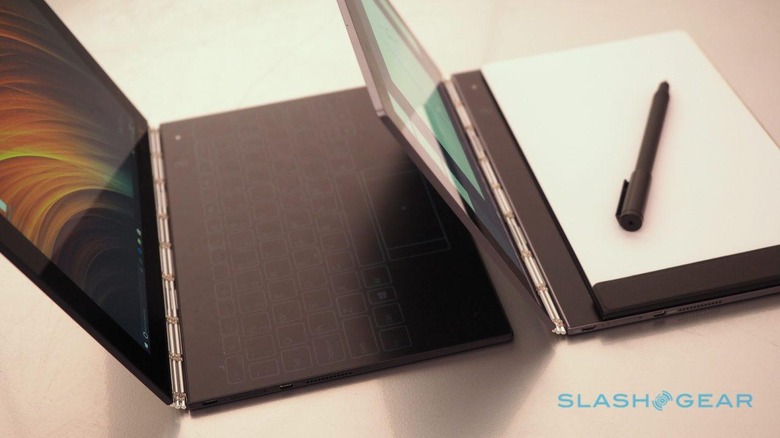 Both the Android and the Windows 10 versions of the Yoga Book will go on sale in October. Lenovo tells me it plans to update to Android 7.0 Nougat, something which will probably happen this fall.
The Android Yoga Book will be $499 and offered in gunmetal grey or champagne gold, while the Yoga Book with Windows will be $549 and available in carbon black.