Lenovo YOGA 910 Review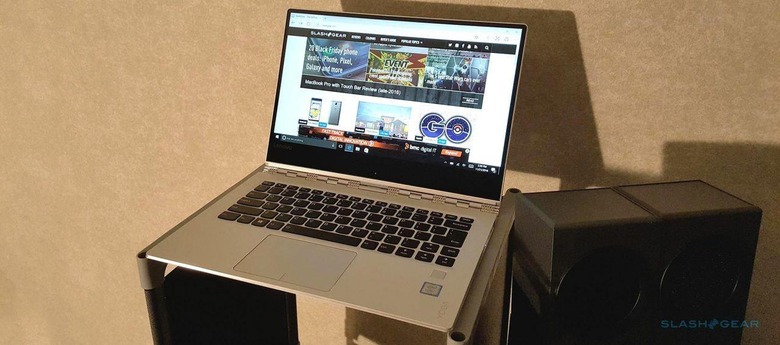 Lenovo has an update to its previously launched (and quite gorgeous) YOGA 900, and it is called the YOGA 910. This new model is no less beautiful than its 900 counterpart, bringing with it all the luxurious underpinnings and elements of the 900 with some notable updates, including a fully CNC-machined aluminum body and a 7th-gen Intel processor. Is the 910 worth the extra cost over the older 900? Read on to find out.
Hardware
The YOGA 910 is, first and foremost, a beautiful creation. The watchband hinge found on the previous model (and some other YOGA offerings) is included with the YOGA 910, as well as an all-aluminum body that, while slightly heavier than the previous version, takes the premium feel to a new level. The lid meets the base with a great deal of precision, and the watchband complements that with its slender, almost diminutive appearance.
The watchband hinge is the perfect choice for a convertible laptop like the 910, enabling the display to be positioned at any angle from barely opened all the way back into full tablet mode. The display stays put wherever you position it; the hinge doesn't have any wobble or any give, and it opens smoothly.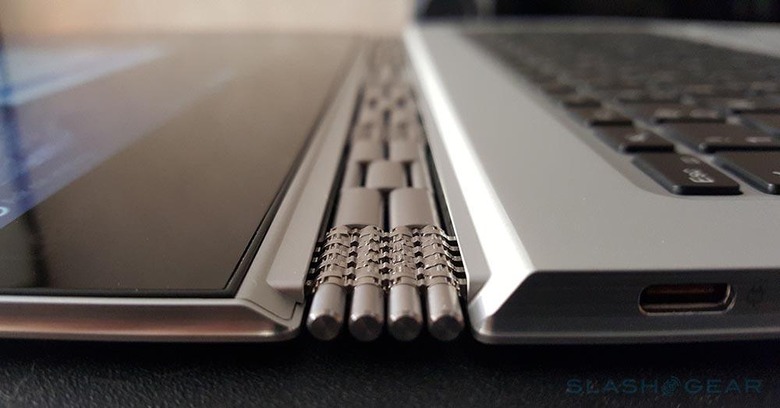 The hinge aside, the aluminum on the lid, base and palm rest have a satin finish that's pleasant to the touch, lending a nearly white appearance that isn't prone to glares or smudges. The laptop's edges, though, have a brushed high-shine look, adding an element of contrast without deviating from the all-aluminum construction.

The left edge is unspoiled, featuring only two small USB-C ports, one for charging (USB 2.0) and the other for video-out (USB 3.0). The right edge features the power button, a 3.5mm headphone/microphone combo jack, and a USB 3.0 Type-A port. Joining these is a 720p webcam nestled below the display (when in regular laptop orientation), and a square silver fingerprint reader beneath the keyboard.

The display is shrouded by very slim bezels save for the bottom edge (in laptop orientation), which features an atypically large — though in no way bothersome — black base. Two display resolutions are available with the YOGA 910, both of them with the 13.9-inch touchscreen offering: 3840 x 2160 UHD and 1920 x 1080 FHD.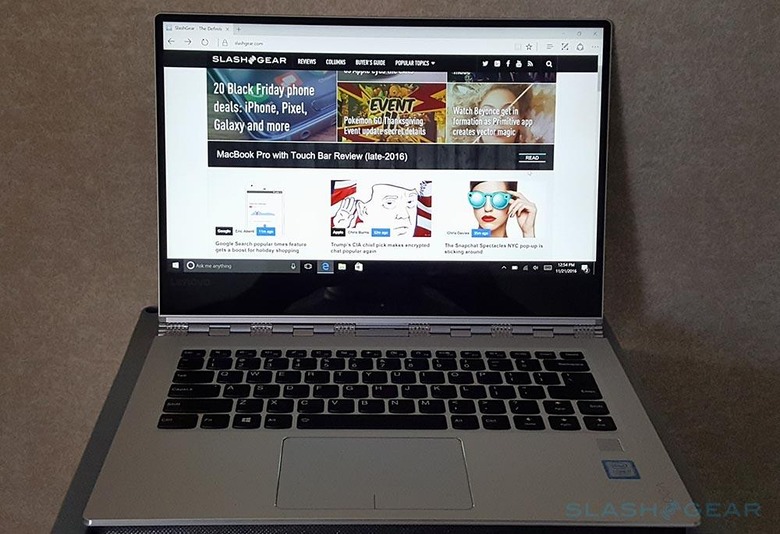 Our review model features the FHD resolution, so I can't speak for the Ultra HD version's quality. However, the 1920 x 1080 display is great itself, featuring both saturated (but not inaccurate) colors and a crisp look that doesn't tread into over-sharpened territory.
The YOGA 910's keyboard and trackpad are arguably its two best features, at least in terms of everyday use. The low-profile keyboard is generously sized with keys that feel very pleasant while typing: they have a somewhat high level of resistance that doesn't translate into stiffness.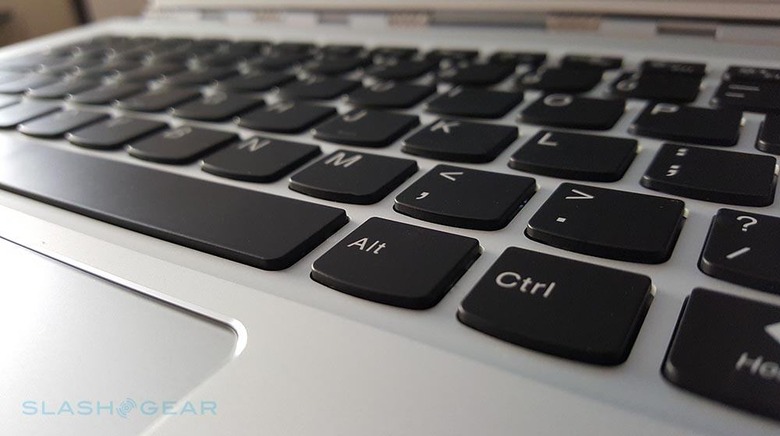 The trackpad also stands out as above average, not only responding well to touch but also being very easy to press. Unlike some past Lenovo models, I've not had any issues clicking or selecting items using the trackpad — it is very snappy with a low degree of travel and a sharp click when pressed.
Finally, the YOGA 910 features four small rubber feet on the bottom, as well as a pair of speaker grilles drilled into the underside of the front edge. You won't notice the speaker grilles unless you're looking for them — they're both relatively small and completely smooth with the underside of the laptop, being nearly imperceptible to the touch.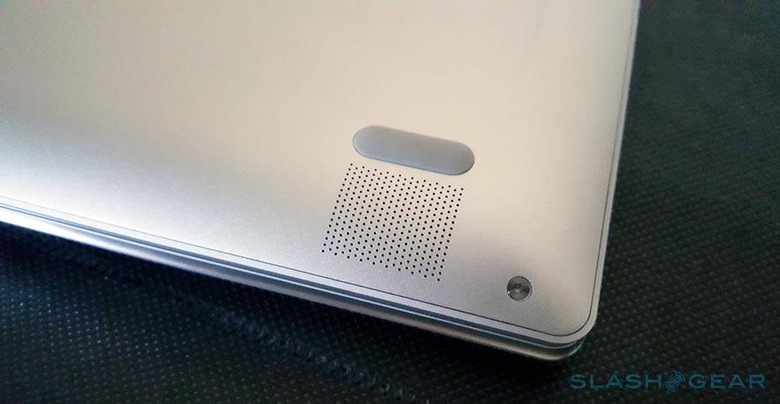 Lenovo paid particular attention to the laptop's audio; it features two JBL stereo speakers alongside Dolby Audio Premium. The speakers' position on the rounded portion of the bottom edge means sound travels freely from the laptop to the user when in laptop configuration on a flat surface. Though it does become somewhat muffled in tablet orientation, the sound isn't entirely sandwiched between the lid and base due to the bottom edge's rounded design.
One of the notable upgrades over the YOGA 900 is the newest model's inclusion of Intel's latest Kaby Lake processors. Buyers can get the YOGA 910 is various configurations that include up to a seventh-generation Intel Core i7 processor, as well as Intel HD graphics 620 and up to 16GB of DDR4 2133MHz memory. Storage, meanwhile, is available with up to a 1TB PCIe SSD.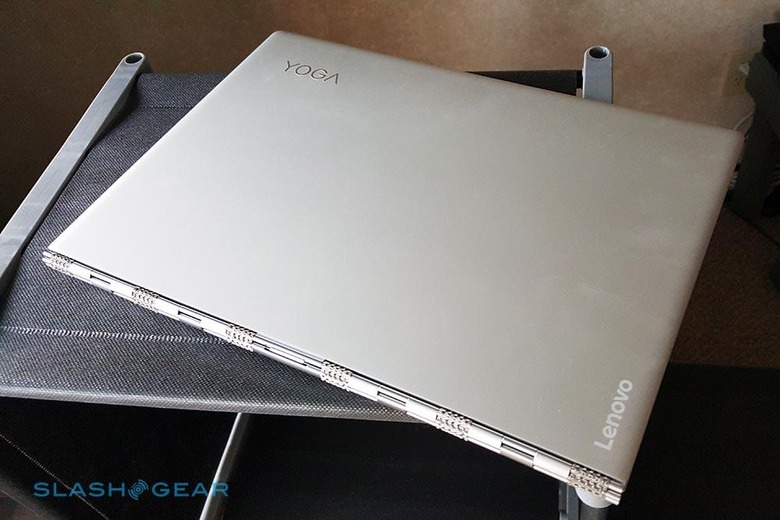 TECH SPECSProcessor: Up to Intel® Core™ i7 processorOS: Up to Windows 10 HomeGraphics: Intel® HD graphics 620Webcam / Microphone: 720p with dual array microphoneMemory: Up to 16 GB DDR4 2133 MHzStorage: Up to 1 TB PCIe SSDAudio: 2 x JBL®stereo speakers with Dolby Audio™ PremiumBattery: Up to 9 hours with local video playbackDisplay:

- 13.9" FHD IPS Multi-touch (1920x1080) with integrated camera

- 13.9" UHD IPS Multi-touch (3840x2160) with integrated camera

Material: AluminumDimensions (inches): 12.72 x 8.84 x 0.56Weight: Starting at 3.04lbsBacklight keyboard: YesFingerprint security: YesConnectivity:

- WiFi 802.11 ac

- Bluetooth® 4.1

Ports:

- USB 3.0 Type-C with video-out

- USB 2.0 Type-C with charging

- USB 3.0 with always-on charging

- Audio combo jack
Software & Performance
The YOGA 910 only features two included bits of software: Lenovo OneKey Recovery and Lenovo Utility. The laptop runs Windows 10 Home 64, and so obviously you'll also have access to Cortana and the other latest Windows features.
Lenovo rates the YOGA 910's battery life at up to 9 hours, depending on usage. This isn't the longest run time Lenovo offers by any means, but is pretty great for an ultrabook of the caliber. Assuming you're not doing something that'll drain the battery rapidly (mining Bitcoins, perhaps), you shouldn't have much issue reaching that 9-hour mark.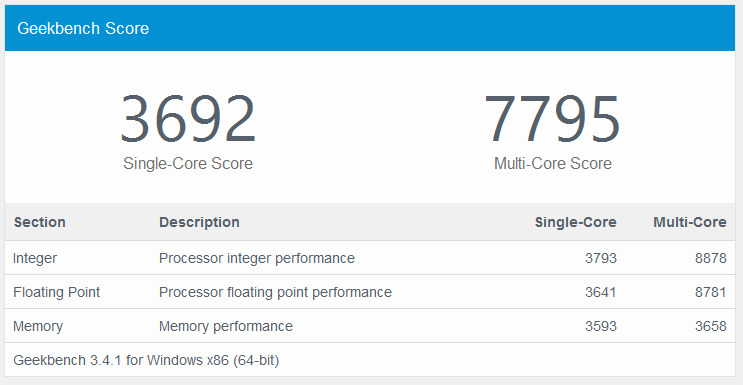 Performance, meanwhile, is excellent in terms of both practical usage and benchmarks. Our review model features the 7th-gen Intel Core i7- 7500U 2.70-2.90GHz processor, and its Geekbench score reflects that. You can compare the results to the previous model in our YOGA 900 review from earlier this year.
After using the YOGA 910 for a while, my complaints are very few and very minor. The webcam's position at the bottom of the display is a bit awkward. Imagine taking a selfie by holding your phone near your chest pointed upward — it's not the most flattering angle, and so you're going to have to rotate the screen backwards for a more traditional angle — which means losing access to the keyboard for typing in chat at the same time.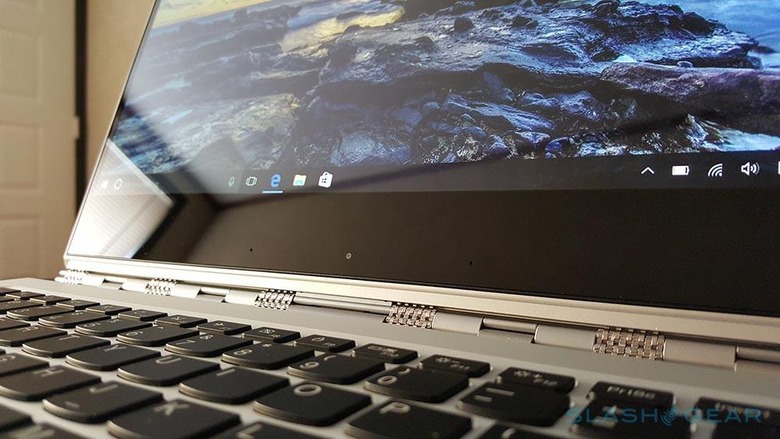 The only other issue I encountered was the right-side Shift key, which is a small square rather than a large rectangle (the left-side Shift key is a rectangle). This means the average typist is going to hit the "Up" arrow key when moving for the right Shift key until they adjust their muscle memory. If you're someone who does a considerable amount of typing, this small design choice could be a huge annoyance for the first couple weeks.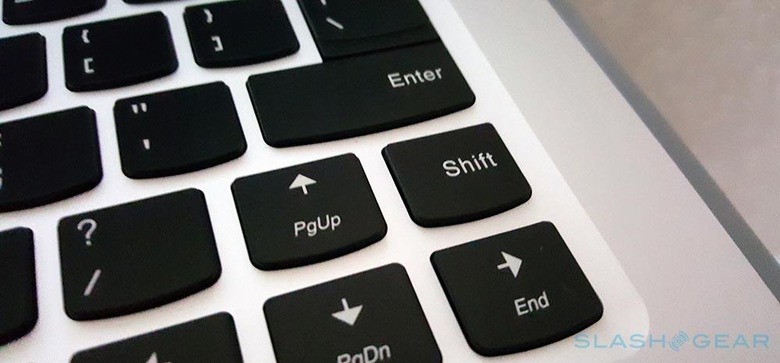 It should be pointed out that the YOGA 910 does not feature an SD card slot, as is increasingly becoming a trend. You'll need to use a USB-to-SD adapter. While this may not be a big deal to some users, it does make the laptop a few ticks less attractive for photographers and others who frequently deal with these media cards.
Wrap-up
The Lenovo YOGA 910 stands out amongst the crowd. It is an eye-catcher in every sense of the word, boasting an all-aluminum unibody, the attractive watchband hinge, slim bezels, and a satin finish. Things only get better from there, with an excellent display and the option of a 4K resolution, both USB-C and USB-A ports, and the latest Intel processors.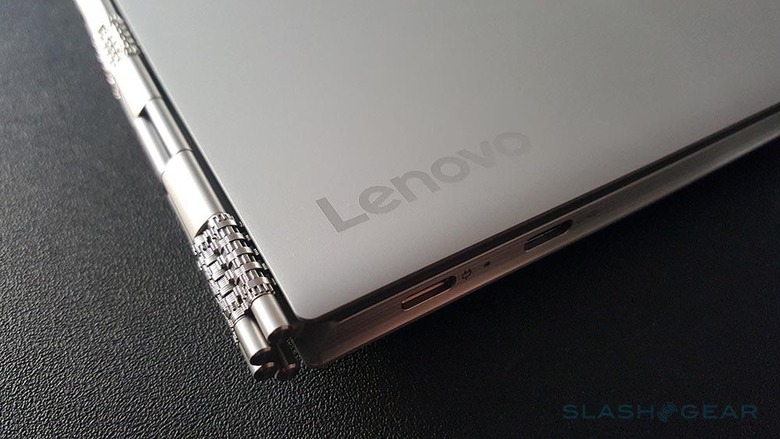 Even a machine as great as the YOGA 910 is not without its foibles, though, which largely center around the bottom-positioned webcam, the decision to use a small right Shift key rather than smaller arrow keys, and the lack of an SD card slot. If none of those things bother you, the YOGA 910 would make an excellent primary laptop. Price starts at $1,049.99 USD on Lenovo's website.