Lenovo YOGA 900 Review -- A Unique Twist On Luxury Laptops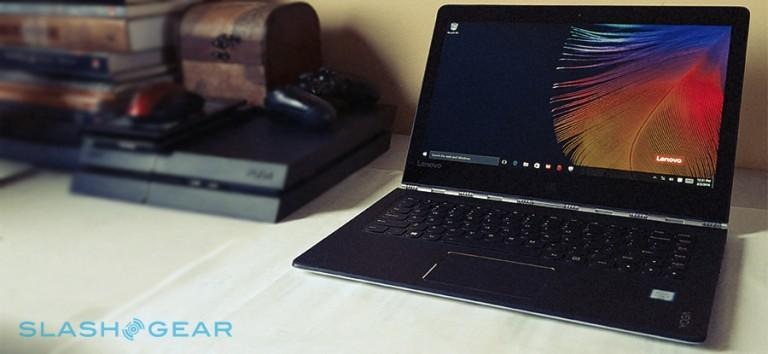 When you mention Lenovo, most people think of its black, durable, no-nonsense ThinkPad laptops. That's only a small slice of Lenovo's product lineup, though, and counted among its more ambitious consumer products are the YOGA tablets and laptops. Standing chief among the YOGA products is the YOGA 900, a stylish and powerful laptop with Lenovo's eye-catching watchband hinge.
Hardware
The Lenovo YOGA 900 is one of the more beautiful YOGA products, and while it brings with it the best elements from the lineup (that is, the flexibility), it offers quite a bit more. The design is at the same time simple but elegant, featuring a metal exterior shell hiding a soft, somewhat leather-like material on the interior wrist rests. The lid features both "Lenovo" and "YOGA" branding, with the "Lenovo" logo very subtly placed and the "YOGA" logo very prominently positioned in shiny chrome near the top.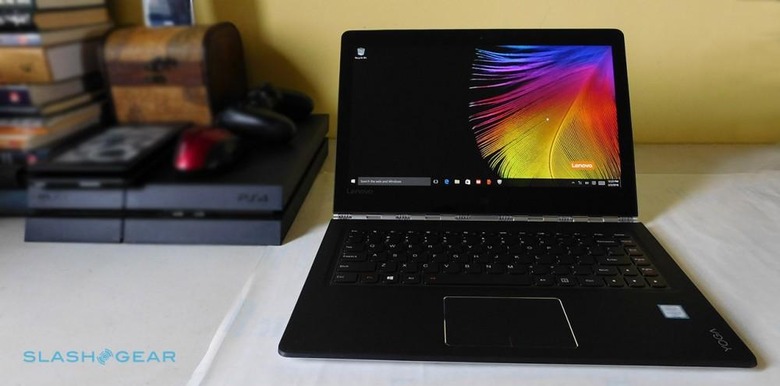 The laptop is, speaking of the overall design, very thin and lightweight, and the watchband hinge complements the thinness by serving as a seemingly seamless connection between the display and lower portion. When looked at from a profile position, the laptop looks like a single unit that happens to be extraordinarily flexible in the middle.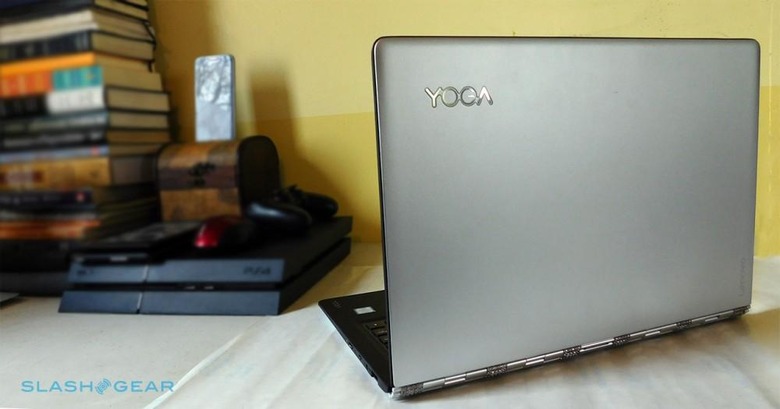 Greatly complementing the design is the material used around the keyboard — it is textured and feels like a slightly softer version of a Moleskine cover. The keys, meanwhile, are plastic and shallow and produce very little noise when typing. Rounding it all out are the edge pieces where the ports lie; these are distinctly plastic and have a more pronounced texture with a dot-matrix pattern.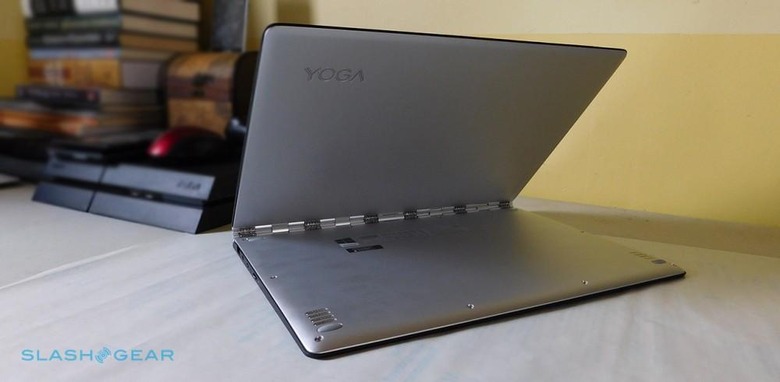 As with other YOGA laptops, the hinge allows the display to be positioned at a variety of angles, including completely flat or folded all the way back into a tablet mode. Lenovo calls these positions laptop, tent, stand, and tablet modes, and they come in handy during times you're watching movies or using a stylus.
The last element, the trackpad, sports the same style we've seen on some other recent YOGA laptops — it has shiny chrome trim around an otherwise smooth and button-less surface. A short and thin red line marks the centermost portion of the bottom edge, separating the two halves.

Processor: Up to 6th Generation Intel® Core™ i7 Processor

Operating System: Windows 10 Home

Graphics: Integrated Intel® HD Graphics

Memory: Up to 16 GB LP-DDR3L

Webcam: 1MP 720p HD CMOS Camera

Storage: Up to 512 GB Samsung SSD

Audio: JBL® Stereo Speakers with Dolby® DS 1.0 Home Theater® Certification

Display: 13.3" QHD+ (3200 x 1800) IPS, 300 nits

Dimensions (W x D x H): 12.75" x 8.86" x 0.59"

Weight: Starting at 2.8 lbs (1.3 kg)

WLAN: WiFi 2 x 2 802.11 a/c, Bluetooth® 4.0

1 x USB Type C 3.0 with Video-out

1 x DC-in with USB 2.0 Function

4-in-1 Card Reader (SD, MMC, SDXC, SDHC)
Watchband Hinge
The YOGA 900's most attractive element is the watchband hinge, an atypical laptop hinge akin in style to something you might find on a watch. The hinge allows for 360-degree rotation, but with style and fluidity that makes for a very satisfying experience. The hinge is made of 813 components, and despite how it looks, holds its position perfectly.
The laptop's lid can be opened and closed easily using one hand, and it features Auto Lock to stay in place at whatever angle it is positioned. Lenovo offers a few different colors, including the Platinum Silver one shown below, and the more colorful Clementine Orange and Champagne Gold.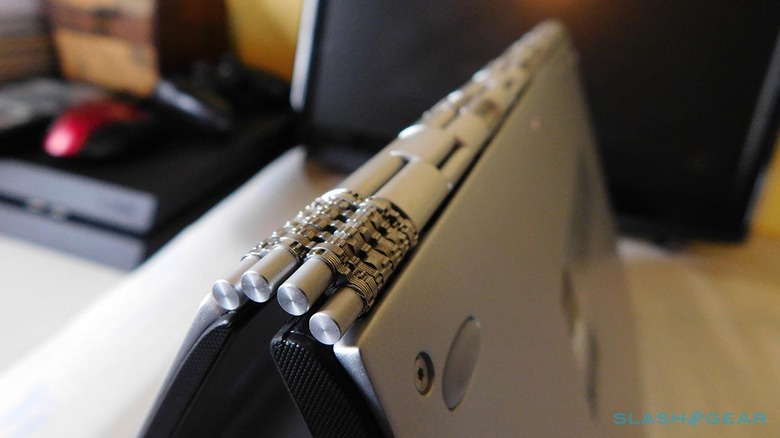 Software & Performance
The Lenovo YOGA 900 comes pre-installed with several Lenovo applications: Lenovo Companion 3.0, Photo Master, SHAREit, REACHit, and OneKey Recovery. The system is also loaded with McAfee LiveSafe antivirus, as is common with the maker's laptops. It is possible to uninstall McAfee if you don't want it.
As far as benchmarks go, we got expected and fairly substantial results from Geekbench. Our particular system runs an Intel Core i7-6500U 2.50GHz/2.59Ghz processor, which is of course on the highest end of things; those who go with less powerful hardware options will get lesser results. Performance was solid, however, with the laptop doing everything we expected it to, and without hiccups. You can compare the benchmarks to other laptops by checking out our Laptop Reviews portal!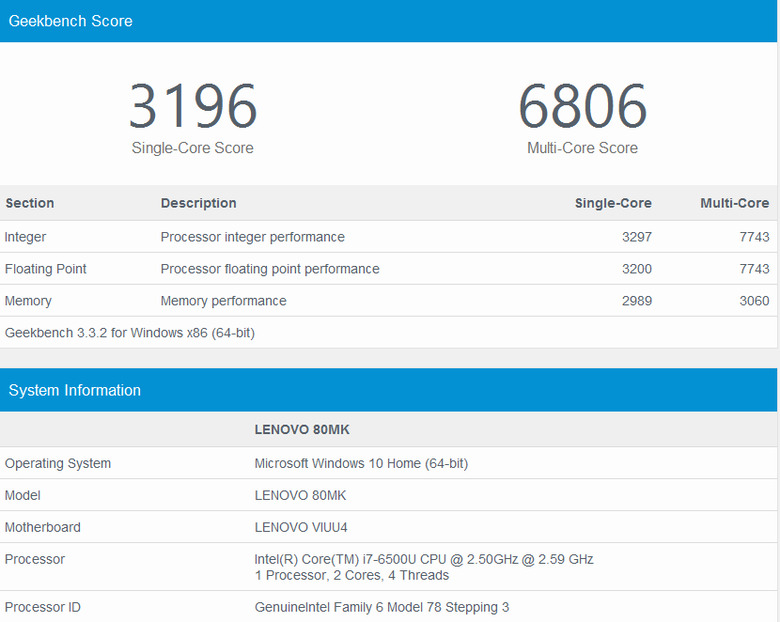 Conclusion
Those who have only ever used Lenovo's ThinkPad laptops and find them bland will find the YOGA 900 is an entirely different beast, one that is unashamed of its luxurious design elements but able to carry them without pretension. The laptop is, from a purely utilitarian standpoint, entirely suitable for most users' needs.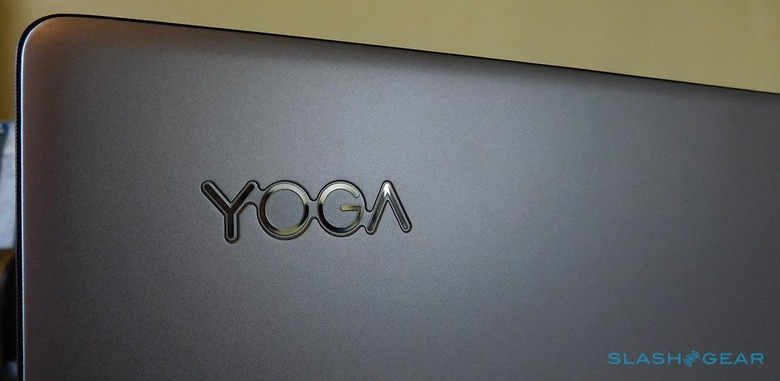 Few people care solely about a device's utility, though, wanting a design that matches their personality or draws attention. The YOGA 900 meets both those needs, and does so with a design unlike any other thanks to the watchband hinge.
Price for the 13-inch model starts at $1,199.99 USD on Lenovo's website.