Lenovo YOGA 3 Pro Review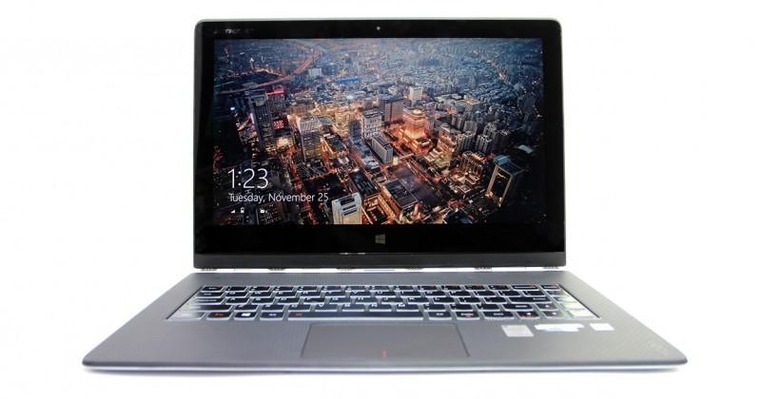 Finally, a truly great Windows laptop. Lenovo's YOGA 3 Pro is thin, yet robust. It's powerful enough to handle tasks like video processing and light gaming, yet its battery life is optimized to such a degree that I'm able to use it like I would my main work notebook. The Lenogo YOGA 3 Pro transforms between a notebook, a touch display, and a tablet, but its abilities aren't just in place to be retrofitted to Windows 8's touchscreen intentions. The Lenovo YOGA 3 Pro isn't perfect, but it's very, very close.
Hardware
This notebook comes with a hinge. Not just any hinge – one that replicates the band of a fine metal watch. Intertwined back and forth through the length of six conglomerations of what together makes 800 individual pieces of steel and aluminum.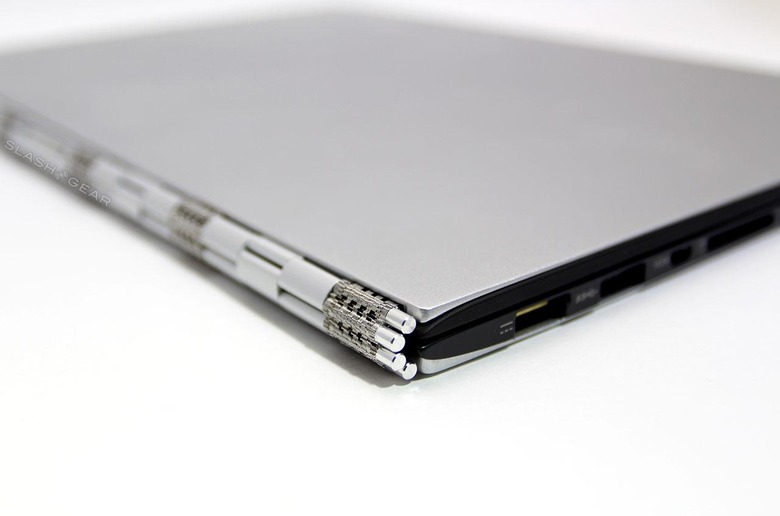 While Lenovo's competitors opt for heavy-duty singular pieces of metal, Lenovo gets super tiny. It is here that Lenovo proves itself as a team of fine team of craftspeople, bringing the dedication to well-placed parts you might only otherwise see with Apple in their MacBook line.

I use a MacBook Pro for my daily driver. I use my MacBook Pro 8+ hours a day with only the tiniest of breaks at a time. I bring that notebook along with for live events where only the most trustworthy equipment will do. The Lenovo YOGA 3 Pro wants to replace my MacBook Pro.
As far as work goes, this Lenovo notebook is the first that I've considered of fine enough quality to bring along with me in the field, to assist me where failure is not an option. My only two hesitations are these: the slightly unfamiliar keyboard and the possibility of lower battery life than I'm used to.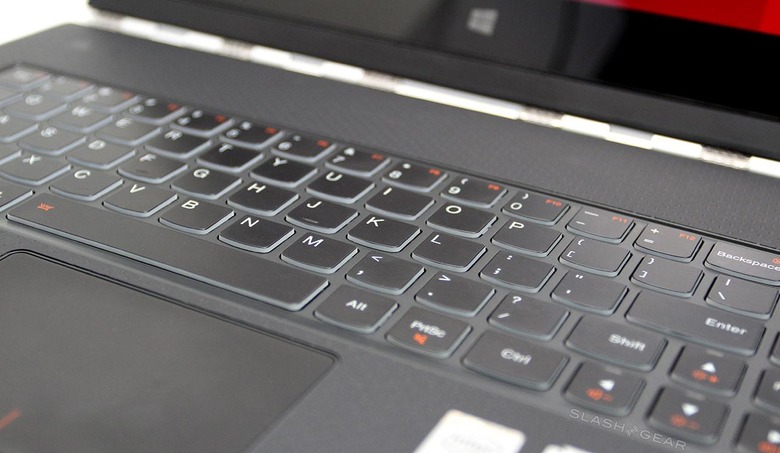 They keyboard arranged ever-so-slightly different from my Mac, bit getting used to it has been easier than any other laptop I've used in the past several years. The quality of this keyboard is among the finest I've used, notebook or not.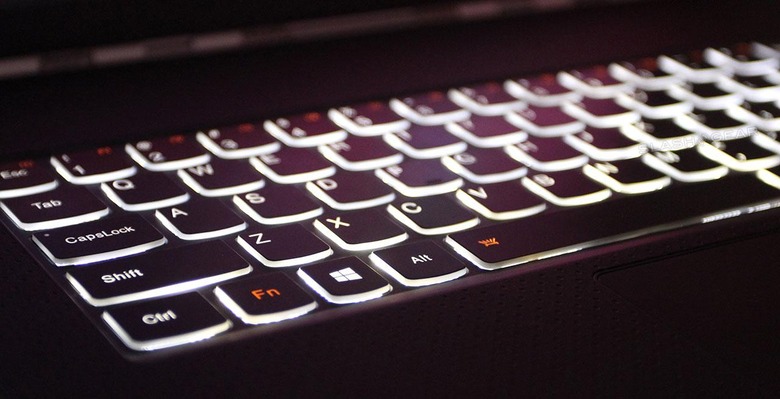 The keys tap (they don't click) with a satisfying bump, and the touchpad is one of the very few that have been up to snuff. The only thing dissatisfying about the touchpad is the ease with which my hands smudge it. I'm not a particularly greasy fellow – this material just shows every little bit of touch.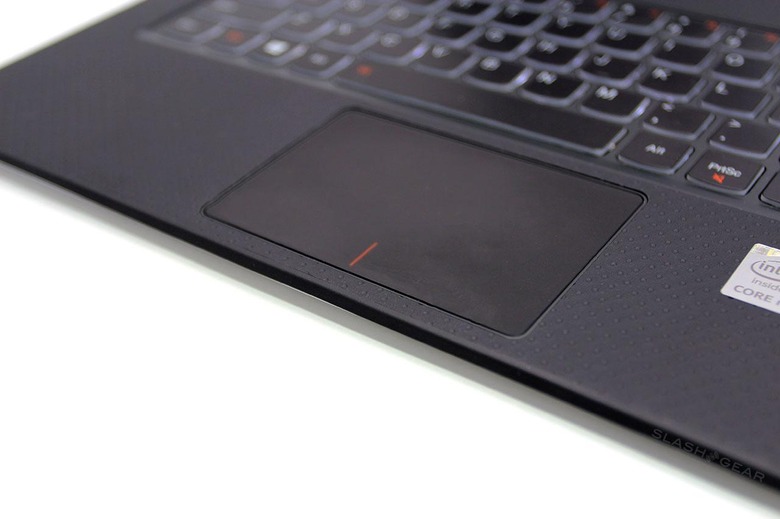 The pad surrounding the keyboard and touchpad is extremely comforting to use. It's made of a very soft plastic, almost rubbery, and has a makeup that seems to swallow or dissipate the same marks that are otherwise appearing on the touchpad made by my wrists.
Above the keyboard you'll find a very faint logo popping up – JBL Audio. Lenovo's implementation of JBL's hardware here is as good as it is with the Lenovo YOGA Tablet 2 Pro. Lenovo doesn't make as big a deal about the speakers on this laptop as they do for the tablet, but they're very nice.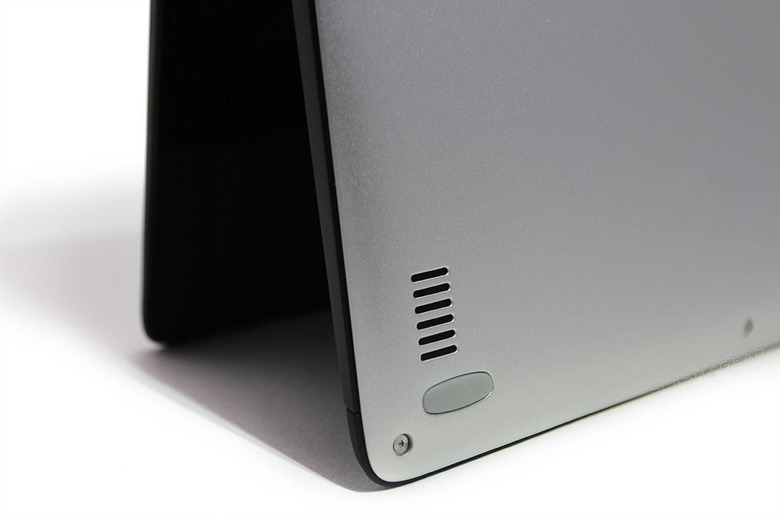 The speakers in this device rest in the lower right and left of the base. Grilles on the bottom of the laptop allow the sound to escape, but sound bounces through the wrist rest as well.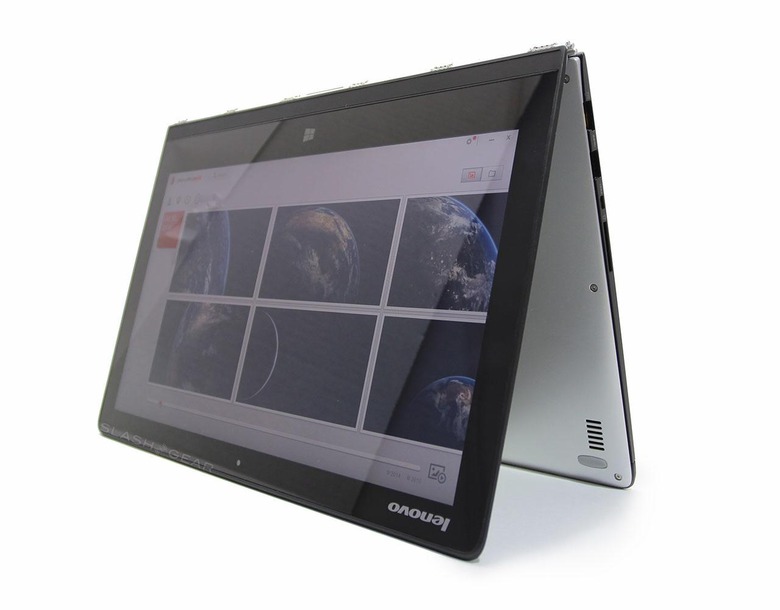 Because of this speaker setup, listening to audio in "Tent" or "Stand" mode makes a rather sizable block between you and the sound. If you're in "Laptop" or "Tablet" mode, you'll get the best sound experience. Sound blasts right through the back of the display like it wasn't even there.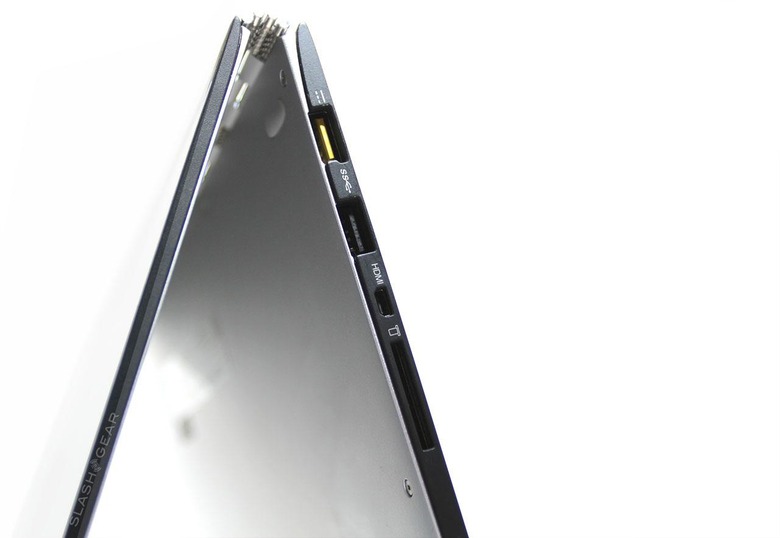 On the left side of this unit you'll find a USB 3.0 port, SD card reader, and micro-HDMI output. On the right side you'll find a USB 2.0 port that's ALSO the AC port – you'll get a special USB cord that connects to this port and an adapter for the wall.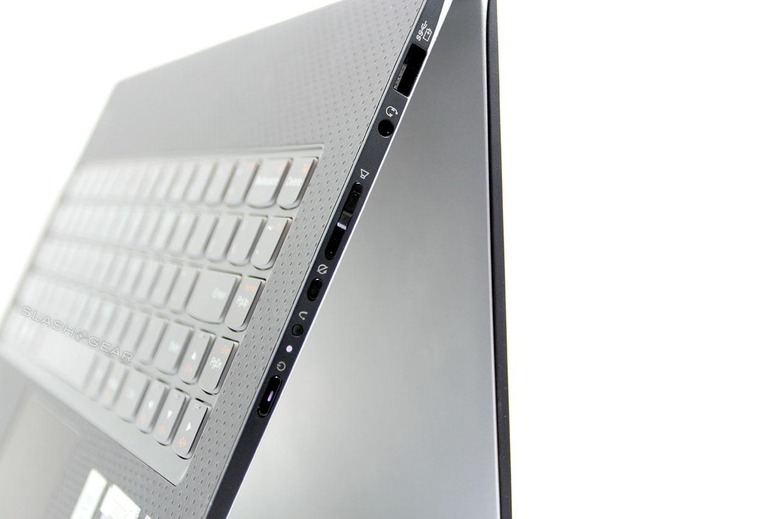 Supposing you're carrying your micro-USB cord with you too, you can use this same adapter to power up your other devices. The right side of this notebook also has a power button, volume up/down, standard-sized headphone jack, auto-rotate button, and another USB 3.0 port.
The YOGA 3 Pro is light. It's not as light as your average tablet, but it IS light enough to use AS a tablet. Which is good, since one of the main modes this device works in is Tablet Mode.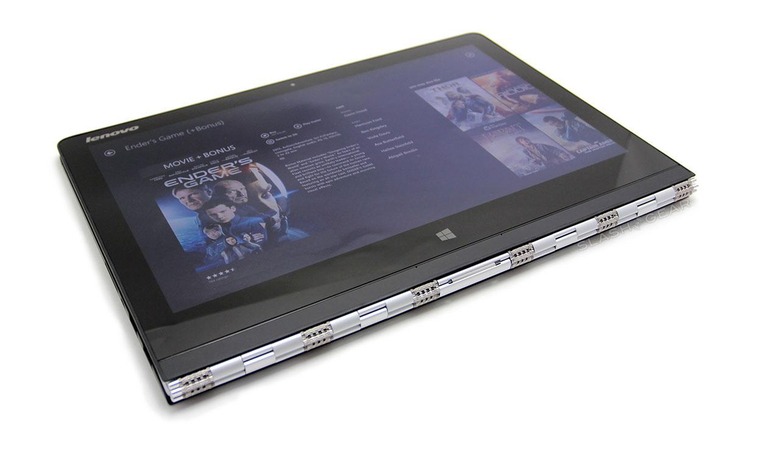 While you might have to search for reasons to use tablet mode when you probably already have a separate tablet in your house already, Lenovo makes a great effort guiding your way. Inside this device is an app called Harmony, and with it, you'll be shown what works best where at all times.
Software
There's an application called Harmony that will make you feel like you're part of a Lenovo YOGA 3 Pro community. Inside you'll find a chart showing the four main Modes the notebook can be in, showing what percentage of your time you spend in each of these modes.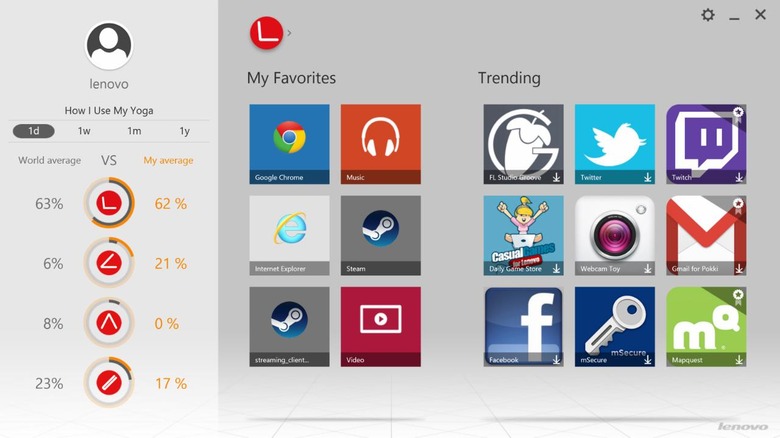 To make you feel a part of the YOGA family, you'll see how often the whole YOGA 3 Pro family uses each of the different modes as well. This Harmony app also provides you with the top apps downloaded for each of the four different modes. You also have access here to the apps you use most often in each of the four different modes.
This laptop comes stacked with Hightail for Lenovo. With this app you're working with Hightail cloud storage, the same system that more than a couple major tech companies work with for file sharing. That's the only place I've seen Hightail used – it's not often used by the average citizen unless they're extremely worried about the security of their files.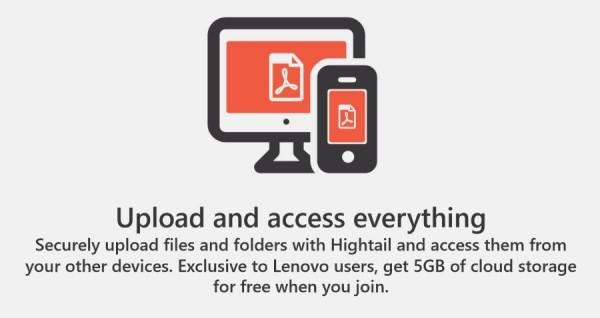 But with Lenovo's Hightail connection you'll get 5GB free. With a connection right out of the box you're almost going to want to try it out just for the heck of it. Besides security and the built-in interface, Hightail isn't all that different from its competitors if you're an average citizen.
Lenovo has a built-in support app, making it immediately clear that the company not only assure the owner the quality of their product, they're ready to back it up themselves.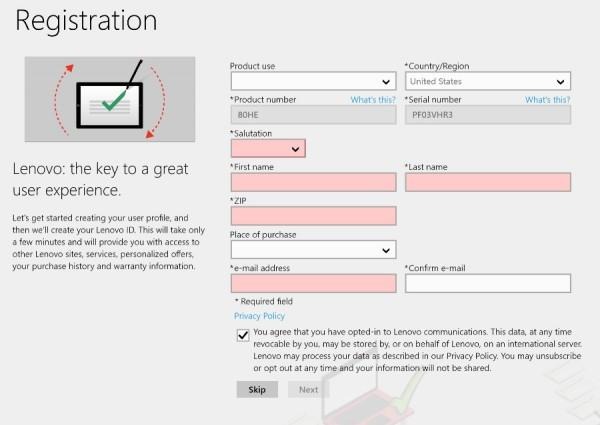 There's an app called Yoga Chef that shows you a prime example of when you'd want to use Tent mode. It even has a Tent mode icon on its thumbnail so you tap in. Inside the app you've got an extremely simple touch-friendly interface and a vast collection of food recipes.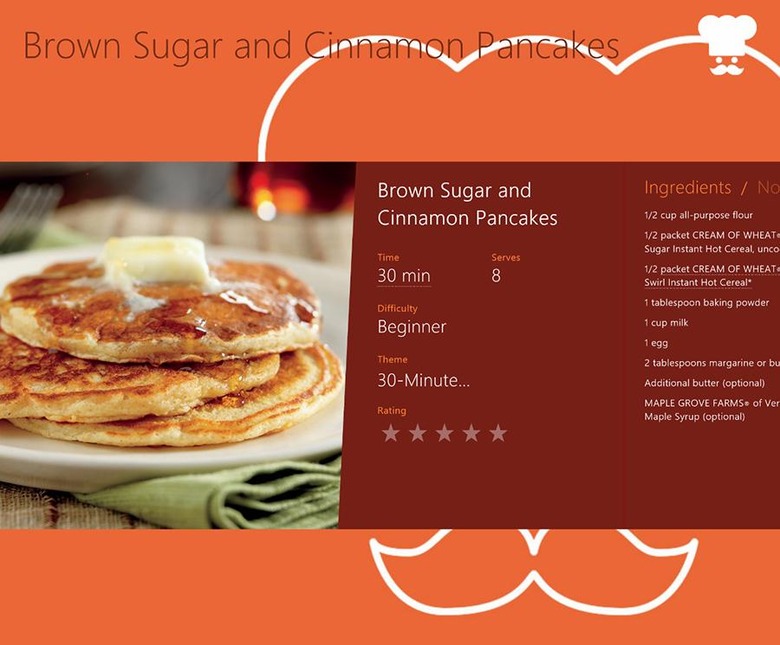 Organized by Themes, Brands, Ingredients, Dishes, and Cuisines, you'll have literally thousands of recipes with step-by-step instructions. Every word or phrase you see inside each recipe is a link to additional details – you can jam out a recipe simply or get in-depth with alternate ingredients, whatever you're all about.
Lenovo includes a REACHit app that's pretty awesome too. One folder system, all of your devices, tied together with this one app. You'll be able to download REACHit for your Windows tablet, your Android smartphone, your iPad, or your iPhone, and connect their folders for easy access cross-device.

REACHit also connects to your Box, Google Drive, OneDrive, and Dropbox account(s) if you do so wish. From there you've got what amounts to a file folder system inside an app with access to every account attached to your username. It's really quite handy if you transfer files at all often.
Wrap-up
The Lenovo YOGA Pro 3 is the first Windows notebook I've considered using as my daily driver for a very, very long time. It's not that manufacturers haven't been up to the task, and it's not that Windows hasn't been a respectable operating system. It's just that up until now, for the past several years at least, no one company has gotten the combination as right as Lenovo has here.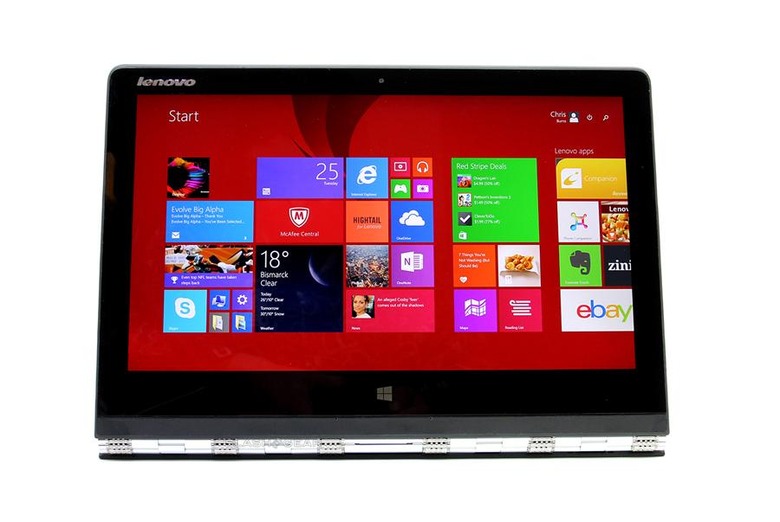 Lenovo's reached a high point, creating a super fine example of a Windows-based laptop made for both entertainment and work. The software is solid, and though battery life could use a bit of a boost, the fine quality of the hardware makes the laptop such an enticing product that we just cannot resist.
This notebook comes in just a couple of different configurations. You get the same processor – Intel Core M-5Y70 – in both models, along with 8GB of RAM and the same display – same color options, too. The difference is the 512GB or 256GB of internal storage space. The smaller model will cost you $1,300 and the larger will cost you $1,500 USD.