Lenovo Windows 8 Convertibles family comes together for hands-on action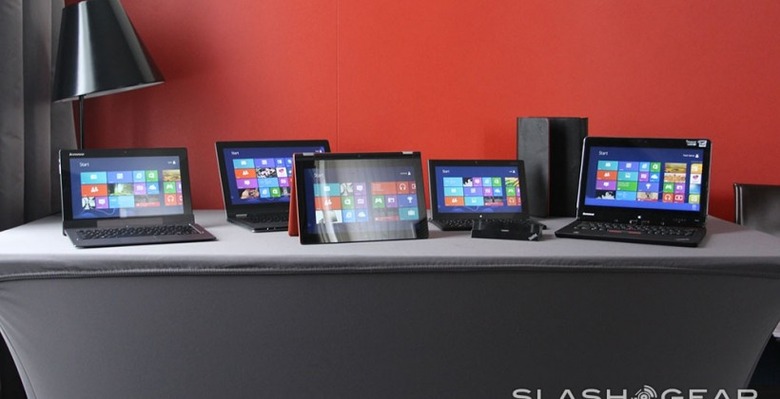 This week we've gotten the opportunity to take a peek at the nearest-to-final builds of Lenovo's entire Convertible Windows 8 / RT family this week, including the IdeaPad Yoga 13, IdeaPad Yoga 11, ideatab Lynx, ThinkPad Twist, and ThinkPad Tablet 2. Each of these units is unique in its ability to bring Windows 8 or Windows RT to users in their feature sets that include flipping, turning, folding, and straight up sheathing. While we've seen all of these devices before, here lies an opportunity to see them up-close and personal right before review unit time.
Lenovo IdeaPad Yoga 13
This machine is what Lenovo is proud to claim as one of the world's first multi-mode Ultrabooks. It's got a 13.3-inch 1600 x 900 IPS LCD display with Intel HD 4000 graphics and up to Intel Core i7 processors inside. You've got the ability to work with up to Windows 8 Pro on this machine, and it ready to rock in several different display modes.
You can place it upright like a notebook, backwards like a tent, bend up and forward – inverted from its notebook mode, and flat like a tablet. The current MSRP for this device is $1099 USD and it'll be out in stores relatively soon – exact date to be determined.
Lenovo IdeaPad Yoga 11
The IdeaPad Yoga 11 is the more compact version of the unique idea the Yoga 13 presents with a 360-degree folding hinge for multiple modes of use. It also has a massively powerful display of 1366 x 768 pixels across an 11.6-inch HD panel and it works with Windows RT. This tablet-based operating system is powered here by the NVIDIA Tegra 3 quad-core processor we've seen many time before, and the whole unit is just 0.61 inches thick. This unit will be coming in at MSRP $799 USD.
We found both of the Yoga units to be surprisingly high quality for how seemingly dangerously exposed they are at first with the hinge innovation. But the actual execution of the hinge, in all its two-part glory, takes Lenovo's assurance that they put their products through rigorous battle-testing and delivers. These units look really, really high quality.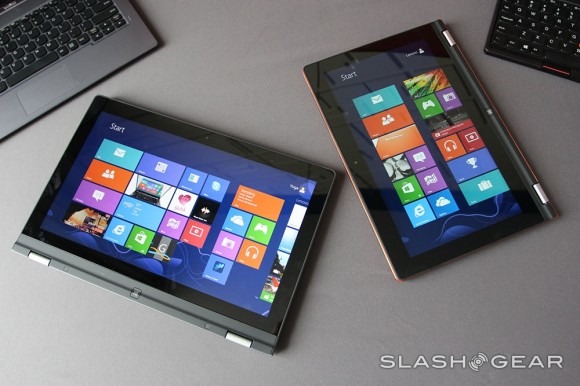 Lenovo ideatab Lynx
The Lynx is a tablet that's also a notebook – a Windows 8-toting oddity that'll have you amazed that this is truly one of the first Windows 8 Atom-based machines on the market. Up front you've got an 11.6-inche IPS LCD display at 1366 x 768 pixel resolution – and it gets quite bright: 400 nit bright to be exact. This tablet works with a full detachable Lenovo Accutype keyboard and will be running with Intel Atom dual-core processors – that's X2760 dual-core 1.8 GHz. The Lynx has a price of MSRP $599 for the tablet and $149 for the base as of this week.
The Lynx is going to be hitting a rather unique crowd, the same way the Twist will. With the Twist we've got the whole machine working with that single bar that allows the display to twist – a bit more fragile-seeming than we'd like to really comment on extensively at this point. The Lynx, on the other hand, appears to have the ThinkPad family in mind with its recognizable keyboard and a full Windows 8 experience ready to rock with Atom.
Lenovo ThinkPad Twist
The ThinkPad Twist has a 12.5-inch 12.5-inch IPS LCD display covered with Gorilla Glass, getting up to 350 nit bright and bringing on the HD with Intel Core i3, i5, or i7 to back it up. The full casing on this machine is 0.79-inches thick and it'll be running full Windows 8 Pro when it hits shelves. The Twist will be appearing for MSRP $849 USD.
Lenovo ThinkPad Tablet 2
This lovely little beast is the ThinkPad Tablet 2, taking everything great about your everyday-awesome hardcore ThinkPad notebook and bringing it up in a tablet form that's ready to attach to its own keyboard dock, multimedia dock, and lovely carrying case. The case is able to keep both the tablet and the keyboard base safe in itself at once, both the tablet and the base being essentially the same size, and thusly interchangeable on both sides. This unit has a 10.1-inch IPS LCD display, Gorilla Glass over the front, and Intel Atom inside. You've also got wi-fi and AT&T 4G LTE versions available in the very near future – the wi-fi version will be MSRP $649 USD.
Stay tuned for more awesome Lenovo action as Windows 8 and Windows RT takes over the world. Stay close to our Microsoft tag and our Windows 8 tag for the full lo-down as it all goes down over the next few weeks and months. The wave is coming in!