Lenovo WiMAX Option for ThinkPad X301, T400, SL300 & SL500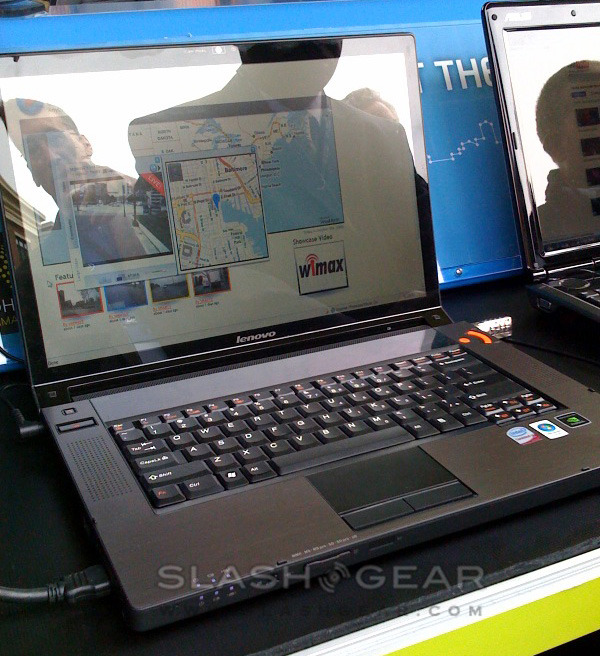 Lenovo have announced their WiMAX-enabled notebooks, intended for use with Sprint's high-speed XOHM network officially launched today in Baltimore.  WiMAX options will be available from today on ThinkPad X301, T400, SL300 and SL500 models, with options on the ThinkPad W500, W700, SL400 and X200 models later on this year.  Lenovo will also make WiMAX optional on the consumer-focused IdeaPad Y530.
To streamline the connectivity process, Lenovo have added WiMAX to their Access Connections app – part of the ThinkVantage Technologies suite – meaning available XOHM connections will be offered along with WiFi hotspots.  Lenovo will use Intel's WiMAX/WiFi Link 5050 Series hardware, part of the Centrino 2 platform.
WiMAX-integrated models from Lenovo's range will go on sale from today, priced from $720.  Lenovo also offer 3G notebooks, using both GSM HSDPA and CDMA EV-DO Rev.A technologies.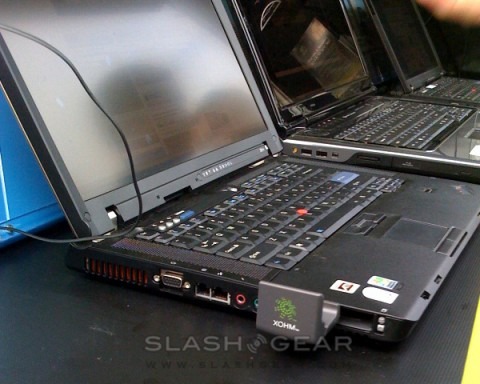 Press Release:
Upload This: Lenovo Adds WiMAX Wireless Connectivity to ThinkPad and IdeaPad Notebook PCs

Offered in Lenovo notebook PCs for large businesses, SMBs and consumers

RESEARCH TRIANGLE PARK, NC – October 8, 2008: Lenovo today announced it is bringing the latest high-speed wireless connectivity to its customers through a broad offering of WiMAX-enabled1 Lenovo ThinkPad and IdeaPad notebook PCs. Lenovo's WiMAX lineup addresses all types of users, from business users needing ultraportability with the thin and light ThinkPad X301 notebook to mainstream business users with the ThinkPad T400 notebook to small-to-medium businesses with the ThinkPad SL300 and SL500 notebooks. WiMAX-enabled1 models of these notebooks are available immediately. The announcement comes at the launch celebration of the nation's first next-generation 4G WiMAX wireless network today in Baltimore.

In addition, Lenovo will be expanding its notebook offerings with built-in WiMAX1 later this year to include models of the business-focused ThinkPad W500, W700, SL400 and X200 notebooks. Lenovo will also offer models of the IdeaPad Y530 notebook designed for consumers.

"With spill-resistant keyboards, 'air-bag' data protection, fingerprint readers, facial recognition technology and more, Lenovo has a proven track record as the industry leader in introducing new technologies in notebook PCs, said Stephen DiFranco, vice president, Americas Commercial and Consumer Channels, Lenovo. "By building mobile WiMAX into both our ThinkPad and IdeaPad notebook PC lines, we are helping our customers stay better connected, anywhere, anytime."

Lenovo designed the notebooks for a simple and easy to use WiMAX experience. For example, with the ThinkPad notebooks, Lenovo added the ability for Access Connections, a part of the Lenovo suite of ThinkVantage Technologies, to recognize WiMAX networks. This helps users locate and securely connect to available wireless connections.

Although in its beginning stages, WiMAX has a number of potential uses such as serving as the primary wireless connection for consumers and businesses, enabling WiMAX devices to synch up for an enhanced communications experience and becoming the backup connectivity for companies. First rolling out in Baltimore, WiMAX coverage is expected to be operational in other cities – including Chicago and Washington, D.C. – in the coming months.

"WiMAX is changing the model of wireless communication," said Bin Shen, vice president, Broadband, Sprint. "By working with industry leaders like Intel and Lenovo, we are committed to building the next-generation of mobile broadband services along with innovative computing devices that are designed for the best possible mobile WiMAX experience. We are rapidly building a nationwide WiMAX-based mobile broadband network, making it the next standard for accessible, affordable high speed wireless communications."

The Intel® Centrino™ 2-based Lenovo ThinkPad and IdeaPad notebooks are shipping with the combined WiMAX/Wi-Fi module, formerly codenamed "Echo Peak," as part of the Intel WiMAX/Wi-Fi Link 5050 Series.

"The 4G era is upon us, and Intel welcomes the host of innovative WiMAX solutions from Lenovo aligning with the inaugural U.S. network and its unique wireless speed and reach," said Sean Maloney, executive vice president and chief sales and marketing officer, Intel. "Consumers and businesses today want faster, flexible and more pervasive wireless connections that match the power and battery life of Intel-based notebooks. With our Intel Core™ 2 processor-based notebooks, Baltimore residents have the power to experience this network whether in their home, office or on the go around town."

With the announcement, Lenovo extends its menu of wireless connectivity options to include WiMAX, along with notebook models that include options for WWAN1, or 3G, through AT&T and Verizon, 1WiFi and Bluetooth connectivity as well as Ultra-Wideband functionality. These technologies offer customers choices of the latest ways for fast and convenient connectivity to fit their mobile lifestyle.

Select WiMAX-enabled1 ThinkPad and IdeaPad notebooks will be demonstrated at the WiMAX launch celebration today in Baltimore.

Pricing and Availability2

Pricing for the notebooks vary with WiMAX-enabled1 models starting at approximately $720. Select notebooks will be available starting immediately through www.lenovo.com and business partners.