Lenovo ThinkPad Edge E220s, E420S, E420 and E520 get 2nd-Gen Intel chips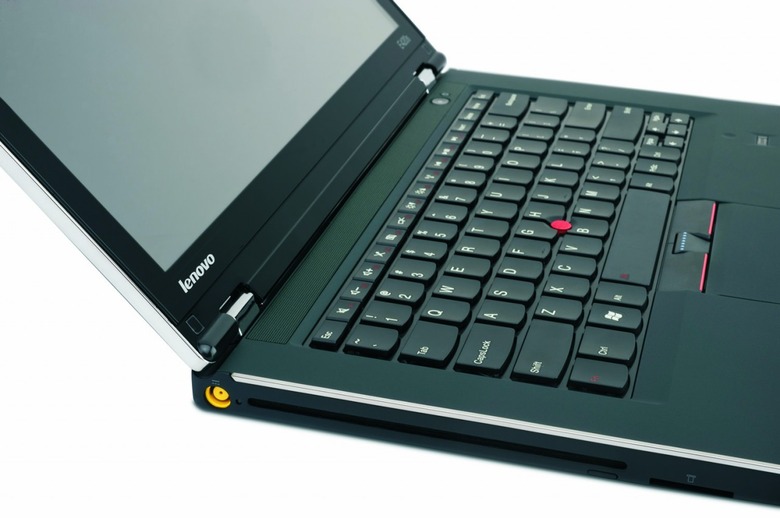 Take a peek at this and the other big fat Lenovo post on all the new fabulous items they'll be showing off at the big hullabaloo! CES will play host to a whole SLEW of new products from Lenovo, not least of them being the FIVE ThinkPads announced here in this post! There's a 12.5", a couple 14", and a 15"! The fifth is the Lenovo ThinkPad X120e ultraportable. Take a peek at all the details and marvel in the Lenovo glory – and notice how they all basically look the same.
First there's the ThinkPad Edge E220s with a 12.5" SMB based, a "hot new design," EE 2.0, Superior web conferencing Dolby Sound, and a 2nd Gen Intel Core i. Next there's a ThinkPad Edge E420s with a 14" SMB, another "hot new design," EE 2.0, Superior web conferencing, Dolby Sound, and a 2nd Gen Intel Core i. After that, there's the ThinkPad Edge E420 with a lovely 14" SMB, what they're calling just an "Updated design," and a 2nd Gen Intel Core I processor platform "to current Edge products." Next, there's a ThinkPad Edge E520 with a slightly larger 15" SMB, another Updated design, and a 2nd Gen Intel Core I processor platform "to current Edge products."
Any of these sassy little fellow seem like the right fit for you? We'll have our hands on em during CES you can bet your biffy! Take a peek at the full gallery and press release below:
Lenovo Adds Curves, Style and Attitude to Next-Gen ThinkPad Edge Small Business Laptops

Marries Urban Attitude and Performance-Driven Technologies with ThinkPad Quality and Reliability

RESEARCH TRIANGLE PARK, NC – January 3, 2011: Lenovo (HKSE: 992) (ADR: LNVGY) today announced two new laptops that elevate small-to-medium (SMB) business computing with luxurious and sophisticated design, cutting-edge technologies and extra features to go beyond business computing. The ThinkPad Edge E220s and E420s laptops catch attention with their jaw-dropping, premium design. Small details make a big difference: the stunning infinity screen, a matte finish that's soft to the touch and real metal accents project a cosmopolitan image. The laptops are also business performance powerhouses, featuring increased performance and integrated graphics in the upcoming second generation Intel® CoreTM processor technology, Lenovo's Enhanced Experience 2.0 for rapid boot up and a range of wireless connectivity technologies. They also crossover for serious play with Dolby Home Theatre® audio and high definition video conferencing.

"How we think about PC design and the entire computing experience is changing," said Peter Hortensius, senior vice president, Think Product Group, Lenovo. "The new ThinkPad Edge premium laptops give users technology that's extremely personal, beautiful and powerful so they can accomplish their business goals and keep up with their personal lives."

Eye-Catching, Intriguing Design

With a chic, modern and clean appearance, Lenovo designed the 12.5-inch E220s and 14-inch E420s to turn heads. Strikingly thin and light, the E220s measures less than one inch thick and weighs less than 3.5 pounds1 for excellent portability, while the slightly larger E420s starts at just one-inch and four pounds2. They both feature metal accents that frame the black, soft-matte exterior.

Inside they display an infinity screen for a TV-like appearance. The contemporary ThinkPad keyboard, recognized for providing the same comfortable typing experience as ThinkPad classic laptops, and an extra large clickpad fill the inside. The keyboard is spill-resistant too for peace of mind against accidental spills. For SMBs who need a physical device to play media, the E420s has a hidden, slim, slot-loading DVD player/burner.

Work Hard: Hard-Core Performance Under the Hood

Just as much attention went into the technology inside of the PCs as the elegant exteriors. To power both data-crunching, multitasking business activities and fun, personal entertainment, the E220s and E420s offer choices of upcoming Intel Core i3, i5 and i7 processors.

Since every second counts, especially for busy SMBs, Lenovo created the Lenovo Enhanced Experience 2.0 for Windows 7 to speed up boot time by 30 percent on select models with Rapid Drive technology3. Rapid Drive takes advantage of an SSD for faster boot speed. Lenovo also optimized the preload, drivers and BIOS for speedy start up.

Additionally, the laptops feature all of the latest wireless connectivity technologies: WiFi and optional mobile broadband and 4G/WiMAX4.

Play Hard: Beyond Business Features

When it comes to play, the E220s and E420s offer a premium experience starting with Dolby Home Theatre® audio. Clear, crisp Dolby certified audio makes music and videos rock. The laptops come equipped with Lenovo's enhanced video conferencing technologies including a high-definition web camera, noise-cancelling keyboard software and high performance microphones and speakers. They also feature an HDMI port to show presentations to clients or to relax and watch on a PC monitor or flat-screen TV.Watch a video of the E220s and E420s here.

More Choices for a Perfect Business Edge

Lenovo also announced the ThinkPad Edge E420 and E520 laptops for SMBs who need an attractive business-class laptop at an attractive price. They pack greater productivity technologies in a thinner design with upcoming Intel® CoreTM technology and the Lenovo Enhanced Experience 2.0 with Rapid Drive on select models.

Pricing and Availability5

The ThinkPad Edge E220s and E420s will be available beginning in April through www.lenovo.com and business partners. Models begin at approximately $899 and $749, respectively. The ThinkPad Edge E420 and E520 will be available beginning in April with models starting from approximately $599.

For the latest Lenovo news, subscribe to Lenovo RSS feeds or follow Lenovo on Twitter and Facebook.

About Lenovo

Lenovo (HKSE: 992) (ADR: LNVGY) is dedicated to building exceptionally engineered personal computers. Lenovo's business model is built on innovation, operational efficiency and customer satisfaction as well as a focus on investment in emerging markets. Formed by Lenovo Group's acquisition of the former IBM Personal Computing Division, the company develops, manufactures and markets reliable, high-quality, secure and easy-to-use technology products and services worldwide. Lenovo has major research centers in Yamato, Japan; Beijing, Shanghai and Shenzhen, China; and Raleigh, North Carolina. For more information see www.lenovo.com.

1 With40.7 Whr prismatic battery. 2 With 48.8 Whr (5.4 hrs) prismatic battery. 3Compares averaged data from Lenovo EE2.0 PCs with averaged data from 42 competitor products of similar configuration. Testing conducted by CNET Labs, Beijing in November 2010 using the independent Microsoft VTS tool to measure start-up, shutdown, resume and other Windows 7 performance measurements. Data from competitors and Lenovo PCs were averaged and compared to calculate the claims used. Performance will vary by model and configuration. 4WiMAX, mobile broadband and WiFi Service Providers: Requires separate agreement with select third party service provider, and is subject to credit approval and applicable service agreement/terms, rate plan and coverage maps of the provider. Service is available in select metropolitan markets, not available in all areas. Service provider, not Lenovo, is solely responsible for service. Lenovo customers may be contacted after purchase to activate service. Special credit and tenure restrictions and additional charges may apply to international roaming. A network connection, third-party software, additional hardware, and/or subscription to a third- party service may be required for certain solutions/applications. Additional restrictions apply. Offer subject to change. 5Prices do not include tax or shipping and are subject to change without notice and is tied to specific terms and conditions. Reseller prices may vary. Price does not include all advertised features. All offers subject to availability. Lenovo reserves the right to alter product offerings and specifications at any time without notice.