Lenovo ThinkPad Yoga Review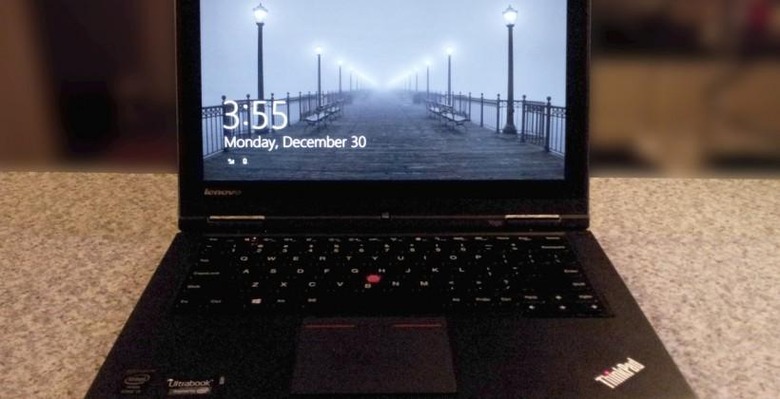 Lenovo has popped up with a handful of new products recently, among them being the ThinkPad Yoga, a flexible hybrid laptop with a touchscreen panel that can fold all the way back into a tablet-like mode. This follows the ThinkPad X240 we reviewed last month, and rather than sporting the X240's extremely long battery life and somewhat thick body, Lenovo elected to give the ThinkPad Yoga a more conservative, universal appeal — namely, a thin, flat profile and a slightly less no-nonsense design, something accompanied by a high-end 12.5-inch FHD touchscreen display. Read on for our full SlashGear review to how the ThinkPad Yoga fared.
Hardware
The ThinkPad Yoga is available with both a fourth-generation Intel Core i5-4200U and a Core i7-4500U processor, with the former up to 2.6GHz and the latter up to 3GHz. This is accompanied by 4GB of memory and either a 128GB or 256GB SSD. There's Dolby Home Theater version 4, as well as enhanced audio for VOIP usage. The keyboard is a lift-and-lock backlit offering, and the webcam is a familiar 720p HD unit.

As far as size goes, the ThinkPad Yoga is fairly small, though heftier than some of the ultrabooks out there. Measurements come in at 12.46- x 8.7- x 0.76-inches, and the weight sits at a decent 3.52 lbs. The system, unfortunately, doesn't come with a hot-swappable secondary battery, so while thinner than the newest T and X series models, the battery life isn't as mind-blowingly long. Based on our usage, between six to eight hours is what you can expect, with the variation being dependent on how you use the system — cranking away at media or games will naturally lower the number.

Ports include two USB 3.0 ports, one of which is powered, as well as a combination 3.5mm MIC/audio jack, a OneLink Dock, mini HDMI, VGA/RJ45 with the OneLink Dock, and a 4-in-1 card reader. There's both a TrackPoint and a 5-button trackpad, and connectivity includes both WiFi (b/g/n/ac) and Bluetooth.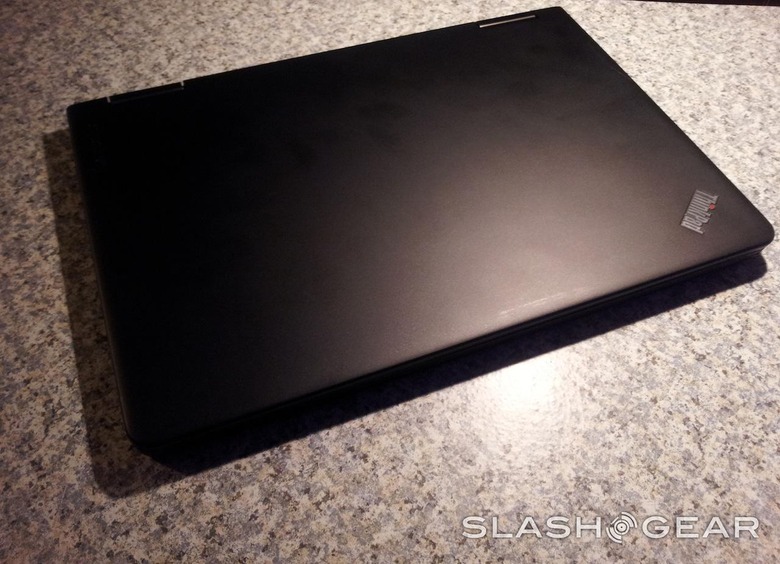 Touchscreen and Stylus
As mentioned, the ThinkPad Yoga comes with a touchscreen, as well as an integrated stylus and hinges that allow the display to be folded entirely backwards. Because of this, the Yoga presents itself as a bit more than the average touchscreen-enabled laptop that does not have such flexible hinges and an included stylus. For this reason, we tested out the stylus and touchscreen with more than simple handwriting, using it to draw some pictures.
As far as handwriting goes, you'll get about what you expect from a touchscreen — something precise enough, but obviously not up to par with a physical pen and sheet of paper. There's nothing wrong with it, but penning the next great American novel by hand with the system isn't something you're going to do. And branching this out a bit, there's the included stylus, which is lightweight and thin, though not so small that its size is a nuisance. Overall, I found the stylus to be very pleasant to sketch with, though perhaps a touch too small for comfortable handwriting — likely more so for men who have larger hands.
And then there's drawing. Check out the video above to see some drawing in action, which will give you a pretty good idea of what the Yoga offers. As a frame of reference, I do quite a bit of drawing with a Microsoft Surface with the same application — Autodesk's Sketchbook — which I find to be very comfortable and precise, and it is that experience I compare the Yoga to. For the most part, the stylus and the touchscreen are up for the task, but sketching is often hit-or-miss, with the setup favoring harder amounts of pressure. As you can see right in the beginning of the video, I have trouble getting the machine to register some light sketches on the screen, eventually giving up for a darker line, and the same issue presents itself when trying to shade in the ribs and the right arm.
To see if the problem was more or less universal, I swapped out the included stylus with my Microsoft Surface Pro stylus, and surprisingly found that it handled the task far more effectively, and sketching lightly became a non-issue. With that hardware, I found the ThinkPad Yoga to be as effective and pleasant of a drawing tool as my Surface and other competing products.
This isn't to say that light sketching isn't possible with the included stylus — there are various degrees of pressure represented in the sketch above, and you certainly can get fairly light lines by using little pressure. The problem is that it isn't consistent, and you might find yourself at times not getting any lines, only to suddenly get a very dark line when you increased the pressure only a very slight bit. This isn't a problem for those who only use the stylus to hand write, and for those who casually sketch, the problem would be minimally bothersome at best. Those who are looking for a setup to do some serious and precise drawing should hesitate, however, before going with the Yoga if they want to use the integrated stylus, as the drawing process will be interrupted regularly by overly-dark or non-registering marks.
Performance
To see how the ThinkPad Yoga held up against some of its brethren and competing models, we ran a Geekbench benchmark on the system, which showed scores about what we expected given the hardware running on the system. Performance was solid at all points while using the laptop — no issues were experienced in tapping, swiping, drawing, or usage in general, whether doing media-centric activities or just browsing the Internet.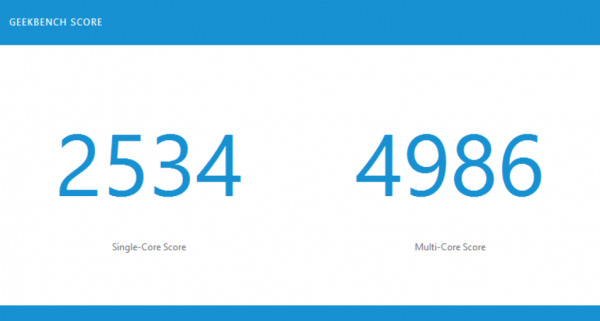 Wrap-up
The ThinkPad Yoga is a hybrid machine with a lot to offer users as both a laptop and as a tablet, though in slate mode it is thicker than what you'd get with a traditional tablet. There is nothing ill to speak of regarding the ThinkPad Yoga — everything about it is solid, with the exception perhaps being a lower quality stylus than what an artist would need. The construction feels solid and durable in the hands, the keyboard is comfortable for typing in long duration stints, and the hardware is capable for a variety of tasks.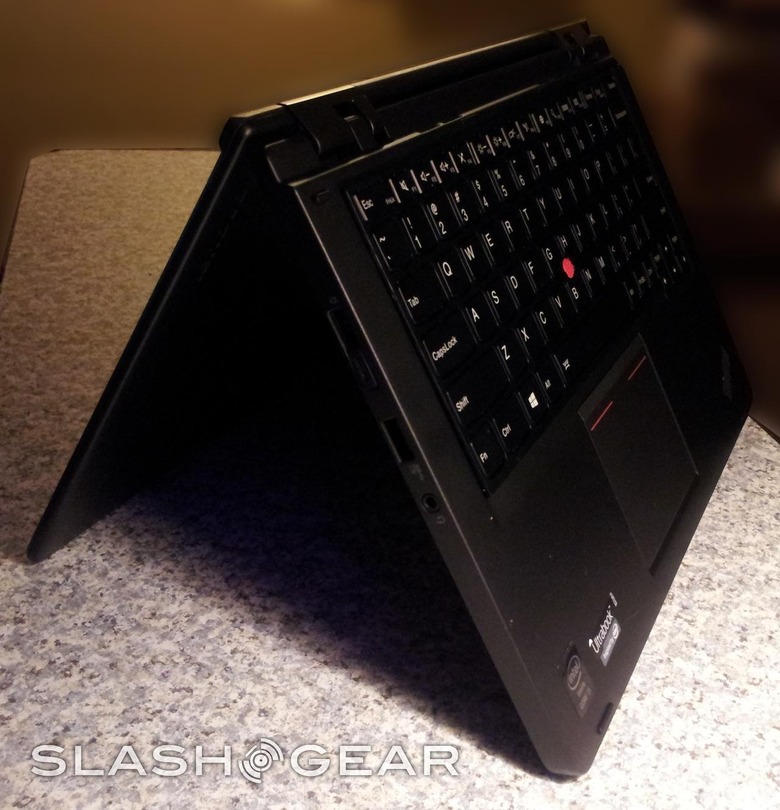 The ability to fold the display completely gives the ThinkPad Yoga additional functionality over a standard touch-enabled laptop, yet the hardware is nearly identical to what you get from the latest T-Series model, the T440s. That makes the Yoga an attractive option, and for those who would find use for the slate-mode, this model is certainly worth considering.