Lenovo ThinkPad Yoga Brings Cross-Breed Performance And Multimode Abilities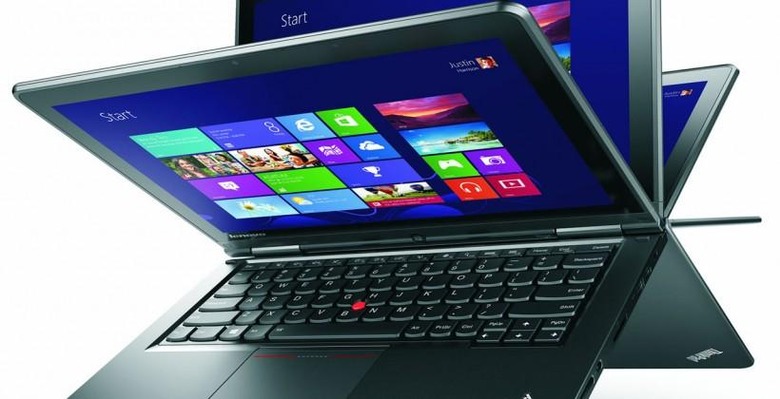 With most-wanted features picked from both the Yoga and ThinkPad device families this season, Lenovo has unveiled the first Lenovo ThinkPad Yoga (bet you didn't see that name coming). This device is made to bring on Windows 8.1 and up to 4th generation Intel Core i7 processors (that's Haswell) along with touchscreen capabilities and the unique abilities of the Yoga with "lift and lock." Here you've also got the "legendary" ThinkPad keyboard with the option for backlighting as well.
This device works with a 12.5-inch wide-screen display in two configurations – HD 720p or Full HD 1080p. WIth the HD screen you'll have 300nits of brightness while the Full HD display works with 400nits of brightness – the Full HD version also has the option of working with a Wacom Digitizer with Pen input – and the pen will be included. Both versions work with a 10-point multitouch touchscreen abilities as well.
This machine has integrated Intel HD graphics, up to 8GB DDR3L memory at 1600MHz (1 x 4GB or 1 x 8GB) and up to a 1TB HDD bit of storage as well as up to a 256 GB SSD. This notebook works with a weight of 3.48 pounds while its entire body measures in at 12.4 x 8.7 x 0.74 inches small – and that's the non-digitizer model, mind you. Up above the display you'll find a 720p HD camera on all Lenovo ThinkPad Yoga models.
Connectivity on this device will be provided by a built-in NFC abilities with Lenovo's own "Tap to do", 2 USB 3.0 ports, mini-HDMI-out, a 4-in-1 card reader, and Wi-fi as well as Gigabit Ethernet for internet. Lenovo's ThinkPad Yoga works with integrated stereo speakers packing Dolby Home Theater v4 technology as well – blasting beats from its core.
The ThinkPad Yoga will be available starting in November, and at the moment it would appear that it'll be coming in at around $949 USD MSRP. Stick around for more information on this beast as we ramp up for a full review later this year!