Lenovo ThinkPad YOGA adds RealSense to hybrid hinge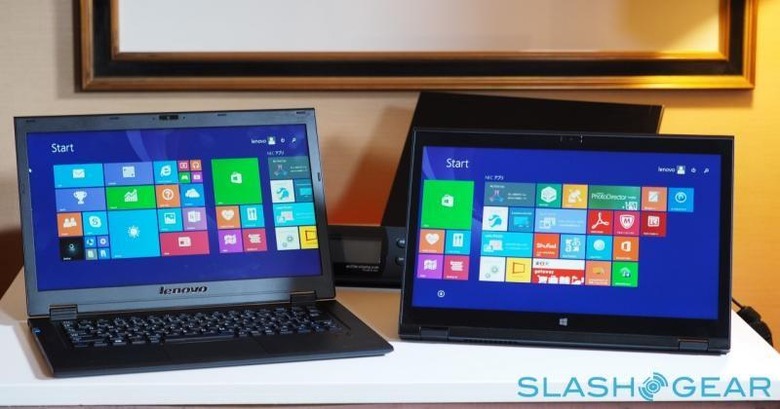 Lenovo's twisting, turning YOGA line of convertible notebooks is getting a grown-up version, with the ThinkPad range adding three of the ultrabook/tablet-hybrids. The Lenovo ThinkPad YOGA 12, 14, and 15, will hit the 12-inch, 14-inch, and 15-inch screen sizes as you'd expect, with the smallest of the three having a digitizer option, and touchscreen available across all three. Meanwhile, the ThinkPad YOGA 15 throws a 3D RealSense camera onto the options list, too.
As with the consumer YOGA notebooks we've already reviewed, there are four primary configurations for the new ThinkPads. Most obvious is laptop mode, or twisting the display a full 360-degrees for tablet mode.
Lenovo ThinkPad YOGA 12
However, it can also be propped up in "stand" mode – useful, Lenovo suggests, for giving presentations – or flipped into an A-configuration for "tent" mode.
Black, to match its more regular ThinkPad brethren, the new YOGA variants have backlit keyboards and Full HD displays with a 10-point touchscreen. Lenovo's Lift 'n' Lock keyboard is included, too, and each of the trio has been MIL-spec tested.
Lenovo ThinkPad YOGA 14
Inside, there's a choice of 5-gen Intel Core processors – with up to a Core i7 supported – along with up to 1TB of storage and Dolby Home Theatre v4. The 14 and 15 inch models get optional NVIDIA discrete graphics, too.
However, it might be the 3D camera – an option on the ThinkPad YOGA 15 only – which is the most interesting feature. Using Intel's RealSense technology, Lenovo envisages it being used for more immersive video conferences (if you've ever wanted your boss to loom at you in three-dimensions, this is your ultrabook) or even for 3D scanning small objects.
The ThinkPad YOGA will first hit shelves in February, priced from $999 for the 12-inch model, and from $1,199 for the 15-inch version. As for the 14-inch model, that will follow on in May, priced from $1,199.
Lenovo ThinkPad YOGA 15