Lenovo ThinkPad X200t Early Specs Show Up

We've pretty much known that Lenovo are planning a Tablet PC version of their new X200 series ever since mention of the touchscreen ultraportable was made in a leaked company presentation, but up until now the specs have remained a mystery.  A new page on the Hong Kong Baptist University website, however, claims to have the hardware details for the X200t: a 1.86GHz Core 2 Duo CPU, 1GB of RAM (with a maximum 4GB supported), a 160GB SATA hard-drive and 12.1-inch 1280 x 800 display.
Now considering the advert is illustrated with a picture of the normal X200, and as we've had no word from Lenovo either way, take all this with the proverbial pinch of salt.  If the specs are true, then the X200t will weigh just 4.17lbs with an 8-cell battery good for up to 7hrs use, running Windows Vista Home Premium and rocking a/g/n WiFi, Bluetooth and gigabit ethernet.
The price given works out to $1,339, which would be a decent price for such a machine.  No, there's no SSD option given, and the resolution may not be the highest we've seen, but customers wanting such options are expected to move up to the full-sized Lenovo tablets.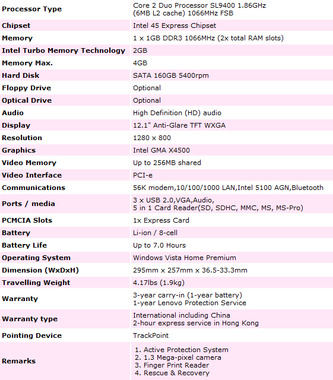 [via GottaBeMobile]