Lenovo ThinkPad X200 Ultraportable: Hands-On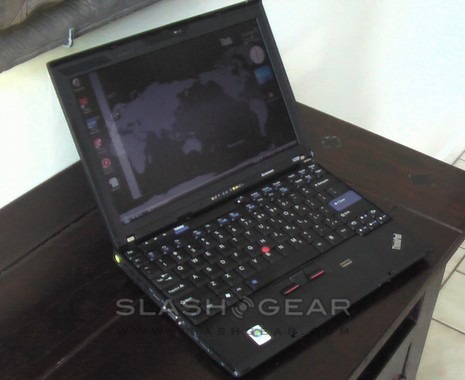 We had the opportunity to spends some hands-on time with Lenovo's ThinkPad X200 recently, the company's latest ultraportable and the smallest of the X-series notebooks.  With a 12.1-inch, 1280 x 800 WXGA display and choice of 2.26GHz (P8400) or 2.4GHz (P8600) Intel Core 2 Duo processors, the X200 is just 0.8-inches thick.  It's also being compared by many buyers to the ThinkPad X300, reviewed back in April – that machine starts at $2,268, compared to the X200's $1,385 – which is slightly thinner but, thanks to its optical drive, is actually a little bit heavier than the X200.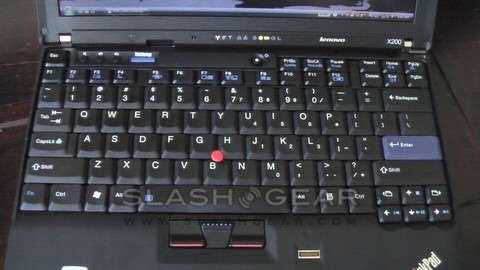 First impressions are pretty standard for a ThinkPad: the usual solid, pleasant keyboard, sturdy if uninspiring design and a reasonable raft of ports.  The X200 has three USB 2.0, gigabit ethernet, VGA, line in/line out, and a choice of either a 5-in-1 memory card reader and modem or, for weight savers, a 3-in-1 memory card reader and no modem.  Lenovo have thrown out the touchpad to save on space, and the impact of that will depend on how well you get on with the trackstick; on the plus side it was well weighted and, in the time we spent with it at least, didn't show any drift.
Weight, even with the extended battery on the X200 we were looking at, was enjoyably light, and you could readily forget it was in your bag.  We also have no concerns about build-quality and accident resistance, with a spill-proof keyboard (that drains spilt liquid through internal guttering and out of a hole underneath), shock-mounted hard-drive and Lenovo's ThinkVantage button for quickly recovering from crashes and other software mishaps.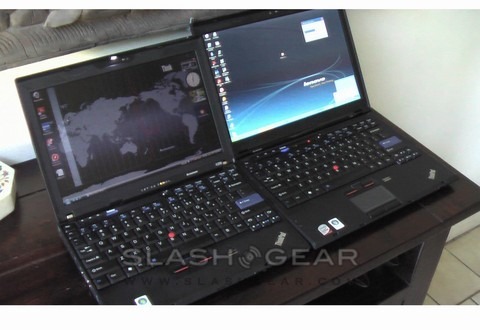 Where the X200 does score over the X300 is in its processor, using a full-speed Intel Centrino 2 CPU rather than the low-voltage version its older sibling has.  We didn't run any benchmarks, but in casual testing Word 2007 loaded and was ready to type in less than 2 seconds and Firefox was equally quick to appear.  This was pretty much the same as in our X300 testing, but of course that machine had an SSD.  Battery life is another winning point; again, no opportunity to fully test it, but the 9-cell extended battery is rated for up to 9.4hrs (versus 6.2hrs for the 6-cell or 3.1hrs for the 3-cell).
Storage ranges from the meagre (80GB 5,400rpm) to the spacious (320GB 5,400rpm, or 200GB 7,200rpm), and there's an expensive SSD option ($830).  3G modems are available for either AT&T or Verizon, RAM maxes out at 3GB and there's a choice of Vista or XP.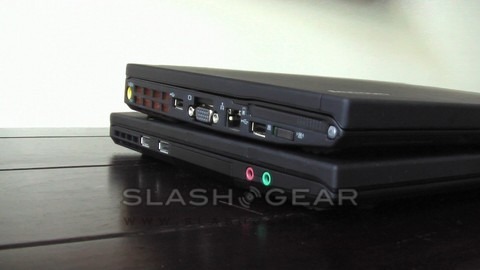 While we didn't have the benefit of an extended time with the ThinkPad X200, our hands-on impressions were good.  Considering the 9-cell battery is a mere $50 upgrade, you can potentially have an all-day, sturdy machine for what really is a bargain price.  Style-conscious execs might prefer the X300, but balancing price and performance, it's the X200 that would end up in our bag.
Click here for our Lenovo ThinkPad X200 gallery.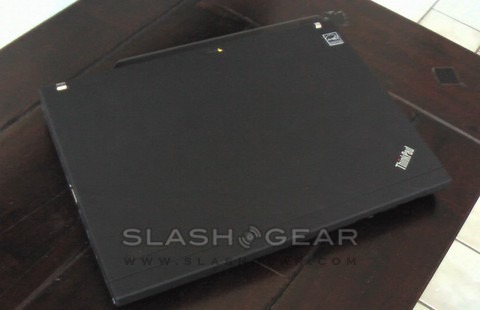 There are a number of full X200 reviews online: Notebooks.com; ThinkPadToday; PC World; Laptop Mag; NotebookReview; Computer Shopper; PC Mag.
[Many thanks to Xavier for the hospitality!]