Lenovo ThinkPad X130e goes on sale for students everywhere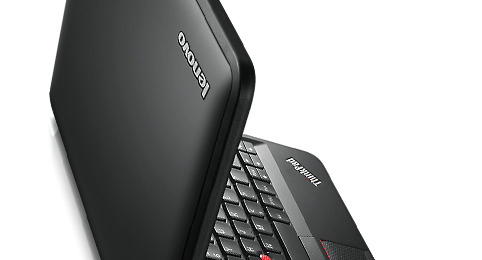 There's a brand new ThinkPad in town, and this Lenovo model X130e is no joke when it comes to dishing out the middle-range for students across the earth. For that's who Lenovo is aiming at here with the X130e, students in grades K-12 – though we're not sure what a Kindergartener is going to do with a laptop, by any means. Inside you'll get the latest AMD or Intel processors with integrated graphics, there's an 11.6-inch HD LED 1366 x 768 pixel display up front, and the whole thing is protected by a set of hardcore features that'll keep the unit out of physical harm's way.
This laptop has a rubber bumper on the top cover, a 33% increased strength set of corners over previous models just incase you drop it on its side, and the strongest hinges Lenovo has on a laptop yet with up to 30,000 cycles. There's also reinforced and recessed ports for USB and power action that'll reduce the amount of "wear and tear" you experience, and the bezel around the display is 1.2mm thick to keep the screen intact. The whole unit also weighs in at less than four pounds so it'll fit right in your backpack just fine.
The battery on this little beast will last you up to 8.5 hours, you'll be running Windows 7 Professional right out of the box, and you've got an instant 1-year warrantee for all sorts of breaks and mishaps. There are two different models available for this laptop right this moment, the first being the entry level model at $429.00 USD, the second being a slightly more high performance model at $549.00 USD. The higher grade model features an Intel Core i3-2367M processor – so go grab it!
[via Lenovo]