Lenovo ThinkPad X1 Yoga Review -- an ultrabook unlike any other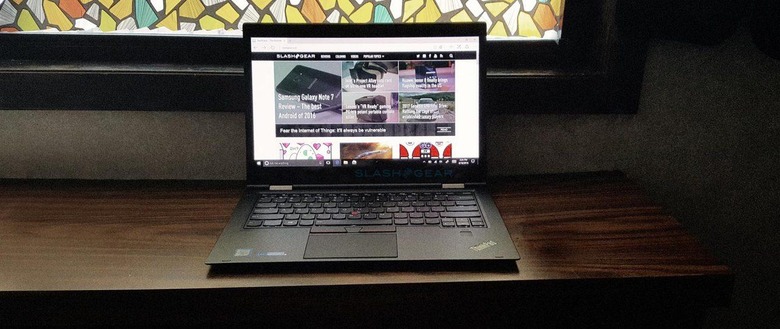 Ultrabooks are a wonderful thing, but they're known to require compromise: you get this (usually thin and lightweight construction), but you have to sacrifice that (let's say battery life and durability). It's this very nature of compromise that turns many off; more than a few laptop owners have gone with larger, heavier models to get the things their ultrabook counterparts couldn't offer. Lenovo's ThinkPad X1 Yoga ultrabook changes this — there is no compromise needed. In fact, you'd be hard-pressed to find any laptop, ultrabook or otherwise, that can stand up to the utter gem that is this Yoga model. I don't ordinarily feel like reviewing something is an honor, but the ThinkPad X1 Yoga is no ordinary ultrabook.
Hardware
There's this thing about expensive laptops that usually gets to me: often you feel like you're not getting what you should be for the cost. It feels like you're paying for a flashy design and careful marketing. It's a sad thing to spend a lot on a laptop, only to find one that's substantially cheaper and only a tiny bit inferior in all the practical ways.
It was that very thing that personally drove me into the arms of a (pricey but great and highly reliable) MacBook Air. Many newer PCs have crossed my desk since, and some of them have caught my eye, but the X1 Yoga is the first among them that really made me stop and think: this could be my everything laptop.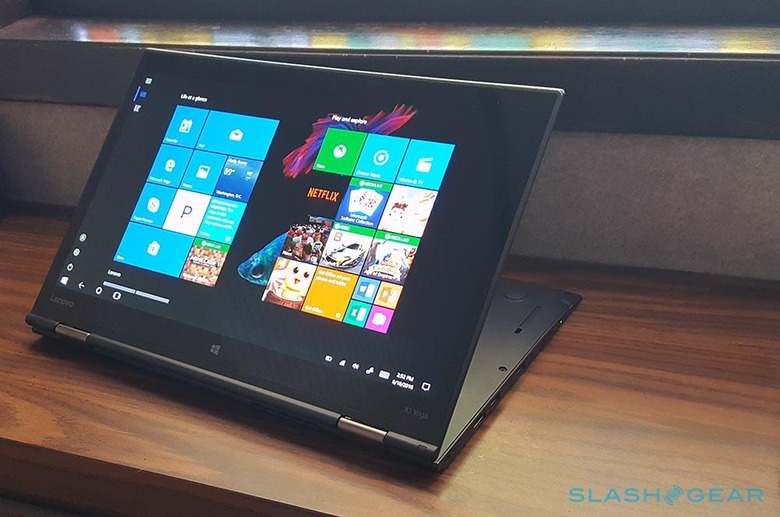 The Lenovo ThinkPad X1 Yoga isn't without its faults, I'm sure, since nothing is perfect...just don't ask me what those faults are because I'm really not sure. You could complain that the design is boring, but this is a ThinkPad, after all, and the design you're getting is distinctly ThinkPad. It's exactly what some people want, especially business users.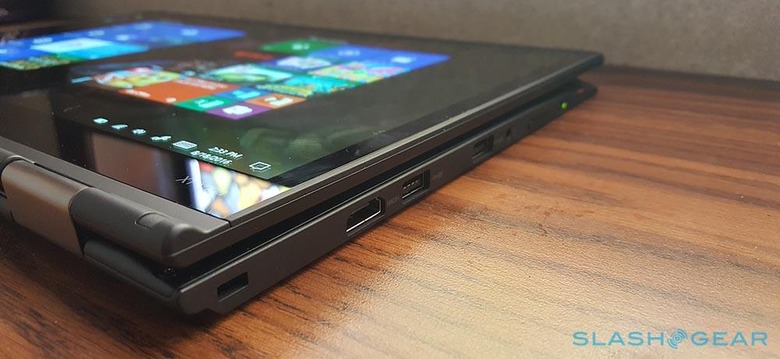 The laptop has the same keyboard you'll find in most other ThinkPad laptops, as well as the same dark and smooth design, black bezels, and red trackpoint. The trackpad is large with a trio of buttons, while the hinges, as you'd expect from a Yoga model, allow the screen to be rotated fully backward, transforming the laptop into a "tablet."
The laptop's OLED display is particularly wonderful, offering a 2K 2560 x 1440 resolution and "self-lighting" pixels. The colors are promised to be very accurate, and they certainly appear that way — this laptop would be a good option for photographers, graphic artists, and others who need to know the colors they're seeing are accurate. I really cannot put into words how gorgeous this display is — this is one of those laptops where you absolutely need to see it in person to fully understand what it offers.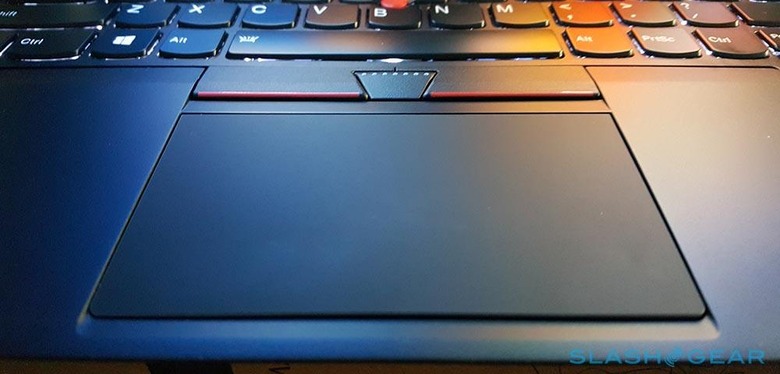 Processor: Up to Intel® Core™ i7 vPro™ Processor

Operating System: Windows 10 Pro 64-bit

Graphics: Intel® HD Graphics 520

Memory: Up to 16 GB DDR3

Storage: Up to 512 GB PCIe NVMe SSD

Camera / Microphone: 720p / Digital Array Microphone

Battery: Up to 11 Hours (52 WHr)

Display:

– 14" WQHD (2560 x 1440) OLED, Touch, 300 nits

– 14" FHD (1920 x 1080) IPS, Touch, 300 nits

– 14" WQHD (2560 x 1440) IPS, Anti-Glare, 300 nits

Dimensions (W x D x H):

– (inches) : 13.11" x 9.01" x 0.66"

– (mm) : 333 x 229 x 16.8

– OLED Version (inches) : 13.11" x 9.01" x 0.67"

– OLED Version (mm) : 333 x 229 x 17

Weight: Starting at 2.8 lbs (1270 g)

Security and Manageability:

– TPM

– Kensington® Lock

– Touch Fingerprint Reader

– Intel® vPro™ Technology

Stylus: Dockable Stylus Pen

I/O (Input/Output) Ports:

– OneLink+

– Mini DisplayPort™

– HDMI™

– 3 x USB 3.0

– microSD™

Connectivity:

Snowfield Peak 2 x 2 a/c + Bluetooth® 4.1 (Non-vPro™)

Snowfield Peak 2 x 2 a/c + Bluetooth® 4.1 (vPro™)

Bluetooth: Bluetooth® 4.1
Software & Performance
Performance is excellent (the model I reviewed has an i5 processor, but up to an i7 is available). You can see the benchmarks below and compare them to other benchmarks in our Laptop Reviews portal, but it's hard to judge by those without a frame of reference. I used the laptop with a bunch of the software that came on it — Microsoft Office applications, some games, etc — and I did all the things I do in a normal day: minor photo editing, using the Internet with several tabs open, taking notes, toggling between apps.
The X1 Yoga performed smooth as butter with 100-percent consistency; there were no hiccups, no stutters or sluggishness. Everything was very snappy.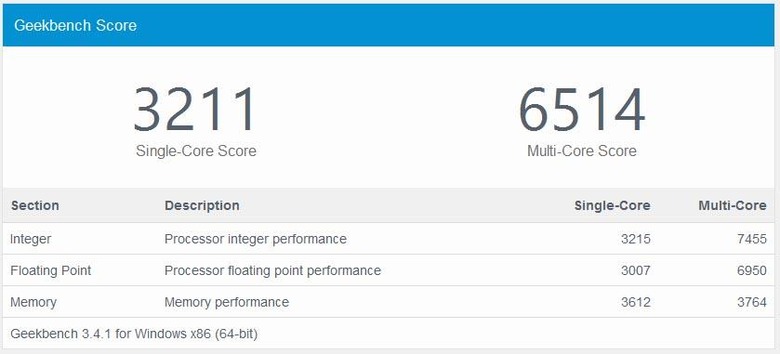 As far as software goes, you're getting some of Lenovo's own products, including Lenovo Companion, Lenovo Settings, Lenovo Solution Center, and the ThinkPad Pen low battery notification software. Nothing clunky or intrusive at all.
Stylus
Laptops with their own stylus/dock are great if they can meet or exceed the quality of a third-party stylus. That's not always the case, but Lenovo has a good track record in this regard, and the X1 Yoga is no exception. The stylus is the same black-and-red slim pen we've seen in other Lenovo laptops, and it works very well for both writing and drawing. There are the normal issues that come with digital writing — the lack of texture against the nib, having to hover your hand over the display — but that's every tablet/laptop. For what it is, the stylus/laptop are great.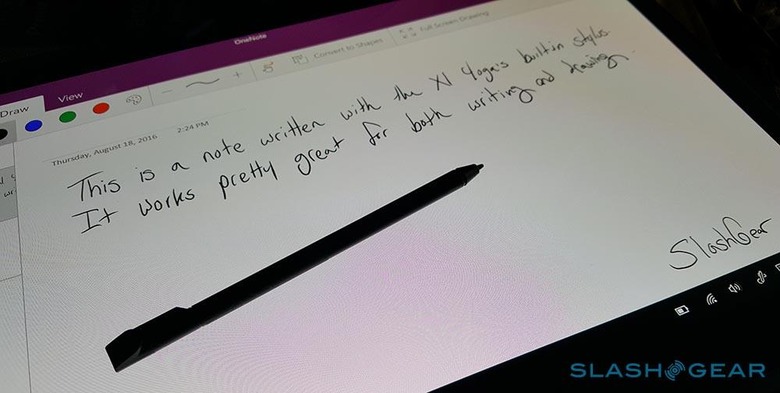 Conclusion
I've probably made it clear by this point that I'm rather fond of the ThinkPad X1 Yoga. It is very good at what it is, but, of course, if what you need falls outside the realm of what an ultrabook can provide, even the X1 Yoga won't be satisfactory.
Overall, this model touches on all the things you'd want in a laptop: biometric security, a long battery life, light weight, thin design, excellent keyboard, built-in stylus, powerful hardware, and gorgeous touchscreen. The OLED display in particular wins it so many points over the competition. If somehow all those things aren't up to standard, look elsewhere. For everyone else, the X1 Yoga should certainly be near or at the top of your considerations list the next time you go computer shopping.
The ThinkPad X1 Yoga starts at $1,394 USD on Lenovo's website.