Lenovo's X1 PC line scores new Thinkpads and more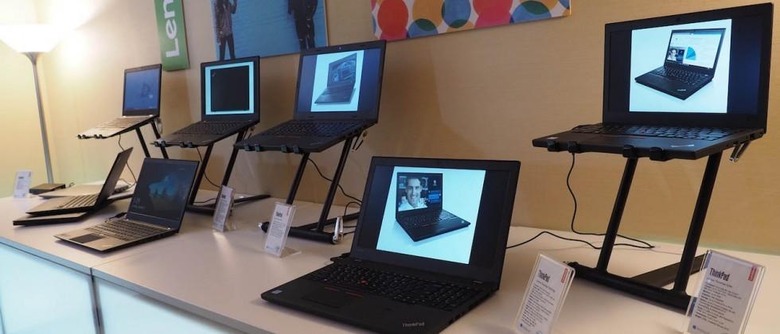 Lenovo's popular X1 product lineup is getting a big expansion in coming weeks, not the least of which is the addition of yet another ThinkPad X1 Carbon. Joining the new Carbon model will be a more flexible alternative, the ThinkPad X1 Yoga. For those who prefer more portability, the line is also getting the X1 Tablet, and it is catering to more traditional needs with the ThinkCentre X1 all-in-one desktop and the ThinkVision X1 monitor.
ThinkPad X1 Yoga
The ThinkPad X1 Yoga is one of Lenovo's newest flexible ThinkPads, bringing with it the same flexibility as its other Yoga offerings with the same level of performance as its business ThinkPads. The laptop is highly configurable with features including up to a 14-inch 2560 x 1440 WQHD display, 16GB of RAM, 1TB SSD, LTE-A WWAN, an Intel 6th Gen Core i7 Pro, and Intel HD Graphics HD520.
Other features include MIL-SPEC testing, an included stylus pen, three USB 3.0 ports, HDMI, MiniDisplay Port, optional WiGig docking, a fingerprint reader, WWAN, microSD card slot, and audio jack.
The ThinkPad X1 Yoga will launch this month for $1,449 USD.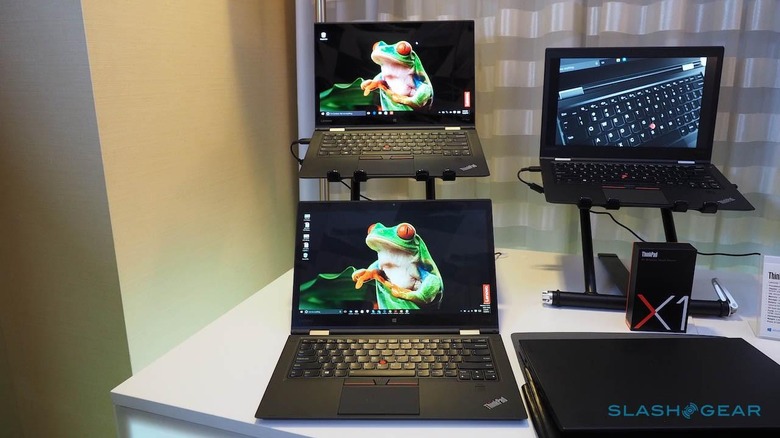 ThinkPad X1 Carbon
Lenovo's new ThinkPad X1 Carbon features a design similar to the past models, and includes the same rugged MIL-SPEC tested construction. The laptop is available with up to an Intel 6th-gen Core i7 Pro processor, up to a 1TB SSD, Intel HD Graphics HD520, and optional LTE-A WWAN and WiGig docking.
Ports include a trio of USB 3.0 slots, OneLink+, HDMI, MiniDP, microSD, WWAN, fingerprint reader, and audio jack. The system itself runs Windows 10 Pro 64-bit, and boasts 11 or so hours of run time on a charge thanks to a 52Whr battery. Rounding it all out is a 720p webcam and dual microphones.
Says Lenovo, this is the lightest 14-inch ultrabook yet, measuring in at 0.65-inches thin with an overall weight of 2.6lbs. The laptop will be launching in February starting at $1,299 USD.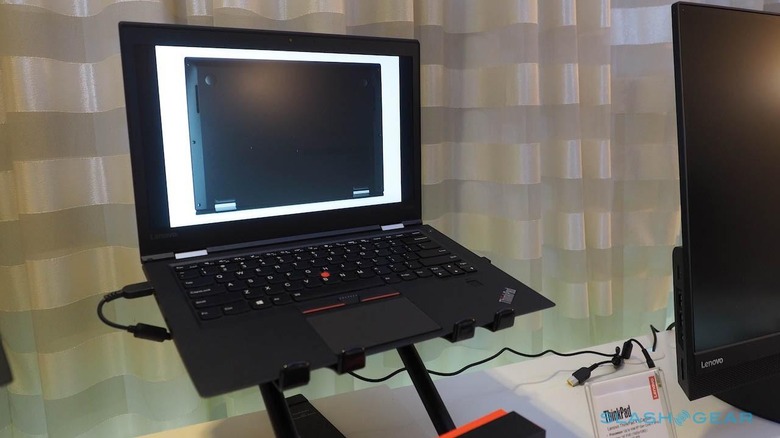 ThinkPad X1 Tablet
Those who need something more portable have a new option with the ThinkPad X1 Tablet, a tablet system with the same hinge design featured on some of Lenovo's other tablets. According to Lenovo, the tablet has a full PC experience but with a detachable keyboard, giving it that ultra degree of portability.
Some of the tablet's more notable features is a 15-hour battery life, as well as a projector, and a 3D camera. Those features largely are due to add-on modules — the productivity module adds 5 hours of battery life and some ports, while the Presenter module adds a projector and the 3D imaging module allows for capturing objects.
The tablet will be available in February starting at $899 USD.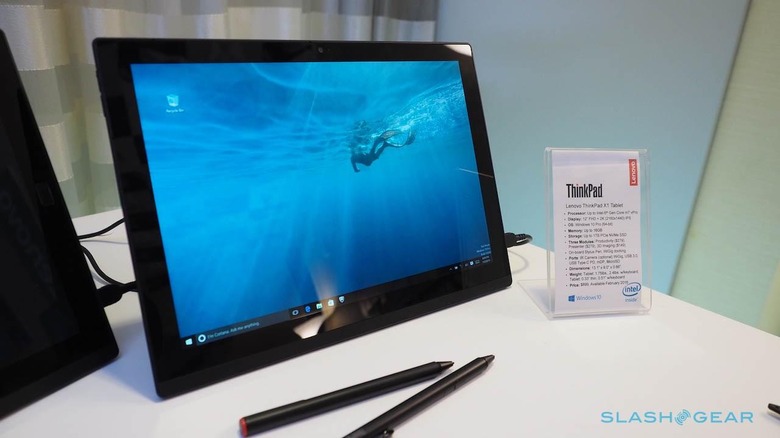 ThinkVision X1
The new ThinkVision X1 is a high-resolution monitor for those with demanding needs — photographers, graphic designers, and more. The ThinkVision features a 3840 x 2160 borderless IPS ultra-slim display, 300 nit brightness, a 1300:1 contrast, and a response time of 6ms. Ports includes a USB 3.1 Type C slot, DisplayPort 1.2, and HDMI 2.0. There's also a USB hub with four USB 3.0 ports.
Other features include a Full HD webcam with a privacy cover and an LED, a tilt adjustable chrome stand, and a pair of 3 watt speakers alongside a dual array microphone.
The monitor will be available starting in March for $799 USD.
ThinkCentre X1
Those who need a desktop system have the new ThinkCentre X1 all-in-one system with a 23.8-inch IPS Full HD display and up to an Intel Core i7 Pro. Features including various storage options, including both HDDs and SSDs, as well as a variety of USB ports and an optional card reader, Intel HD Graphics 520, a 1080p webcam, USB smart protection, and physical camera lock.
The new ThinkCentre X1 launches in March for $1,029 USD.