Lenovo ThinkPad W700ds mobile workstation: New images and details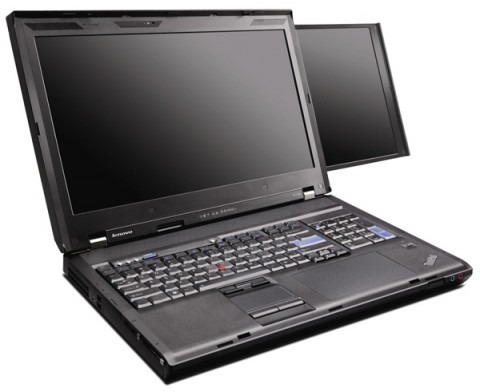 When news of Lenovo's ThinkPad W700ds dual-display workstation broke last week we did wonder if the small photo was a fan mockup – the side display looked very much "tagged on".  Now new, larger official images have appeared, and it looks like that original picture was accurate.  Happily we also have a new price range, which is much less than what early tips suggested: Lenovo will be selling the W700ds from around $3,600.
We're still yet to see the W700ds with the screen down, so there's no telling exactly the impact that pull-out secondary display has on casing design, aside from an extra 10mm thickness.  The setup is apparently called a "pocket door" configuration, with the 10.6-inch display in a spring-loaded bay built into the lid thickness.  What we do know is that the mobile workstation weighs 11lb, and, according to Wes Williams, worldwide product marketing manager for ThinkPads, runs "incredible cool" courtesy of dual fans and dual-heat reduction systems.  He also boasted that the primary display is, at 400 nits, brighter than any other notebook in the market, as well as being able to display 72-percent of Adobe RGB colors.
"People that use high-end computers, whether they are professional photographers or work in other fields, all use two displays at their desktops.  What we were trying to do in building a mobile workstation is give them the same experience. Not only do you need a great display, great graphics, great processor and RAID hard drive with a workstation, but it is hard going back to a single display mode" Wes Williams, worldwide product marketing manager for ThinkPads, Lenovo
The sub-display can be twisted 30-degrees, and Lenovo are comparing it to that found on many netbooks.  Drop primary screen brightness by half and the 2hr battery life almost doubles to 3.5hrs, too.  Under the sizable hood there's a choice of Intel Core 2 Quad processors, together with NVIDIA's Quadro FX 3700M GPU, up to 8GB of RAM and up to 960GB of SSD or standard hard-drive based storage in an optional RAID array. 
Lenovo expect the ThinkPad W700ds to begin shipping in January 2009.
[via Engadget]