Lenovo ThinkPad Tablet Hands-On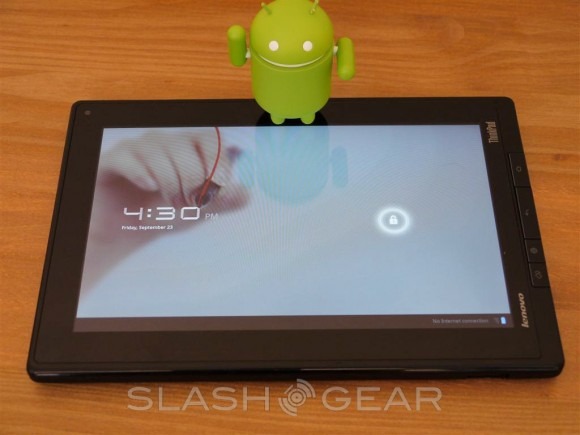 For all the power users and business minded today we have the ultimate tablet for you. This is the Lenovo ThinkPad Tablet. With a similar design and feel to current and past Lenovo laptops, but with that flare we call Android 3.1 Honeycomb. This has it all from a dual-core processor, stylus support and even a full sized USB port for all your connectivity needs. Today we'll be doing a quick hands-on with the tablet and you can expect a detailed review soon. Head down past the break for the unboxing video and a few quick pictures.
This tablet broke cover way back in April then later in August we saw the first press images of the Lenovo produced tablet. Today I've gone ahead and unboxed this powerhouse tablet and we'll start with the video to get you up to speed.
Lenovo ThinkPad Tablet hands-on
[vms 16e0238f741fab228fec]
This isn't the first time we've handled these tablets in our own hands and you can see even more coverage here. This Android 3.1 Honeycomb slate is powered along by a rocking NVIDIA Tegra 2 dual-core processor, 1GB of RAM, 32GB of internal storage (16 and 64GB versions available), as well as a 10.1" IPS display that is both bright and vibrant. Lenovo has provided a wide array of ports for all types of accessories, many specifically for business minded individuals. We have a 5MP camera on the rear and a 2MP up front for the video conference users.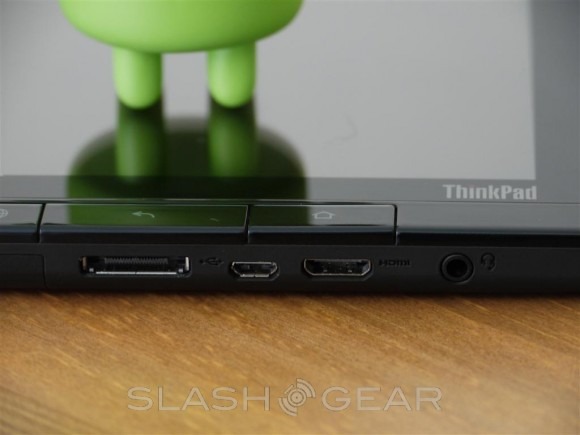 Nicely featuring some dedicated Android buttons this is unlike most Honeycomb tablets to date as the OS is all touch friendly and doesn't require the buttons. Like we mentioned, for power users we have a mini HDMI port, micro-USB, a 30 pin port for docks, keyboard accessories and more. Not only that but Lenovo went a step further and outfitted this tab with a SIM slot for 3G connectivity and then a full-sized SD slot for full storage options.
We wont get into the details too much here as that will come along shortly in our full detailed review next week. Before we let you wonder I do want to mention it has a great feel with the same soft coat matte style many Lenovo laptops have graced us with over the years. Then seen in the images below you'll be happy to know a full sized USB port will allow users to connect a keyboard or mouse, and many other things should they find the need. It does happen to also come with a stylus for that added control and accuracy as well as for taking notes and things of that nature.
Feel free to look over a few quick photos below in the gallery and check back often as we'll have the full review for you shortly