Lenovo ThinkPad Tablet breaks cover: Honeycomb slate with Keyboard Dock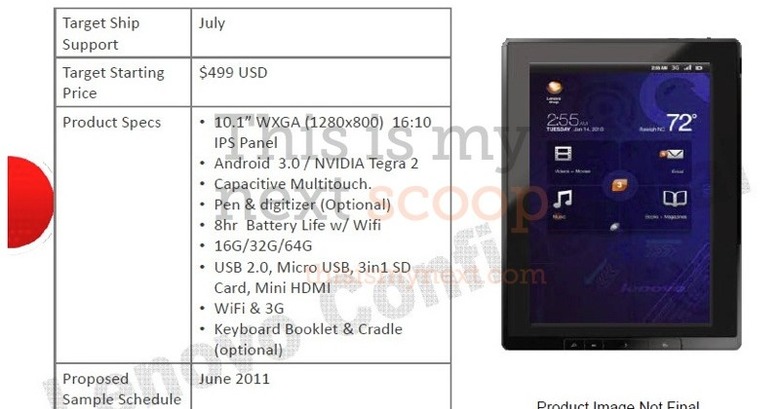 Details of a new Lenovo Android 3.0 Honeycomb slate have emerged, a stylus-toting 10.1-inch ThinkPad Tablet with an ASUS Eee Pad Transformer-style keyboard dock, an IPS display and NVIDIA's Tegra 2 chipset. The ThinkPad Tablet is scheduled for a Q3 2011 launch, so the leaked presentation acquired by This is my next suggests, complete with a "Lenovo Family UI" customizing the interface and which apps are preloaded.
Other specs for the slate include a 1280 x 800 WXGA display with capacitive multitouch, an optional active digitizer with a stylus – like the HTC Flyer – and a choice of 16GB, 32GB or 64GB storage. There's also a battery good for 8hrs, USB and microUSB ports, a 3-in-1 memory card reader and mini HDMI, along with WiFi and 3G.
No word on whether the keyboard dock – into which the ThinkPad Tablet slots – will have a battery of its own at this stage; from the images it does seem to have a trackpad though no TrackPoint stick that we can spot. Perhaps Lenovo's artists simply didn't dot a red blob in the middle.
The ThinkPad Tablet is expected to be 1.6lb and 0.55-inches thick. Pricing is unlikely to be finalized, though Lenovo is said to be looking at a roughly $499 point – presumably without either keyboard dock or active digitizer – so as to keep it competitive with the iPad 2.
[via Android Community]