Lenovo ThinkPad Tablet 2 leaks: Win 8 with keyboard dock and pen [Updated]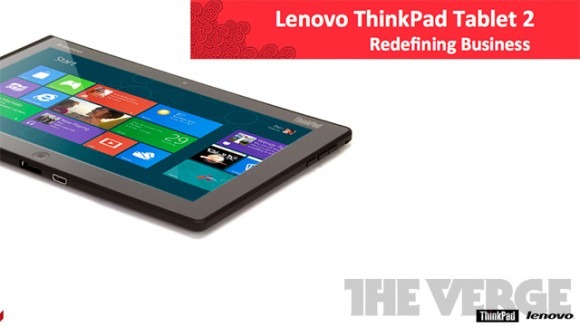 Lenovo's next attempt at a pen-enabled tablet has been prematurely revealed, the ThinkPad Tablet 2, this time running Windows 8 on an Intel dual-core Clover Trail processor with an optional keyboard dock. The business-focused slate has a 10.1-inch WXGA touchscreen, so presentations slides leaked to The Verge reveal, along with 2GB of RAM and 64GB of storage. Update: Full specs now leaked, read on for all the details...
There's also NFC, a fingerprint reader, and HSPA+/LTE connectivity for mobile use. It's the accessories that have us most curious, however, one being a keyboard dock complete with trackpoint navigation – and hopefully delivering that envied typing-feel from Lenovo notebooks – and a pen stylus for handwriting and sketching.

Exactly what technology thee pen will use is unclear at this stage. Lenovo is likely to be using an active digitizer, for more precise input, however, given the company has already used such technology in previous Windows-based ThinkPad tablets (which have usually been convertible notebooks rather than slates).
Pricing and availability are unknown at this stage, but Lenovo's marketing document is keen to position the ThinkPad Tablet 2 as not only a rival to Apple's iPad but to other Windows models using the ARM-focused RT version of the OS.
Update: Thanks to more of the leaked slides shared with Techin5, we know more about the ThinkPad Tablet 2. The tablet will measure in at 262.6 x 164 x 9.8 mm and weigh 650g, and have a 10-finger multitouch display with an optional digitizer (i.e. the active digitizer we suspected). It will have twin 1W speakers, a 2-megapixel front-facing camera and 8-megapixel rear camera, both with LED flash, and a dual microphone array with digital noise reduction.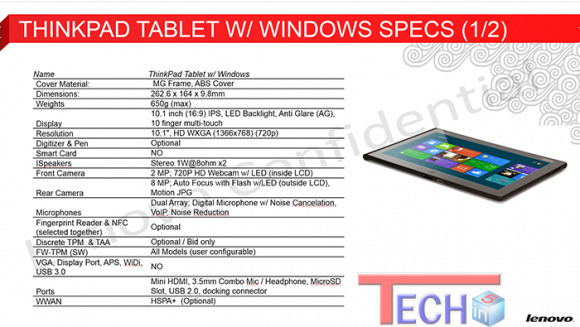 The fingerprint reader and NFC will be a bundled option, while ports will include Mini HDMI, a 3.5mm headset port, microSD and a USB 2.0, along with a docking connector. HSPA+ will be optional. GPS, a digital compass, ambient light sensor and a vibration motor will be included, along with a physical volume control and a rotation-lock switch.