Lenovo ThinkPad L450, E550, E450: performance at value price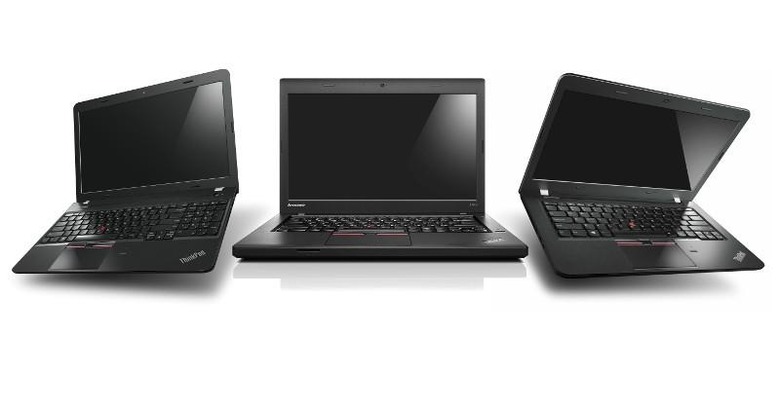 Lenovo has a ton of laptops here at CES 2015 and a good number of them are geared towards more seasoned, and likely more well-funded, professionals. However, the PC maker definitely hasn't forgotten that class of professionals who don't want to break into a bank just to get their hands on a quality laptop. For these people, Lenovo has outed the eco-friendly ThinkPad L450, the business-minded ThinkPad E550, and its smaller sibling the ThinkPad E450, three notebooks that aim to deliver professional-level performance without the high price tag.
Don't underestimate these three notebooks just because of their "budget" tags. All three are powered by Intel's latest 5th gen Core i processors, of course with varying clock speeds. Buyers can cram as much as 16 GB of RAM into these things, split over 2 DIMM slots. And there are various options available, ranging from storage sizes and types, peripherals, and even display resolutions, ensuring that all classes of users can be accommodated by Lenovo's selection.
The ThinkPad L450 distinguishes itself for its higher performance and a slightly higher price tag. Though thinner and lighter than previous generations, the L450 still manages to grab acclaimed certifications in both military stress testing and environmental requirements, with Lenovo touting it as the Greenest ThinkPad to date. The default display comes at a 14 inches with a 1366x768 HD resolution but there is an option to upgrade it to 1920x1080 FHD. For storage options, it can support a wider variety of types and sizes, including 5400 or 7200 rpm HDDs in 500 GB and 1 TB capacities, Hybrid 500 GB HDD and 8 GB SSD, a full-on SSD in 128 and 512 configurations and SSD with OPAL compliance.
The ThinkPads E550 and E450 have a lot in common and differ mostly in size. The larger E550 comes with a 15.6-inch 1366x768 HD screen by default, with the same option to upgrade to 1920x1080 FHD. While it comes with a 720p webcam by default, which is only optional on the L450, it's real value comes with the optional 3D RealSense camera, the same camera technology that Intel has been showing off on the Dell Venue 8 7000 tablet. Both the E550 and E450 can either have an integrated Intel GPU or a discrete AMD Radeon Graphics.
The E450 is only slightly smaller, with a 14-inch 1366x768 screen. Again, buyers can have the option of getting a higher 1920x1080 resolution for the same size. The E450 also has the option for a better graphics card with the AMD Radeon instead of the default Intel HD Graphics onboard.
The Lenovo ThinkPad L450 will be available this month with the base price starting at $699. The ThinkPad E550 and E450 will also be available this January, and will come with a lower starting point of $599.