Lenovo ThinkPad 25 Review : Back to the Future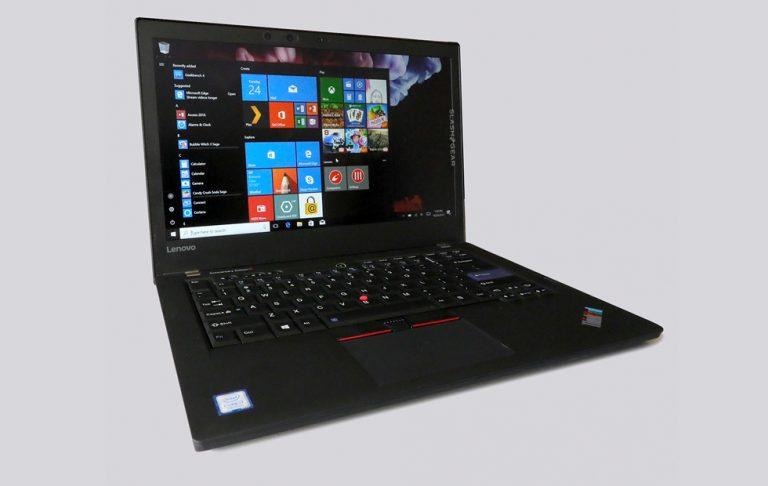 The ThinkPad 25 from Lenovo is an extreme rarity in today's world of electronics constantly on the cusp. The ThinkPad 25 is wish fulfillment for fans of the original, made real again here in 2017 with newer more powerful technology to compete with the rest of the real world of laptops for work and play. Now we've got to decide whether we're living dream, or just plain dreaming.
What ThinkPad 25 is made of
The ThinkPad 25 is delivered in a special edition box which, once opened, reveals a tiny history of the ThinkPad booklet. The packaging is black and red outside and in, save the special edition ThinkPad 25 logo, which of course references the original IBM from the lid of the first ThinkPad.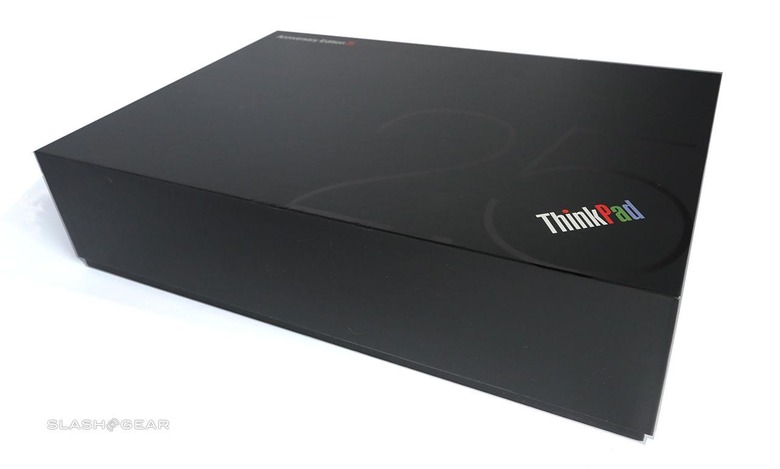 ABOVE: A box with some thought put into it, made for ThinkPad 25. BELOW: A few more elements in the box, including replacement/alternate red nubs!
Inside the ThinkPad is a similarly simple color pallet, including black, white, the triple red, blue, green, and a few lighter blue accents. This could have gone so wrong – but it didn't. The industrial design of this device could have referenced all the design elements that've dated themselves out of reference worthiness – but they didn't.
Instead, the ThinkPad 25 does exactly what we'd hoped Lenovo would do. That is to keep all the best and most missed features from the original ThinkPad. They've put these pieces in to a notebook that retains its own unique identity while it benefits from a modern processor, display, memory, storage, audio, and connectivity.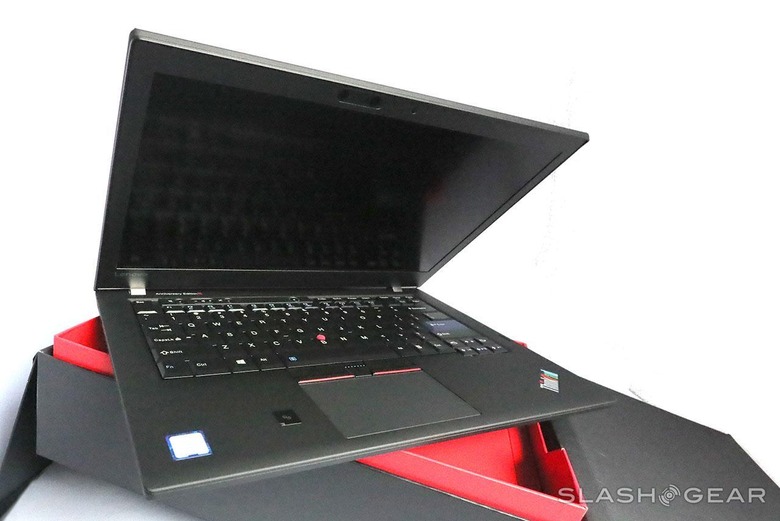 The display on this ThinkPad 25 is 14-inches diagonally with full HD resolution. That's 1920 x 1080 pixels using IPS LCD technology. This screen also has multitouch capabilities (it's a touchscreen, as it were) – meaning you can make use of tap-friendly apps and games on the fly if you wish. Or, if you have a toddler in the house, they can wreak havoc all the more easily – lucky you!
The best part about this display is not its resolution (because it's pretty baseline), but its antiglare covering. Where the vast majority of laptops in the world today stubbornly stick with glass that reflects light directly into their users' eyes regularly, Lenovo's implementation of antiglare hardware here makes the device feel a lot more breathable.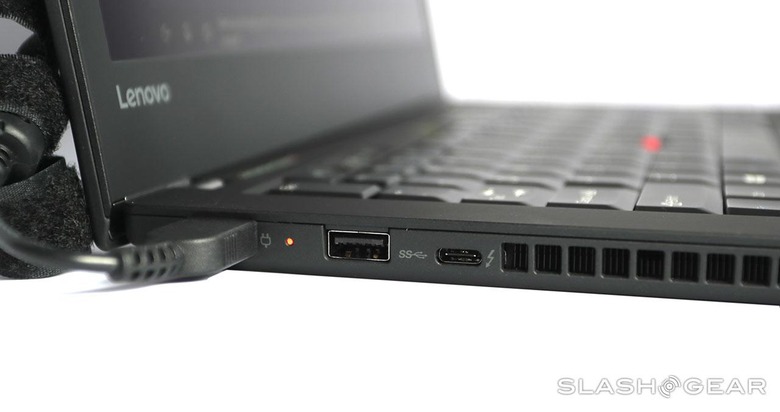 ABOVE and BELOW: Two sides of the ThinkPad 25 – a device of many, many ports. So many ports you're not going to know what to do with them all – but you'll appreciate having nonetheless.

Along the edges of this notebook are 3x USB 3.0 ports – the beginning of the generous amount of ports that fly directly in the face of the many 3, 2, and even 1-port notebooks of the modern age. This notebook also has 1x USB-C port with Intel Thunderbolt 3 technology for super fast transfers of all manner of data.
There's a single full-sized HDMI port to connect to large displays. There' a single headphone port, too – it's even a Combo Audio Jack, just as it aught to be. Amongst the ports there's a 4-in-1 (SD, MMC, SDHC, SDXC) memory card reader – something the MacBook Pro used to have, but does no longer. Of all the ports on this machine, that's the one I appreciate the most.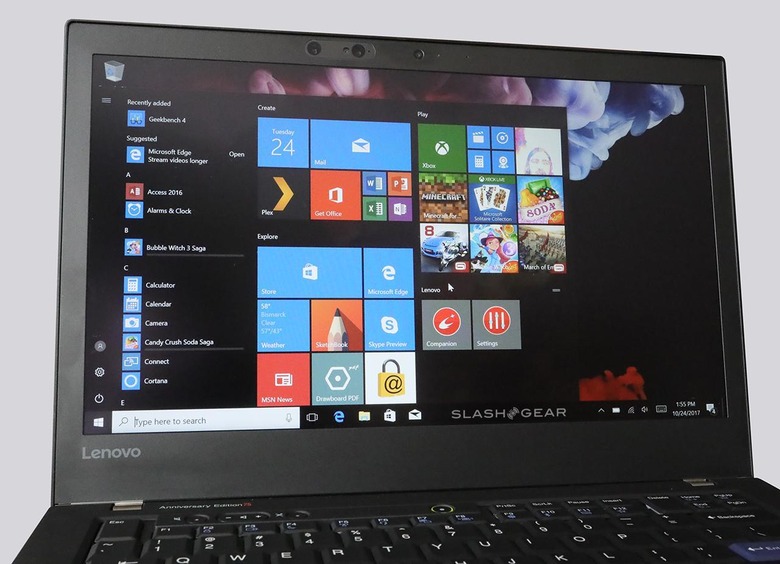 Connectivity inside includes RJ45 Gigabit Ethernet, able to make the most of internet speeds the original ThinkPad couldn't possibly conceive of. What would this sort of speed be used for back then, anyway, downloading photos so tiny they could never realistically be used outside of a computer screen environment?
The camera above the display is decent, as far as laptop cameras go. It does seem as though this component has fallen by the wayside with most laptop-makers – but Lenovo's implemented a camera that's good enough for the basics. The audio – with dual array microphones and background noise reduction – is top notch.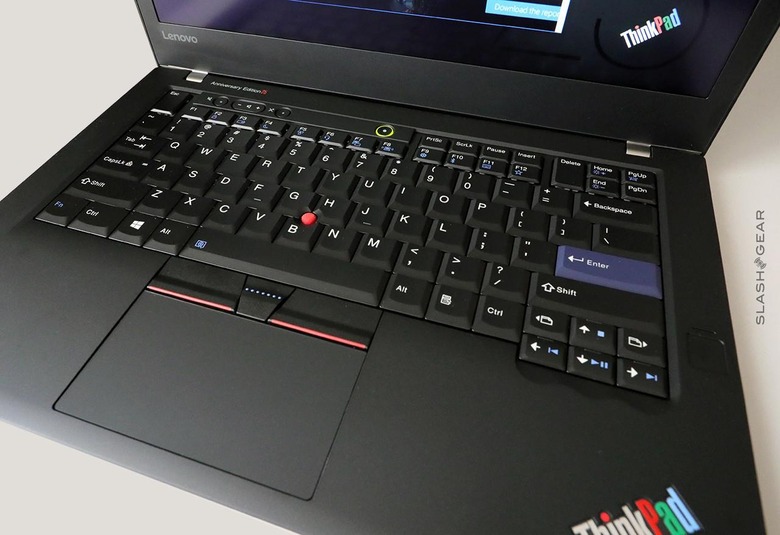 This camera (with its infra-red tech included) allows the user to log in to the notebook with their face, using Windows Hello facial recognition. That feature worked fairly swiftly and reliably – though I had the best luck with the fingerprint scanner. The scanner sits to the lower-right-hand side of the keyboard, out of the way when not needed and well placed for initial login. This notebook also features vPro remote management and dTPM encryption onboard.
The ThinkPad 25 we've got here has Windows 10 Pro onboard with a 7th-gen Intel Core i7-7500U (2.7Ghz, 4MB) processor. It also features an NVIDIA GeForce 940MX 2GB GDDR5 GPU. Also inside is 16GB DDR4 RAM as well as 512 GB PCIe SSD for data storage.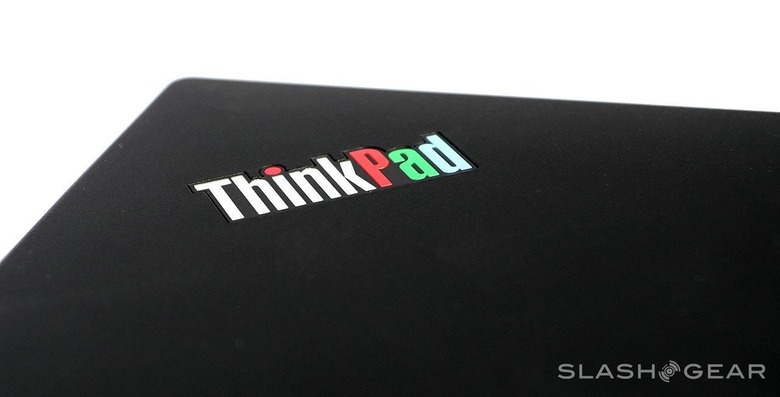 In the benchmarking application GeekBench 4, Lenovo's ThinkPad 25 served up a score of 4140 for single-core and 7900 for multi-core, with a compute score of 16,781. Rolling with a 3DMark Ice Storm Unlimited score of around 113,000 on average, this machine's use of the NVIDIA 940MX GPU makes certain it's tight for any non-mega-gaming-intensive tasks this machine might need to perform. Cinebench score averages hovered around 370, while Handbrake came in at around 1:59.
Audio on this machine is automatically enhanced with Dolby tuning technology. The sound feels decent and can very likely fill the needs of the average user without issue. This isn't the laptop you'll want to use as a speaker for a wild rumpus, but watching movies at home at a low volume in bed will be entirely reasonable.
The keyboard is truly a conundrum for me as I've switched formats so many times over the past couple of decades. The keyboard style this notebook works with has keys that ride the edge between "just right" and "just too far apart". Once I get to typing, after a while I get used to the new grooves. But every time I start, I have to readjust my expectations for key placement.
The arrangement of the keys on the keyboard feels odd for me because I've not used a ThinkPad in a while. The feel of the keys, on the other hand, is great. Each key push is a soft bump against the base, and flying through words and paragraphs is comfortable again. Nothing like the modern nonsense that is typing on a touchscreen.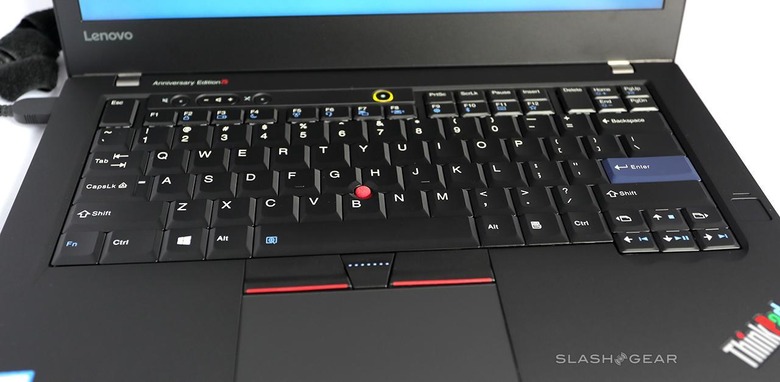 The touchpad is 3.9-inches by 2.2-inches, and it feels decent. Gone are the days in which a Windows laptop's touchpad could make or break the experience – now we're in a space there material matters. This touchpad has mylar up top, which is both comfortable and has remained both clean and accurate through the time I've reviewed this device.
Battery life on this machine with its default 3-cell battery in use isn't especially good. It'll last a whole airplane flight a few states over, but don't expect it to last on a trip from Minnesota to Rome. Lenovo does have an optional 6-cell extended battery for $140 – which I recommend you get if you're going to buy this notebook right out the gate.
Or, since this ThinkPad 25 uses Lenovo's PowerBridge connector tech, buy a few extra batteries. You can switch them out without shutting down the computer – no sweat. Grab a whole handful of batteries and you'll be totally fine on an extended flight – provided you're somehow able to convince security that you have a bunch of batteries for a good reason.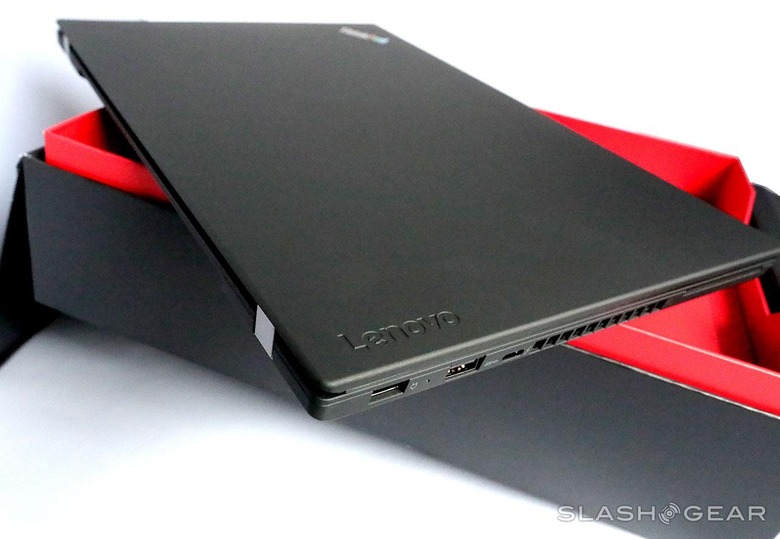 Wrap-up
The satisfaction a user will feel with this notebook relies at least partially on their connection to the original. The ThinkPad is one of the most memorable brand names in notebook computers, and Lenovo knows it. They're not about to let consumers forget it.
The price of this machine is high for font memories alone – as such, we're glad to see that Lenovo's updated this machine with the most modern day tech offered on a Windows 10 laptop. This device is powerful enough to be someone's daily driver at the same time as it acts as a reminder that the original designers behind the ThinkPad brand had it right 25 years ago in a (slightly updated) design that remains solid today.