Lenovo ThinkCentre M75e Review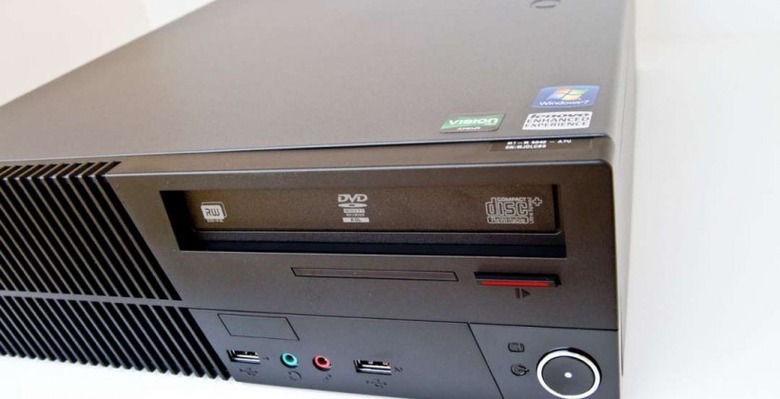 Desktops may not be as fashionable as notebooks these days, but they're still often the most cost-effective way to get significant processing power. Lenovo's ThinkCentre M75e has the grunt, thanks to a 3.0GHz quadcore AMD's Athlon II X4 640 processor, but it also takes up a little less office space thanks to a small form-factor chassis. Has the company struck the ideal balance? Check out the full SlashGear review after the cut.
Like other ThinkCentre workstations, the M75e is a solemn black obelisk that has no truck with unnecessary styling or design. There's room for a single 5.25-inch drive on the fascia and a single 3.5-inch drive on the inside. Taking off the side panel is a simple matter of two screws, and while it's obviously a reasonably tight fit inside, it's all laid out neatly.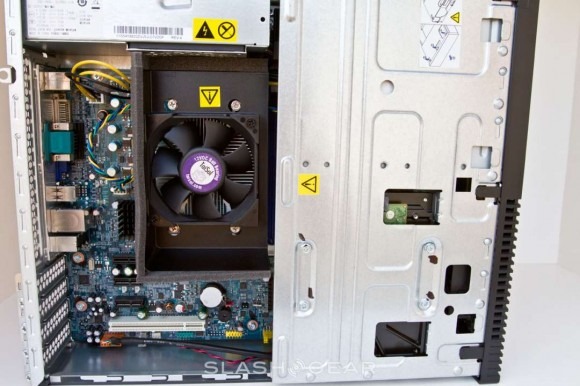 Into that reasonably compact desktop case, Lenovo has slotted AMD's Athlon II X4 640 processor running at 3.0GHz and paired with 4GB of DDR3 memory. There's also ATI Radeon HD 3000 graphics, using 256MB of that RAM, together with a DVD burner and a 500GB hard-drive.
Connectivity includes two USB 2.0 ports and audio in/out on the front panel, then a further four USB 3.0 on the back, gigabit ethernet, audio, DVI-D and VGA graphics (both of which can be active simultaneously), serial and two PS/2 ports for keyboard and mouse. There are also four half-height PCI-E slots.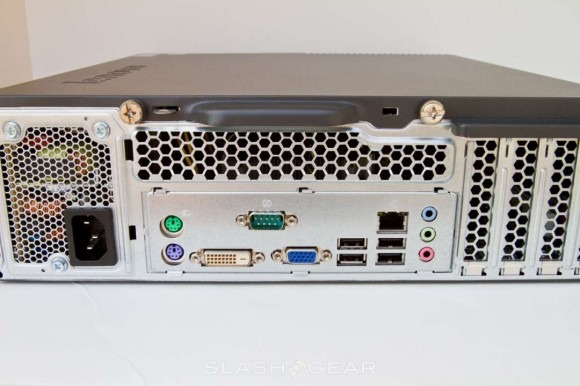 Lenovo is keen to stress the out-of-the-box flexibility of the ThinkCentre M75e, particularly how multi-monitor friendly it is. As standard, it can drive two displays (one DVI-D, one VGA) at the same time, either duplicating or extending the Windows 7 desktop, though the company also offers an optional half-height graphics card with a further two outputs, meaning a total of four displays can be chained off the one PC.
We ran Geekbench on the M75e, a synthetic test of processor and memory performance, and the workstation scored 6145. Very strong processor scores were pulled down by middling memory performance. Still, it's around 1,000 points higher than Intel's 3.2GHz Core i5-650 in the Lenovo M90z (which only had 3GB of memory).
[sgbenchmark id=124 show=score]
In terms of real-world performance, the M75e is certainly capable of handling Office, web browsing and email. It's not a natural multimedia machine, lacking HDMI connectivity or, indeed, a hefty GPU for video crunching, but the processor is sufficient for general video editing tasks. Lenovo has also worked its "Enhanced Experience" magic on the start-up time, shrinking it down to roughly thirty seconds. How consistent that will be once start-up drivers and apps sink their claws into Windows 7 will remain to be seen.
Our main criticisms of the ThinkCentre M75e are generally byproducts of its SFF chassis. The reduced space leaves little room for cooling, and while the M75e doesn't run hot it can get loud: under load, such as during our benchmark testing, the PC's fan kicked in and was significantly louder than on other desktops or workstations we've reviewed. It seems Lenovo has opted for "quick and noisy" rather than "long and low", since the fan was only running at high speed for short periods.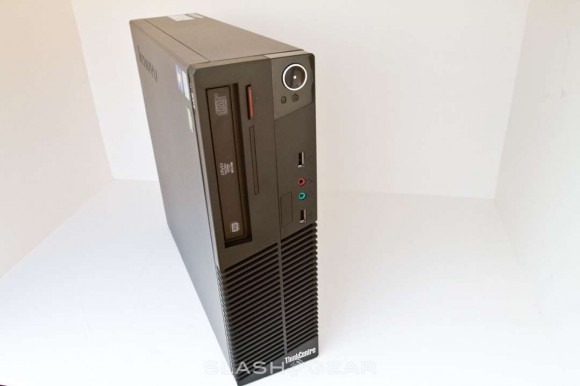 Our second issue is hard-drive space. With a single 3.5-inch drive bay (though four SATA connectors) we'd like to have seen Lenovo offer larger HDD options than the 500GB maximum supplied on this M75e review unit ($818 from Lenovo direct, or around $680 as the preconfigured 5042A7U from resellers). Considering 3TB drives are on the market now, limiting the ThinkCentre to, at most, just a sixth of that (250GB is fitted as standard) seems short-sighted. There are also no eSATA ports for adding high-speed external drives, nor USB 3.0.
Still, on balance there's plenty to like about the Lenovo ThinkCentre M75e. No, it's not the most glamorous of desktops, nor the most powerful or feature-heavy, but it's also affordable and still manages to pack a solid performance punch. The easy of multi-monitor configuration is useful, and AMD's Athlon II X4 processor is certainly capable of holding its own against the Intel Core i5 competition.