Lenovo ThinkCentre A600 HD all-in-one on sale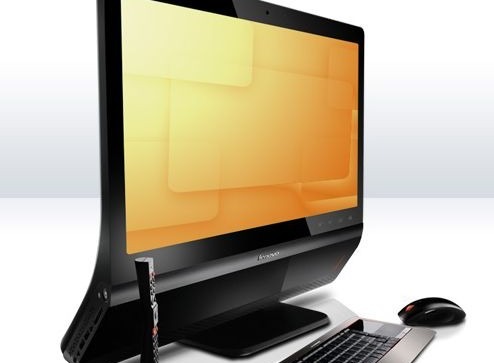 We may receive a commission on purchases made from links.
The Lenovo IdeaCentre A600 all-in-one desktop PC is now available to order, offering a 21.5-inch 1920 x 1080 16:9 HD-display, slot-loading DVD or Blu-Ray drive and a range of Intel Core 2 Duo processors.  First announced back at CES 2009 in January, the IdeaCentre A600 is apparently the world's slimmest all-in-one PC.
The range starts at $699.99 for an A600-30112AU with Intel's T4200 2GHz processor (800MHz 1MB), 2GB of DDR3 memory and a 320GB 7,200rpm hard-drive.  Next up is the A600-30112BU, with the same CPU but 3GB of DDR3 RAM and a 500GB 7,200rpm hard-drive, priced at $799.99.  Finally, the A600-30113AU is priced at $999.99, and has the T6400 2GHz processor (800MHz 2MB), 3GB of DDR3 RAM and a 640GB 7,200rpm hard-drive.
Each come with a wireless keyboard, mouse and remote control, WiFi, six USB 2.0 ports and a FireWire port.  There's also a 6-in-1 memory card reader, 2.1-speaker system with subwoofer, and an optional integrated hybrid TV tuner; right now there doesn't appear to be a way to specify the Blu-Ray drive.  According to Lenovo the ThinkCentre A600 will begin shipping within two business days.
[via Engadget]