Lenovo teases bendable, voice-controlled laptop concept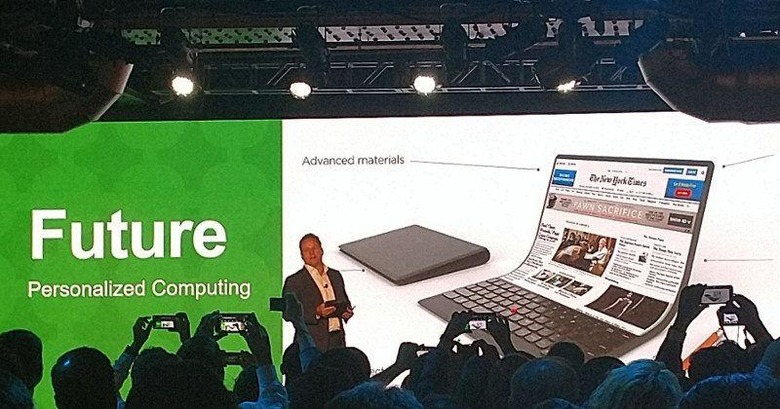 Although Lenovo, even after its Motorola acquisition, is finding difficulty securing a foothold in the mobile market, it remains the world's top PC vendor, especially when it comes to laptops. That has allowed it to venture off into a few experiments, like the more or less successful YOGA line or the so-so Yoga Book and its Halo Keyboard. At its Lenovo Transform event in New York, Lenovo revealed one of its possible future experiments, a laptop that can be folded, rolled, and bended, and doesn't have a trackpad. Lenovo calls it the "Future of Personalized Computing".
"No trackpad", you ask? Well the laptop offers 3 other means of input. There's the, by now, standard touch screen, a stylus or pencil, and perhaps the newest of them all, voice input. While personal assistants are en vogue these days, they don't exactly let you completely control a PC. Even Cortana has limited reach in that regard.
But more than just the unorthodox input, this Future PC concept is more intriguing in its form and design. While laptops do already fold, they make use of hinges to do so. And they definitely don't bend at the screen like this. This Lenovo concept is pretty much the laptop equivalent of the mythical foldable tablet/smartphone. At least this one isn't all screen and does have a traditional physical keyboard.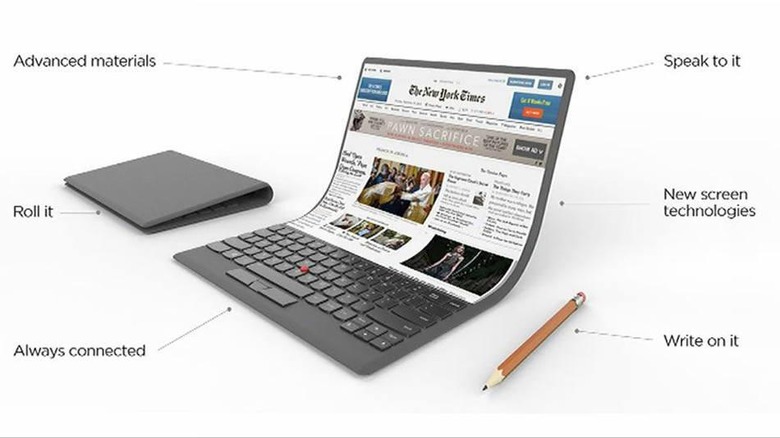 Although Lenovo's name might not immediately come to mind when talking about foldable screens, it did show its own take on that experimental segment of consumer electronics at Lenovo Tech World last year. Of course, that was all about phones and tablets. Applied to a laptop, this would allow the screen to take up more space and do away with hinges that could eventually break down under wear and tear.
Of course, what Lenovo showed was just a concept at its purest. Not even a concept device. There is not even a hint that Lenovo will actually work on something like this. But, given what it showed off last year, it does imply that it has the capability to do so if it really wanted to.
SOURCE: @Lenovo