Lenovo Nettop IdeaCentre C300 Review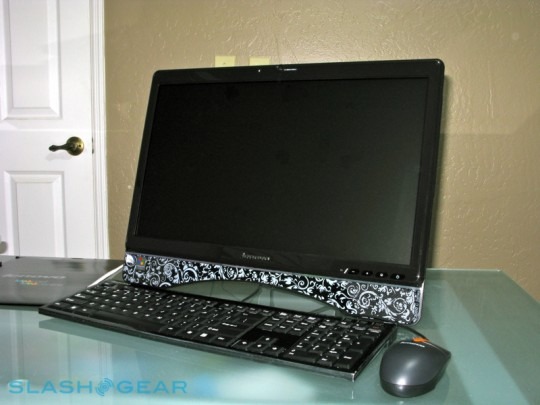 We may receive a commission on purchases made from links.
Lenovo's growing Idea-series of notebooks and desktops is joined by this, the IdeaCentre C300. A range of budget all-in-ones, the C300 packs a 20-inch display, DVD drive and serious levels of storage and RAM; however they also adopt Intel's low-power Atom processors. Disappointing mismatch, or bargain second machine? Check out the full SlashGear review to find out.
Our particular test model is the IdeaCentre C300 3012-2DU, Lenovo's top-spec version, with a 1.6GHz dual-core Intel Atom 330 processor, 4GB of RAM, 640GB hard-drive and ATI Radeon HD4530 GPU. Two cheaper versions are on offer too, the 3012-1EU and 3012-1AU, with 3GB/320GB and 1GB/160GB of RAM/HDD respectively, Intel's GMA 950 graphics and the single-core Atom 1.6GHz 230 CPU. All three models have a 20-inch WXGA++ (1,600 x 900) LCD display, DVD burner, WiFi b/g, six USB 2.0 ports, FireWire, 10/100 ethernet and a multi-format card reader.
You can't fault the build quality, certainly. Just as Lenovo's ThinkPads are notoriously sturdy, so the IdeaCentre C300 is solid and creak-free. We're not convinced by the floral finish to the stand, but it does at least hide fingerprints better than the rest of the piano-black casing. Ports are gathered around the left-hand side and back of the C300, though we wish Lenovo had followed eMachines' lead with the EZ1601 and had the rear panel facing down rather than straight back out. Still, there's plenty of connectivity and you're unlikely to find yourself short of USB ports, while the overall footprint is compact.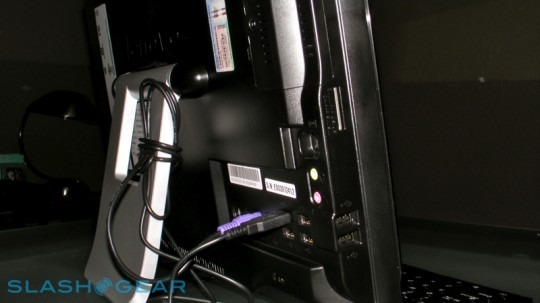 As for performance, Lenovo's decision to use one of Intel's desktop processors rather than a netbook-focussed version (such as the N270) pays dividends in our benchmarks, no doubt helped by the healthy 4GB of RAM. The C300's overall Geekbench score is 1080, with strong processor scores, and easily bests the N270-based eMachines system (which scored 871). As a result, we observed few problems with media playback and browsing with several tabs open while simultaneously using an IM app. The IdeaCentre also does well with DVD playback, the sizable widescreen making it a decent choice for a kitchen or bedroom media machine.
Of course, you won't be doing any heavy duty media editing or processing on the C300, and nor is it a touchscreen maven like rival nettop all-in-ones from ASUS or high-end systems like HP's TouchSmart. Where the cheaper systems struggle with 720p playback and grow sluggish when faced with ripping CDs, however, the Lenovo puts in a decent performance. Given the capacious hard-drive we'd be tempted to fill it with our media library, and this could certainly be a great desktop for a teenager to keep them off your main PC.
Your $699, then, gets you a reasonably capable desktop which is good enough for homework, media playback and the usual internet-based suspects. Whether that's enough longevity is arguable; the $449 entry-level machine (which – although we haven't tested it – we can guess will be significantly less capable given its specifications) holds its own against a cheap netbook and a separate screen, but you're into CULV ultra-thin or cheap mainstream desktop territory with the 3012-2DU. It's not a no-brain decision, then, but those who plump for the Lenovo IdeaCentre C300 will have a solid, reliable and attractive machine on their desk.