eMachines EZ1601-01 All-in-One Desktop Review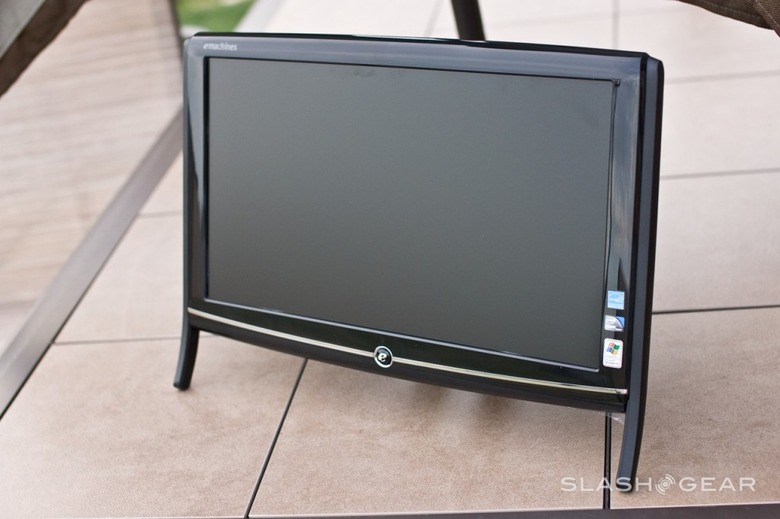 A reasonably stylish all-in-one with a sub-$400 price-tag and 18.5-inch widescreen display: too good to be true or bargain of the century? The eMachines EZ1601-01 poaches Intel's trusty Atom processor for some desktop duty, offering a squint-free LCD and full-sized peripherals. SlashGear have been testing it out.
Intel's Atom N270 processor may be more commonly found in 10-inch and smaller netbooks, but that hasn't stopped manufacturers from slotting the low-power – and admittedly low performance – chip into desktop machines. Although the form-factor of the eMachines EZ1601-01 may be strikingly different from, say, an Eee PC, what's inside isn't; the 1.6GHz CPU is paired with 1GB of DDR2 RAM, a 2.5-inch 160GB hard-drive, Intel GMA 950 graphics and WiFi b/g. For that you can blame Intel's configuration limitations on what hardware can be matched up with its Atom N-series chips; the company fears anything more and the processors might start eating into their mainstream CPU range.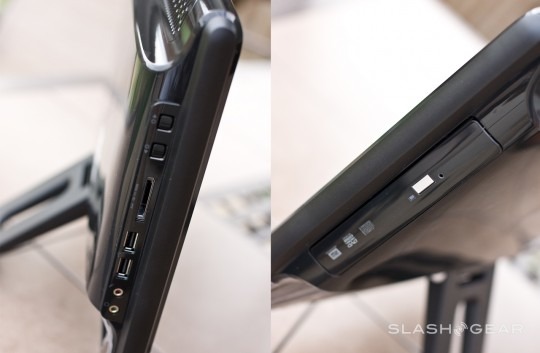 What is different from the typical netbook is a DVD burner and an 18.5-inch, 1366 x 768 LCD display. Unlike some all-in-one nettops we've seen, such as the ASUS Eee Top, this lacks any sort of touchscreen layer; instead you'll likely be using the bundled PS/2 keyboard and mouse. Ports on the eMachines EZ1601-01 are split between the left-hand side, which has two USB 2.0, audio in/out and a multiformat card reader, and a down-facing panel around the back. That has a further three USB 2.0 ports, gigabit ethernet, audio output, two PS/2 ports and the DC power plug, and while a chore for regular access does at least mean the EZ1601-01 can back up close to the wall.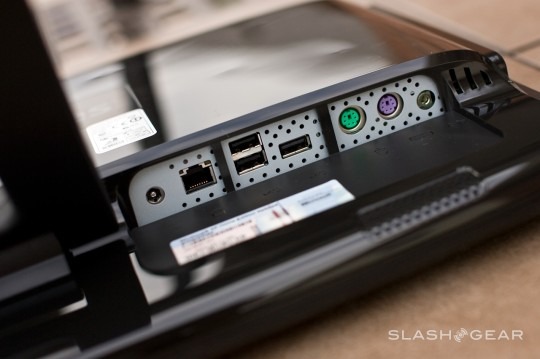 Hardware controls are limited to a brightness and power, the former notching the backlight between five different levels. Display quality is reasonable, though nothing special, and it's worth noting that there's no video output for plugging in a second screen or a VGA projector. Not, perhaps, something most EZ1601-01 owners would be likely to demand, but a limitation all the same. eMachines' integrated speakers are similarly average, which for the price and the market positioning means you'll be wanting to plug an external set in for anything other than the occasional system bleep. Happily that second audio-out socket on the rear panel means you needn't have a speaker cable perpetually hanging from the side.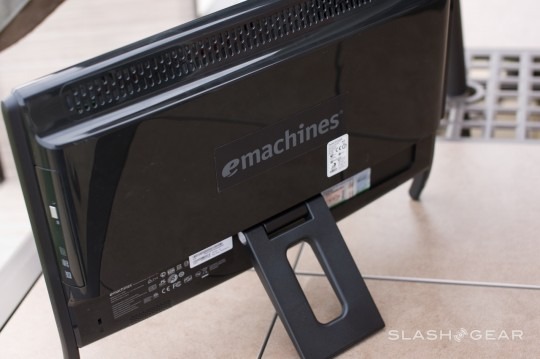 In terms of hardware performance, it comes as no surprise to find the eMachines EZ1601-01 sluggish and outpaced when it comes to anything but the most basic of tasks. While it may look like rival all-in-ones from Lenovo and Dell, the N270 processor brings performance on a par with most netbooks. In Geekbench the EZ1601-01 managed a total score of 871, bested by MSI's Wind U100 (with 886) and ASUS' Eee PC 1000H (with 883), neither the most current of netbooks. Browsing the internet with a clutchful of tabs open while music plays in the background is manageable, yes, but system-intensive tasks such as ripping CDs, processing video and playing back high-definition footage range from painfully slow through to plainly impossible.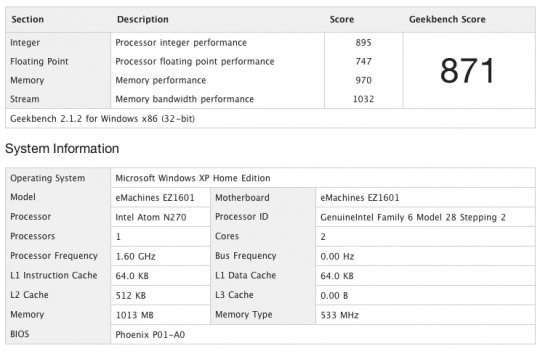 Given the budget price-tag, though, we can perhaps forgive the eMachines EZ1601-01's shortcomings. At $399.99 it makes for a decent web-centric browsing, emailing and instant-messaging desktop, with a more eye-friendly display than a similarly priced netbook. It's less portable, of course – though at 9lbs it's reasonably luggable – but if you're considering a netbook as a second or third PC to keep the household internet addicts quiet then the EZ1601-01 makes for a reasonable alternative.