Lenovo LePad S2005 tabletphone and S2007/S2010 tablets official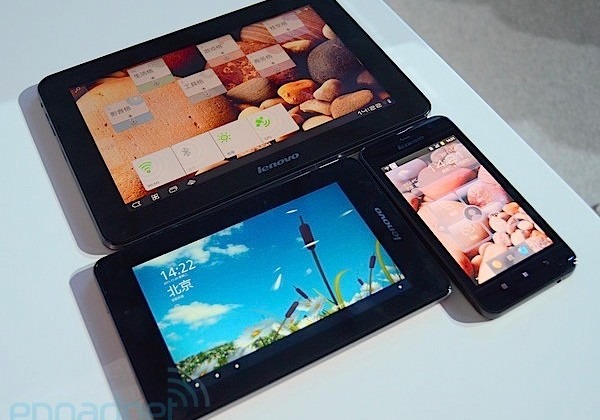 Lenovo has launched a trio of new tablets, including a 5-inch LePad/IdeaTab S2005 tablet/phone hybrid, and 7-inch and 10.1-inch slates to sate your browsing the multimedia needs. The LePad S2007 and S2010 will hit China in December, Engadget Chinese reports, running a 1.5GHz Qualcomm dual-core processor, 1GB of RAM and a 1280 x 800 IPS display; however, Lenovo also apparently has a separate Tegra 3 tablet, the IdeaTab K2 leaked earlier this month, for the international market.
Chinese buyers will get an 8-megapixel main camera and 1.3-megapixel front camera on the S2007 and S2010, along with integrated 3G with support for China Telecom's EV-DO plus China Unicom's WCDMA. The 3,780 mAh battery in the 360g and 9.7mm thick S2007 is good for up to eight hours of WiFi use, Lenovo reckons, while the 9.9mm thick and 670g S2010 has a 7,670 mAh pack that can run for up to eleven hours.
As for the LePad S2005 – which will launch as the IdeaTab outside of China – that has a 5-inch 800 x 480 LTPS display with 178-degree viewing angles, and runs Android 2.3.5 on a 1.2GHz Qualcomm dual-core paired with 1GB of RAM and an HDMI port. There's also a 5-megapixel main camera – with 1080p HD video recording support – and a 1.3-megapixel front camera. Connectivity includes microUSB and HSPA+, squeezed into a 9.95mm thick, 198g chassis.
Pricing for the three slates is yet to be confirmed, though we must admit that we're not particularly feeling the WVGA display on the S2005. Considering Samsung manages to outfit its 5.3-inch Galaxy Note with a 1280 x 800 display, Lenovo's refusal to look even to qHD seems short-sighted.