With the Lenovo IdeaPhone K900, the company enters in the race for a real live hero phone for the whole world, here reminding us instantly of the other massive smartphone in this warring market – the Samsung Galaxy Note II. What we've got here is a real live fight for a dominant beast, a massive machine made to rule them all, starting with displays – and Lenovo takes the cake with resolution right out of the box. Samsung, on the other hand, has the physically larger display (though it is a bit less dense in its pixel distribution.)
The thing about the IdeaPhone K900 right this minute is that it's still in its prototype phase, not actually coming out until somewhere around April of this year – and the initial plan is to release it in China alone. The Samsung Galaxy Note II is already out in quite a few countries around the world, including the USA and Europe. The prospect of the IdeaPhone K900 is great though, regardless of its release range, simply because it's working with the relatively rare Intel Atom Z2580 Clover Trail SoC.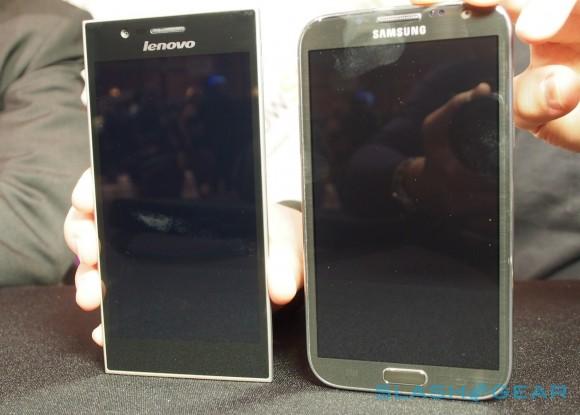 The Samsung Galaxy Note II works with the Samsung Exynos quad-core processor we know works to great effect even across its massive face. The IdeaPhone K900 has a display that's 5.5-inches and 1080p resolution with IPS technology while the Galaxy Note II's face is a 5.5-inch 720p display working with Super AMOLED – bright as can be.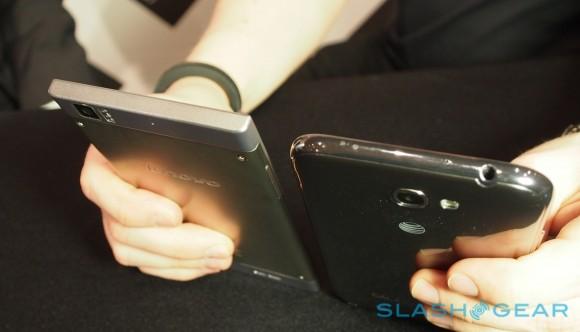 Some of the items we're really not able to compare at the moment are the Android OS versions, as though the Note is up to Android 4.2 in some places, the Lenovo offering has not yet been shown with a full working version of Android as of yet. We'll be sure to see a whole lot more in the very near future from the company as the device hits the market. Have a peek at our hands-on comparison images above and below and let us know which one you'd choose if given the chance!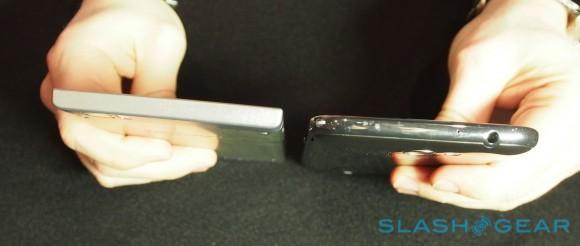 Also be sure to check out our giant CES portal to see all the CES 2013 content your heart can handle, and check our ShowStoppers 2013 tag to see everything we've seen today!