Lenovo IdeaPad Z Series brings thin yet sturdy power to Windows 8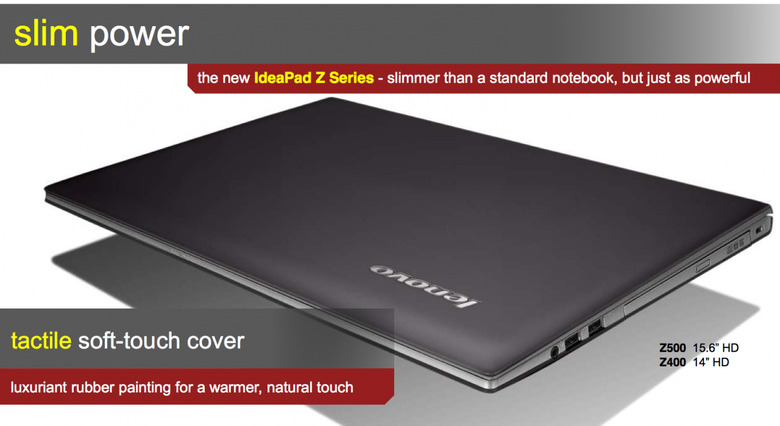 The Lenovo IdeaPad Z Series has been revealed this week with the Z500 and Z400 bringing up to Genuine Windows 8 Pro to a set of study, thin, and powerful notebooks. Unlike many of the devices revealed this week, the Z Series does not have a touchscreen interface. Instead you'll be working with an Intelligent Touchpad optimized for Windows 8 and its touch- and gesture-friendly UI.
This line of notebooks works with up to Ivy Brindge, the 3rd Generation Intel Core processor line up to i7, and up to Genuine Windows 8 Pro for your next-generation computing needs. You'll be choosing between the Z500 with its 15.6-inch backlit LED HD display at 1366 x 768 pixel resolution and the Z400 with its 14-inch backlit LED HD display at 1366 x 768 pixel resolution as well. Both notebooks have 16:9 ratio widescreen displays as well.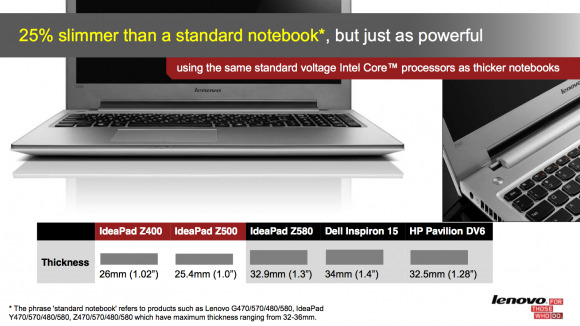 Lenovo's Z Series comes with Bluetooth and wi-fi connectivity as well as an integrated DVD reader/writer – this drive also functions as a Blu-ray Disc drive as well. This machine line works with stereo speakers with Dolby Home Theatre v4 audio certification for what the group lets you know is definite Immersive Sound. The Z Series includes Lenovo's choice OneKey Recovery system for easy data backup and as well as recovery.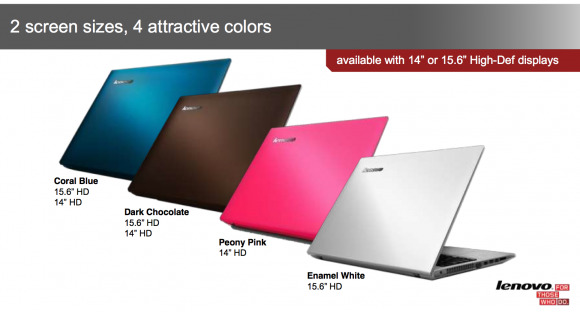 You'll be working with a front-facing 720p HD webcam as well as a Backlit AccuType keyboard that includes individually rounded keys. Lenovo notes that this will allow for comfortable and accurate typing all night and day long. You've also got up to NVIDIA GeForce GT 645M 2GB graphics with DirectX 11 under the hood – great stuff! The IdeaPad Z400 will be available November 2012 starting at US $549 while the IdeaPad Z500 will be available September 2012 starting at US $549.