Lenovo IdeaPad Y560d 3D-capable notebook revealed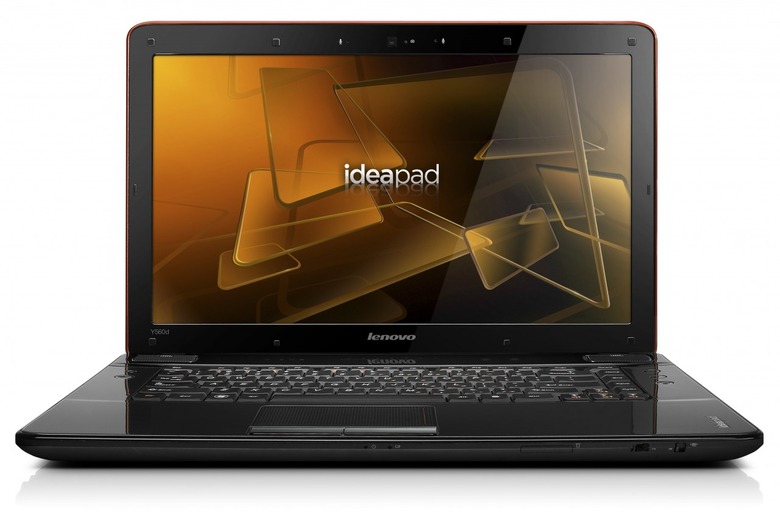 We may receive a commission on purchases made from links.
Lenovo has unveiled its first 3D-capable notebook, the Lenovo IdeaPad Y560d, complete with a 15.6-inch 1366 x 768 TriDef 3D display and polarizer glasses, a choice of Core i3, i5 or i7 processors, and ATI Radeon HD 5730 1GB graphics.  The TriDef 3D solution used in the IdeaPad Y560d can not only show native 3D content but create pseudo-3D graphics out of 2D images and video.
As for other hardware, that includes up to 8GB of DDR3 memory, up to a 750GB hard-drive (plus optional 32GB/64GB SSD), a choice of DVD or Blu-ray and standard WiFi b/g/n and gigabit ethernet.  Other options include Bluetooth and 3G WWAN, while there's a 1.3-megapixel webcam, a USB/eSATA combo, three regular USB ports, ExpressCard and both VGA and HDMI outputs.
If you're already a glasses-wearer then Lenovo supply clip-on polarizing lenses that can hook onto your existing frames, and battery life is rated at up to 5hrs from the integrated Intel HD graphics or up to 4hrs using the ATI GPU.  The Lenovo IdeaPad Y560d will go on sale by the end of the month, priced from $1,199.99.
Press Release:
Lenovo Delivers on the Three D's with its First 3D Laptop; Dynamic, Dazzling and Dramatic

RESEARCH TRIANGLE PARK, NC – June 17, 2010: Lenovo (HKSE: 0992) (ADR: LNVGY) today announced the Lenovo IdeaPad Y560d, the company's first multimedia laptop with a 3D display. The Y560d features the TriDef® 3D technology solution, which includes a 3D screen, software and glasses 1, so users can experience the unique sensation of visual immersion within their favorite movies, pictures and games.

"Fun is a notebook that brings multimedia to life—and the IdeaPad Y560d does this in a dramatic fashion with a truly unique 3D viewing experience," said Dion Weisler, vice president, business operations, Lenovo. "While 3D technology has been around for ages, it has not been readily accessible to consumers within the home. Lenovo is helping bridge this gap by delivering consumers a 3D experience on a familiar PC platform that can be viewed and enjoyed when and where they want."

The 15.6-inch Y560d 3D-enabled multimedia laptop, with its High-Def 16:9 widescreen and polarizer glasses, provides the optimal 3-dimensional experience when combined with compatible 3D movies and games.

With TriDef® 3-D technology, users can also experience 3D on their standard 2D videos and photos. The TriDef Media Player transforms a standard movie into a 3D experience 2. Photos take on a whole new life, thanks to the TriDef Photo Transformer that turns standard photos into eye-popping 3D.

The Y560d laptop includes Lenovo's new innovative Enhanced Experience RapidDrive technology, which seamlessly combines SSD and HDD storage solutions to deliver even faster Windows 7 boot-up times and significantly improve application performance3. Lenovo Enhanced Experience for Windows 7 is a unique Lenovo certification that delivers an optimized boot-up and shutdown process, rich multimedia capabilities and easy system maintenance tools. With RapidDrive technology, users can experience Windows 7 boot up 66% faster4, start favorite applications two-times faster5, and copy files within the computer in less than half the time6. The Y560d can be configured with up to 8GB DDR3 memory and up to 750BG HDD storage so users don't have to worry about running out of hard drive capacity when saving their favorite movies, music and games.

The Y560d will be available with JBL-designed speakers and Dolby® Home Theater™ surround sound – perfect for enjoying music and movies. Powered with up to an Intel Core™ i7 processor featuring Intel Turbo Boost Technology7 for delivering extra GHz when you need it, and the latest high-performance ATI Radeon™ HD5730 1GB graphics card, the Y560d is more than capable of running the latest games. With Switchable Graphics, users can toggle between performance and energy-saving modes for extended battery life. The laptop also includes an optional Blu-ray Disc™ drive, HD graphics support and an HDMI output for connecting to other HD devices such as a TV or gaming console2.

Additional features on the Y560d include SlideNav – an intelligent touch-sensitive slide bar application for easy desktop navigation; OneKey Theater II for optimized video playback; and an Ambient Light Sensor that automatically adjusts the PC screen brightness based on the user's distance from the display. For staying connected while on the move, the Y560d also comes with optional high-speed integrated 802.11n Wi-Fi and Bluetooth connectivity.

Pricing and Availability8

The Lenovo IdeaPad Y560d laptop is available by the end of June on Lenovo.com and will start at $1199.99.

For the latest Lenovo news, subscribe to Lenovo RSS feeds or follow Lenovo on Twitter and Facebook.

About Lenovo

Lenovo (HKSE: 0992) (ADR: LNVGY) is dedicated to building exceptionally engineered personal computers. Lenovo's business model is built on innovation, operational efficiency and customer satisfaction as well as a focus on investment in emerging markets. Formed by Lenovo Group's acquisition of the former IBM Personal Computing Division, the company develops, manufactures and markets reliable, high-quality, secure and easy-to-use technology products and services worldwide. Lenovo has major research centers in Yamato, Japan; Beijing, Shanghai and Shenzhen, China; and Raleigh, North Carolina. For more information see www.lenovo.com.