Lenovo IdeaPad Y550 details revealed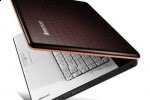 The IdeaPad Y550 15.6-inch model from Lenovo has been on our radar for awhile, but we didn't know very much about it, at least when it comes to specifics. Until now, that is. This 15.6-inch notebook is meant for those looking to make the most of multimedia applications and focuses in on entertainment.
The details didn't come out in the form of an official release; rather, they were leaked by a retailer called Fad Fusion. This notebook has an Intel Core 2 Duo T6400 processor, 4GB of DDR3 system memory, a 320 GB hard drive, GMA X4500MHD integrated graphics, a 1366 x 768 resolution display and a DVD burner. The display also uses LED backlight and has a 16:9 aspect ratio.
There's no doubt about it: this notebook really packs a punch. With built-in stereo speakers, a subwoofer and Dolby Home Theater 2 tech, you're sure to get a great movie experience out of it. Plus, the 1.3 megapixel web cam, 802.11n WiFi, and 6-cell battery round out the portable media package. A multi-touch trackpad is expected to be included as well. You can expect to pay around $826 for this notebook whenever it's finally released.
[via Laptoping]