Lenovo IdeaPad Y460 Review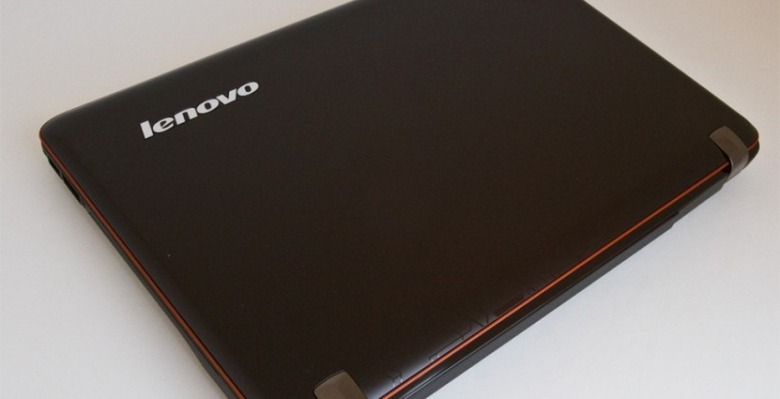 It's not enough for a 14-inch notebook to deliver decent runtimes, a little processor grunt and pleasing looks any more; now we expect graphical excellence too. In response, Lenovo have outfitted their IdeaPad Y460 with a dedicated ATI Radeon GPU, and they've even thought to put a switch on the front which allows you to turn it off when you're feeling more spreadsheet than gaming minded. Two birds with one stone, or just a lame duck? Check out the full SlashGear review after the cut.
While the IdeaPad Y460 range kicks off at $799, you'll need to step up to the $999 version if you want the dedicated ATI Radeon HD 5650 1GB graphics. That GPU is paired with Intel HD integrated graphics and a Core i5-520M 2.40GHz processor, along with 4GB of memory and a 500GB 5,400rpm hard-drive.
[sgbenchmark id=99 show=system]
The 14-inch LCD runs at 1,366 x 768 resolution, and its LED backlighting is even and surprisingly bright. Colors are richly saturated, and if you're looking for Full HD there's an HDMI port on the side which you can use to hook up your nearest HDTV. Other connectivity includes WiFi a/g/n and Bluetooth 2.1+EDR, along with gigabit ethernet, and there are three USB 2.0 ports, a combo USB/eSATA port, VGA, audio in/out, a six-in-one memory card reader and a 34mm ExpressCard slot. Above the LCD lurks a 1.3-megapixel webcam, while two 2W JBL speakers are tucked above the keyboard and are louder than their amp rating would suggest.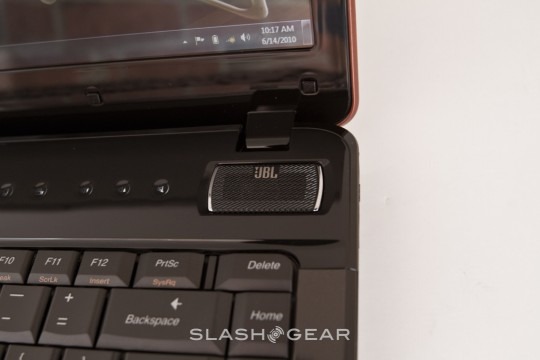 That's a good thing, since Lenovo's choice of Blu-ray drive (that doubles as a DVD burner) is on the noisy side for an optical drive. Of course, since the Y460 is Dolby Home Theater certified it's a simple matter to hook up a decent surround sound system and drown that out, but if you're trying to enjoy a quiet film without the bells & whistles we'd recommend a set of headphones.
We had high hopes for the IdeaPad Y460's performance, given its decent processor and healthy chunk of RAM, and the GeekBench results don't disappoint. GeekBench is a synthetic test of processor and memory performance, and the Lenovo scored 4,930 overall. More impressively, with the discrete GPU switched on, the Y460 flew through graphically-intense games and made short order of video editing; in contrast, the integrated Intel graphics were only really sufficient for mainstream tasks like internet browsing, playing simple streaming video and the like.
[sgbenchmark id=99 show=score]
As you might expect, though, that sort of graphics grunt takes its toll on the Y460's 6-cell battery. Lenovo rate the IdeaPad at up to five hours, though we consistently found 3.5 to 4 hours was more likely in regular use; turn on the ATI GPU, however, and runtimes halve. You could certainly argue that the Lenovo switchable graphics system is less elegant than NVIDIA's Optimus setup, which automatically ramps up its dedicated GPU whenever it sees you need the help, but with the sheer degree of difference in the Y460's battery life in the two modes we like being able to manually make that choice.
Can you have long battery life, strong processor performance and decent graphics all in one package? Apple's 15-inch Core i5 based MacBook Pro certainly comes close, but you're looking at $1,799 for the same processor as in the Y460 (as well as less storage and no Blu-ray support). In contrast, $999 for the IdeaPad Y460 seems something of a bargain, and the ability to toggle between the integrated and discrete graphics does make it something of a Jekyll & Hyde machine. Solidly made, if – at 4.85lbs – a little on the heavy side, the Lenovo IdeaPad Y460 makes a sensible choice for the road warrior with the occasional need for video crunching.