Lenovo IdeaPad K1 Review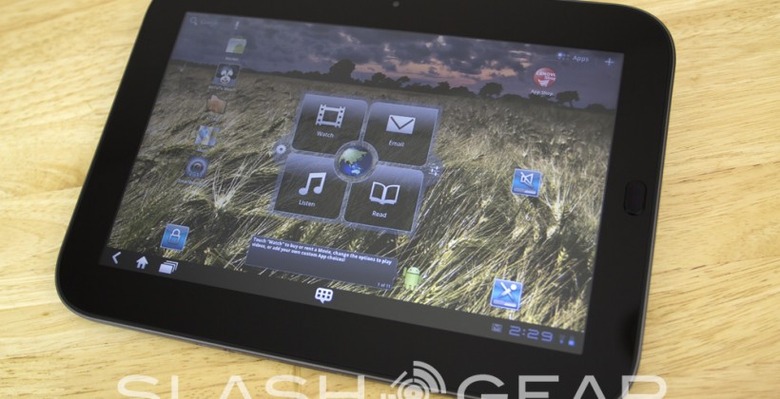 The IdeaPad K1 is one of the first two Android tablets to come from Lenovo. It's a competitive 10.1-inch Android 3.1 Honeycomb tablet with almost all the specs you'd anticipate from a slate equipped with the NVIDIA Tegra 2 processor, but attempts to standout with its own individual style, unique interface features, and a price tag that's $100 less than its rivals.
Hardware
The Lenovo IdeaPad K1 sports a 1GHz NVIDIA Tegra 2 dual-core processor along with 1GB of RAM. Its 10.1-inch multitouch display has a 1280 x 800 resolution with a 16:10 aspect ratio and very good viewing angles all around as can be expected from an IPS panel. It has an internal storage of 32GB that can be doubled with a microSD card of up to 32GB. It also has a front-facing 2-megapixel camera as well as a rear-facing 5-megapixel camera with an LED flash.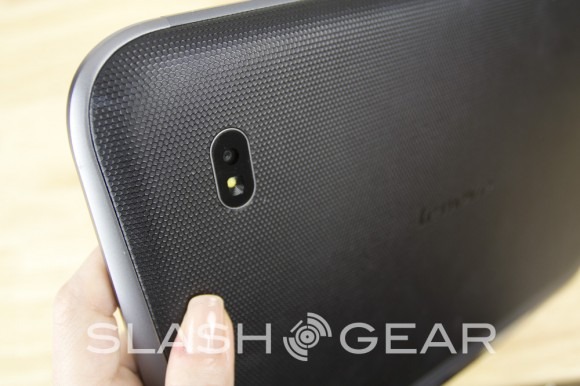 When it comes to connectivity options, however, the IdeaPad K1 is a bit lacking. It doesn't help that we just finished reviewing the Toshiba Thrive, which spoiled us with full-sized ports. Still, we're not asking for that much—a micro-USB port would suffice. But the IdeaPad K1 has no USB ports whatsoever. Neither does the Samsung Galaxy Tab 10.1, but at least that device is so crazy thin and light that we'll make an excuse for it.
In lieu of a USB port for data transfer and charging, the IdeaPad K1 comes with its own proprietary pin connector port. Two of these cables are included in the box, one ending with a USB male and the other ending with a wall socket adapter. But do note, like with other Honeycomb devices, that if you're a Mac user, you will need the Android File Transfer app for your computer to recognize and access the tablet.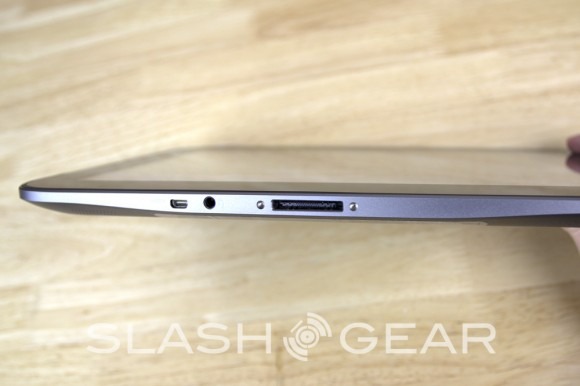 You can always transfer data using a microSD card, but getting to it is a pain on the IdeaPad K1. The microSD card slot can only be popped open by poking something into a tiny pinhole next to its cover. Lenovo was kind enough to provide a small metal clip specifically for this job, but it's just the kind of thing you'll lose within the first week.
The IdeaPad K1 does have a micro-HDMI port and it supports 1080p full HD video-out and video playback. It also supports Bluetooth and WiFi connectivity.
Physically, the IdeaPad K1 feels comfortable to hold. At 1.65lbs it's not much lighter than the Toshiba Thrive, which weighed in at 1.66lbs, but it does feel much lighter, possibly an illusion created by its thinner profile measuring 13.3mm.
The tablet comes in four colors of black, red, white and brown. We have the black model and the backside is covered with a dense honeycomb pattern that adds both a sleek industrial look and a grippy texture. The design for the back camera cutout, the Lenovo logo, and the two stereo speaker grilles are all pleasantly subtle.
Other external elements include the physical power on/off button, volume rocker, screen-lock switch, and a 3.5mm headphone jack. Additionally, there's an unmarked physical home-screen button that also makes it easy to take screenshots by simply holding down the button until an onscreen indicator pops up.
[vms 238a2f37603d90b58898]
Software & Performance
So the interface is where the Lenovo IdeaPad K1 is supposed to really shine. Instead of the stock Android 3.1 Honeycomb, Lenovo has put a lot of effort into adding some personal touches to improve usability straight out of the box. This is a move that could either innovate on or detract from the Honeycomb experience.
Let's start off with what's probably the best feature of Lenovo's customized interface, and that's the ability to close apps from the task switcher. A red circle with a white "X' appears in the top right corner of each layer thumbnail, on which you can press to close the individual app instantly. This is rather convenient and an improvement that stock Android 3.1 Honeycomb should consider.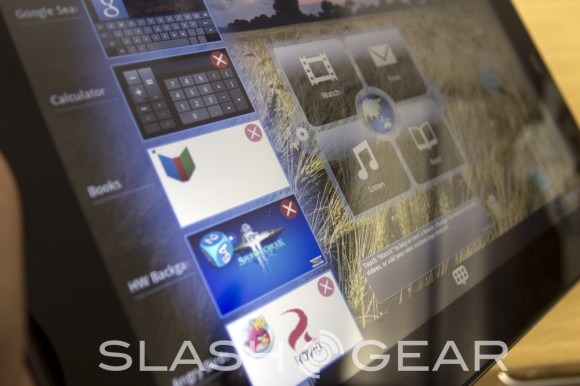 Less favorable is the Lenovo Launcher, which appears on the home screen as four squares that can be customized to show the functions you use most. To the left of the squares is a button for customization and to the right is the Android settings button. This feature seems rather unnecessary, unattractive, and a bit redundant given that an App Wheel feature is also offered.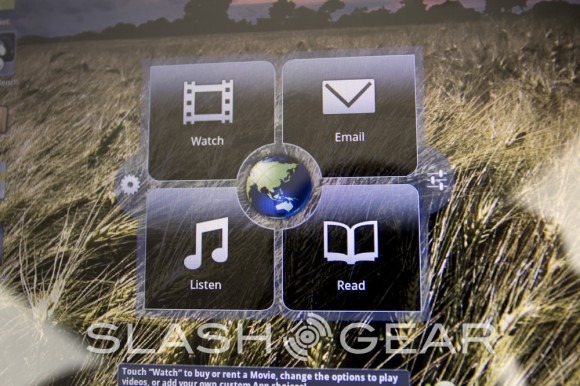 The App Wheel button sits at the center of the bottom menu bar. When pressed, the App Wheel appears on the right side of the screen, where thumbnails of your favorite apps can be rotated through. The selection of apps in the App Wheel is fully customizable and is not representative of your most recent or most used apps.
Lenovo also offers its own App Shop that takes the uncertainty out of shopping on the Android Market by vetting apps for validity, usefulness, and to avoid apps that contain malware or viruses.
Furthermore, the IdeaPad K1 supports Flash content right out of the box and is preloaded with over 30 apps. These include both free apps as well as those that would normally cost you to purchase, such as Documents To Go, which sells for $14.99. Among the preloaded apps is Netflix. Lenovo proudly asserts to be the first to offer the app preloaded on a tablet coupled with hardware-enabled DRM for streaming Netflix movies, TV shows and more anywhere, anytime.
The video quality was excellent and the two stereo speakers worked well and surprisingly better than those on the Toshiba Thrive, which were too quiet. Despite being situated on the back-side, the speakers are angled such that they are never covered up completely no matter what angle the tablet is held.
Now for performance figures, we used the synthetic benchmarking tools Quadrant Pro, Vellamo, and Smartbench 2011. In both the Vellamo and Smartbench 2011 benchmarks, the IdeaPad K1 scored behind the Samsung Galaxy Tab 10.1.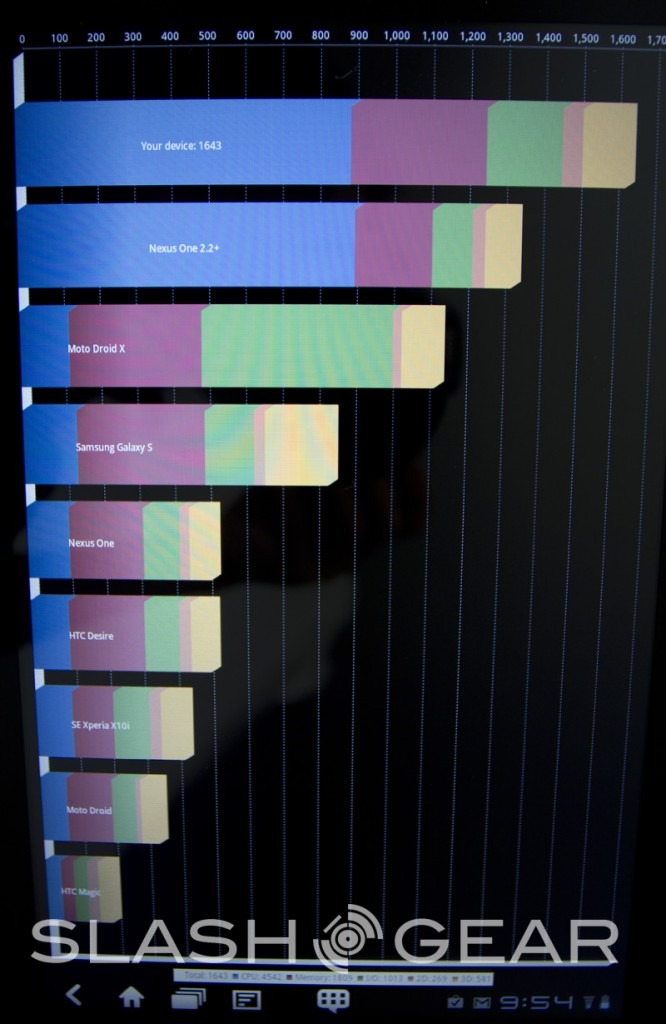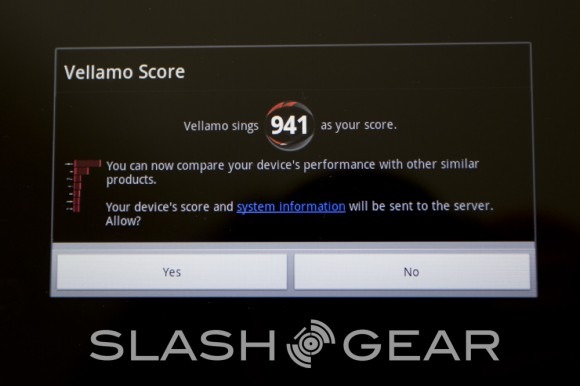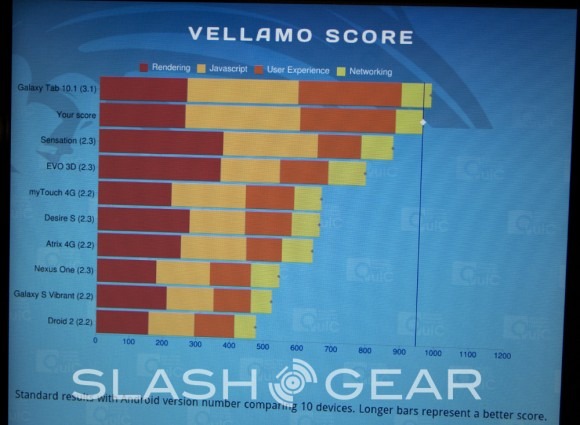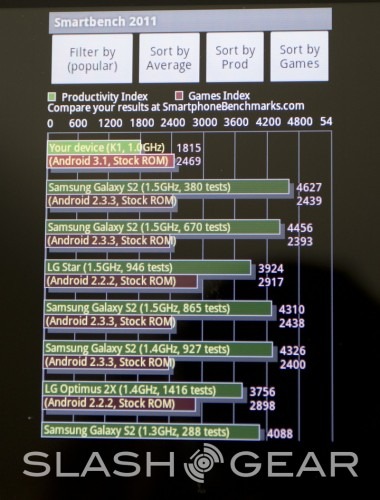 Battery
The IdeaPad K1 has a 2-cell battery rated for up to 10 hours of standard use. After intermittent use of the tablet with 100% screen brightness while surfing the web over WiFi and watching YouTube videos, we were able to get around 8 hours. This is a bit better than the Toshiba Thrive, which pulled in about 6 hours. The IdeaPad K1 does take awhile to charge back up, so keep the charging cable handy. And, definitely make sure not to lose the cable, since the proprietary pin connector port makes it more difficult to replace.
Wrap-Up
The Lenovo IdeaPad K1 offers some unique features at a $499 price tag for a 32GB tablet that, for some, could make it worth the minor trade-offs. Plus, it does sport competitive specs that yield good performance and excellent battery life.
It may not be as productivity-oriented as the Toshiba Thrive with all its ports, but it also doesn't carry the undesirable bulk. However, starved of ports, it's still not quite as thin and light as the Samsung Galaxy Tab 10.1 or the iPad 2. And if having 32GB onboard storage is of no concern, then a cheaper alternative could be the ASUS Eee Pad Transformer.
For you to ultimately choose the Lenovo IdeaPad K1, it will be because you desire the storage capacity at the lower price, you don't mind not having a USB port or difficult access to the microSD card slot, and you like the custom interface features.