Lenovo IdeaPad K1 Android Tablet Listing Appear (with v3.0 Honeycomb)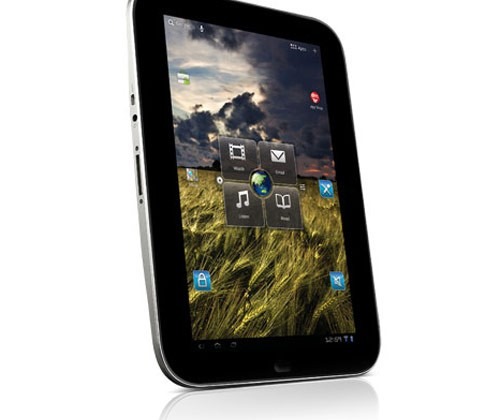 A listing has appeared and subsequently disappeared and/or "sold out" on a couple of sites, this listing containing no less that Lenovo's IdeaPad K1, aka the LePad if you're in China. This device is slated to be released in June, but these seemingly early-placed spots are popping up as we speak. The two sites that have the listing thus far are Buy.com and Krex.
The Krex listing, which you can see here, shows the device out of stock and has it listed at $510. Over at Buy.com, the listing has no price point, but a much more massive listing with larger images. These images can be found in the gallery below. This device seems to be quite the little number, if all the specs are correct, it running Android 3.0 and an NVIDIA Tegra 2 processor at 1.0GHz out of the box.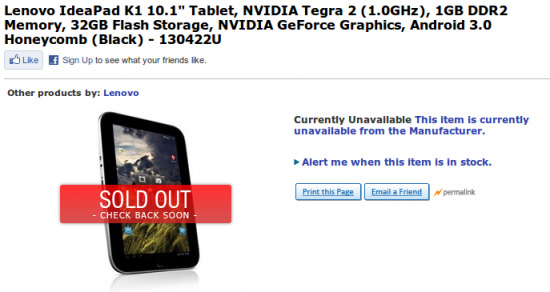 This device also includes 1GB DDR2 memory, 32GB Flash storage, has a 10.1" 1280 x 800 pixel resolution screen, 2.0MP Front Camera and 5.0MP Rear Camera, weighs in at 1.65 lbs, and connects via 802.11b/g/n, Bluetooth 2.1. It's got a whole bag full of ports: Multi-function Connector, Micro SD Card Reader, Micro HDMI out, SIM Card Port, 3.5mm stereo headphone output, and built-in digital microphone. Also it appears to be running a Lenovo-specific user interface over the Honeycomb it comes with standard.
And here's something weird – a whole big pack of apps that we wouldn't normally see coming with a device stock: Android Market, Lenovo App Shop, Amazon MP3, Slacker Radio, mSpot music, Netflix, mSpot Movies (SD), mSpot HD, Acetrax, Zinio, Kindle, Silver Creek Games (5), Oberon Warships, Rovio Angry Birds, Talking Tom, Galaxy On Fire 2, Need for Speed Shift, Vendetta Online, Murtha Drawing Pad, Kongregate, ooVoo, PokeTalk, eBuddy, Twitter, Symantec, Accuweather, Docs to Go.
Sounds alright! Let's go pick it up!