Lenovo IdeaPad K1 and ThinkPad Tablets official, plus IdeaPad P1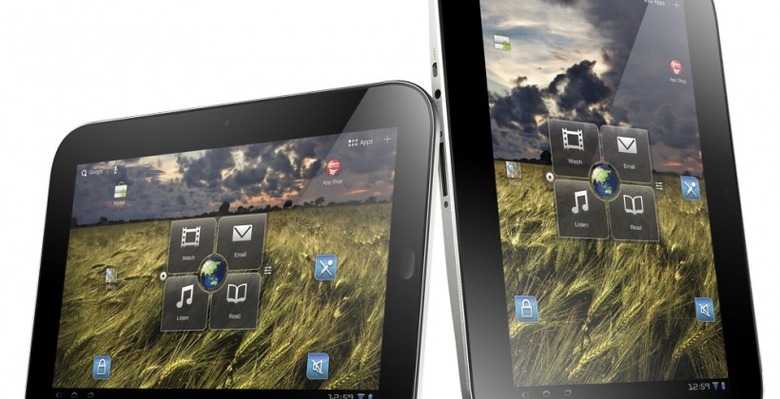 Lenovo has officially announced a trio of slates, including the IdeaPad Tablet K1 and ThinkPad Tablet we saw leaked in press shots earlier, as well as the IdeaPad P1. The K1 and ThinkPad Tablets each run Android 3.1 Honeycomb on NVIDIA's dual-core Tegra 2 processor, and are the first slates to be Netflix-certified; meanwhile, the IdeaPad P1 runs Windows 7 on a 1.5GHz Intel Atom processor.
Lenovo IdeaPad Tablet K1
The 1.6lb K1 – which we've seen before as the Chinese Lenovo LePad - has a 10.1-inch 1280 x 800 display, 1GB of RAM and up to 64GB of storage. Connectivity includes WiFi b/g/n, Bluetooth, optional WCDMA/EVDO and a Micro HDMI port, along with microSD, audio out and an integrated microphone and twin 0.5W speakers.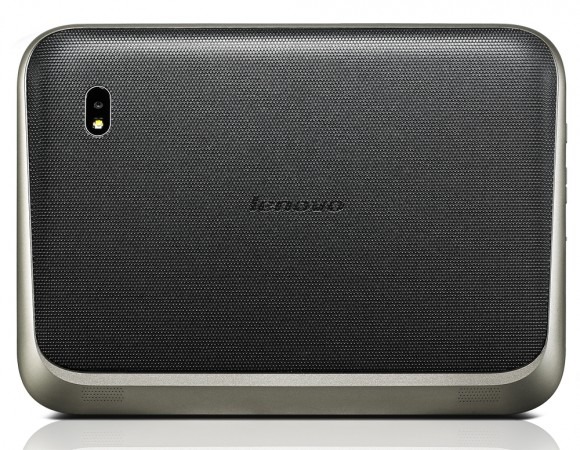 There are two cameras – 5-megapixels on the back, and 2-megapixels on the front – along with a battery which Lenovo reckons is good for up to 10hrs runtime. At 13.3mm thick it's not the slimmest Android slate we've seen, but it does offer an external keyboard dock, the KD101, with independent charging and various hotkeys.
Lenovo is also using the K1 to launch the Lenovo App Shop, a curated Android Market experience which basically gives the guarantee that the company's software engineers have approved each app for use on the slate. Pre-orders of the IdeaPad Tablet K1 will begin on July 20, priced from $399 with 16GB of storage, with deliveries beginning from August in the US and globally in Q3 2011.
Lenovo ThinkPad Tablet
If the IdeaPad K1 is Lenovo's consumer slate, the ThinkPad Tablet is most definitely the company's business model. Built around the same Tegra 2 chipset, display, RAM, dual cameras and port options, along with offering optional 3G, the ThinkPad model weighs from 715g and is 14mm thick. However, it also includes support for an optional digitizer pen, which can be used to annotate documents, make handwritten notes and sketch pictures, all with pressure sensitivity.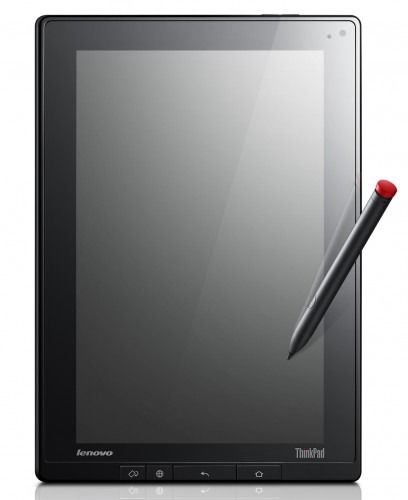 In addition, there are enterprise-friendly features such as Cisco VPN and encrypted SD card support, along with the potential to make custom OS images. A full-sized USB port supports external drives. Lenovo will offer the ThinkPad Tablet Dock, with micro USB, HDMI, stereo out, microphone input and a USB 2.0 port, together with the ThinkPad Keyboard Folio, a case which opens out to reveal a QWERTY keyboard and the distinctive Lenovo trackpoint nub. Battery life is tipped at up to 8.7hrs for the WiFi-only model.
As with the K1, the ThinkPad Tablet will come preloaded with the Lenovo App Shop. It too will go up for pre-order from July 20, priced from $499 for the 16GB model and from $529 for the 16GB model with the digitizer pen; they'll ship from August. The keyboard case will be $99 and available at the same time, while shortly after launch the 3G variants will go on sale.
Lenovo IdeaPad Tablet P1
Lenovo's final tablet runs Windows 7, rather than Android, and uses an Intel processor rather than NVIDIA's ARM-based chip. It has up to 2GB of RAM and either 32GB or 64GB of SSD storage, along with the same 10.1-inch 1280 x 800 display with support for an optional capacitive stylus. Connectivity includes WiFi b/g/n and Bluetooth, along with optional 3G, while there's a 2-megapixel front-facing webcam though no rear camera.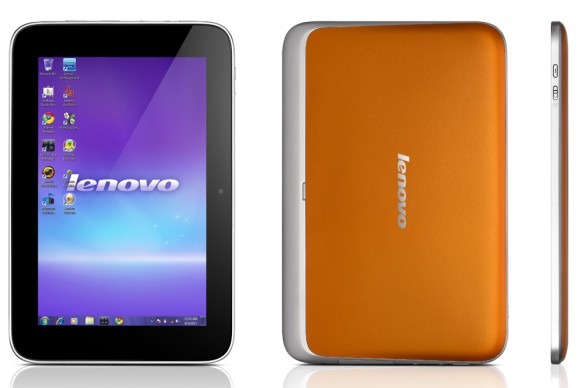 The P1 measures 14.5mm thick and weighs 810g, and there's a USB 2.0 port, microSD card slot, docking port, microphone and headphone port. Sound is courtesy of a single 1.5W speaker, and battery life is up to 6hrs.
Lenovo is yet to confirm pricing for the IdeaPad P1, which will go on sale in Q3 2011.