Lenovo IdeaCentre AIOs and desktops revealed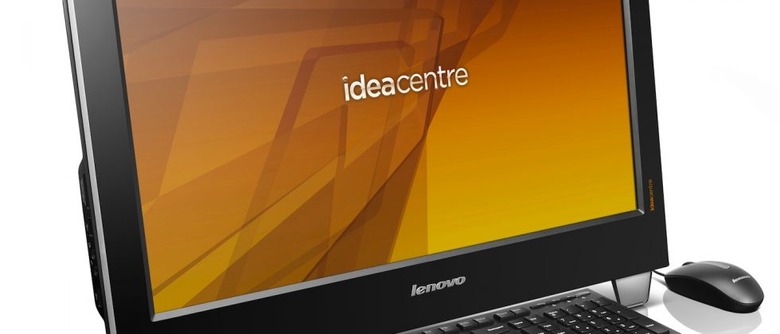 We may receive a commission on purchases made from links.
Lenovo has revealed its latest IdeaCentre touchscreen All-in-One PCs, along with a new K430 tower desktop and a compact H520s half-sized desktop, at CES 2012 today. The Lenovo IdeaCentre B540 and B340 offer 23- and 21.5-inch Full HD displays along with Intel Core processors and touch support, with the B540 having a distinctive bezel-free design and being VESA mountable.
It also has NVIDIA GeForce GT 650M 2GB graphics and optional 3D support, making it a reasonable prospect for gaming, too. Both it and the Lenovo IdeaCenter B340 have picture-in-picture for TV and computing, switchable at the touch of a button, and – since the TV tuner is independent from the PC – you can use both AIOs just as a TV. 720p webcams and a choice of DVD or Blu-ray drives round out the key specs; both will go on sale in June, priced from $699.
As for the IdeaCentre K430, that offers dual graphics support (either NVIDIA SLI or ATI CrossFireX) and twin HDDs, along with a choice of Intel Core processors paired with up to 32GB of DDR3 memory. Up to 4TB of HDD or 128GB of SSD storage are on offer, and there's a removable 500GB hard-drive in a caddy in the front bay. It will go on sal in May, from $599.
Finally, the diminutive Lenovo H520s will arrive in June from $499. Few specs on this one, but Lenovo will be loading it with various family-friendly apps and tools to make drive maintenance and networking straightforward.