Lenovo IdeaCentre A720 Review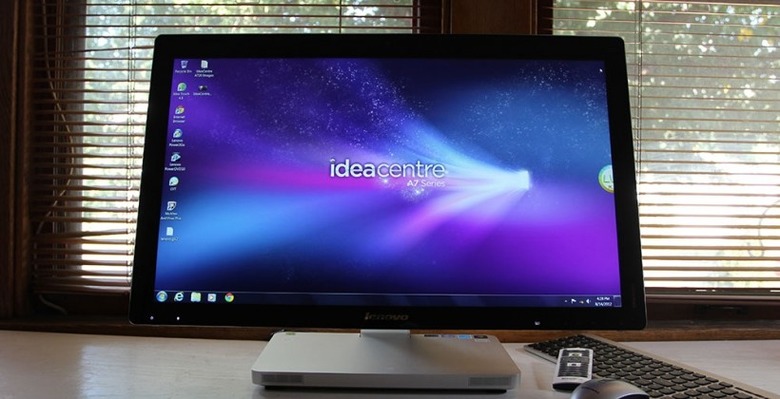 It's time to get serious about touch-screen computers here in the summer before Window 8 is formally released – and Lenovo's got your back with a massive all-in-one called the IdeaCentre A720. This 27-inch display-toting AIO works with 1920 x 1080 pixel resolution, an all-glass "frame-less" front, and an Intel Quad-core Core i7 CPU (Ivy Bridge) under the hood. And it folds flat so you can play touchscreen table hockey – what more could you want?
Hardware
Any review you see of this device – if you don't run out and buy it right now, that is – will tell you that it's quite gorgeous. Without appearing too similar to what the market has dubbed "Apple-esque", this Lenovo machine carves out a new space for the manufacturer, prepping us for a future that's very bright for sleek-looking and sleek-feeling computers. The display is, again, massive, you'll be working with just the touchscreen on it's own if you wish or with a Bluetooth mouse and keyboard (included), and you only need to pop the power cord in to get started.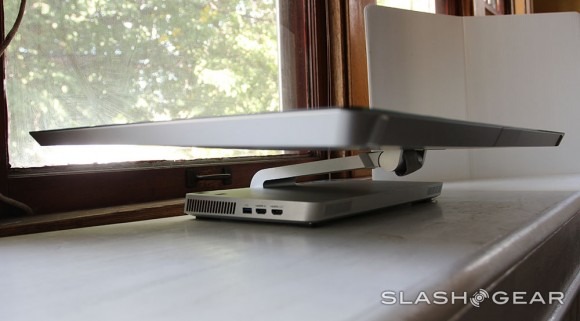 Hit the power button on the lower right of the display (behind the display, rather, as the outer rim angles inward) and the machine lights up with loveliness. You've got a 10-point touch-screen experience ahead of you with several light-up touch-sensitive buttons under the rim near the bottom of the screen as well. There you can brighten up or dim down your display, change sound levels, and adjust what's on your screen with a touch in several other ways.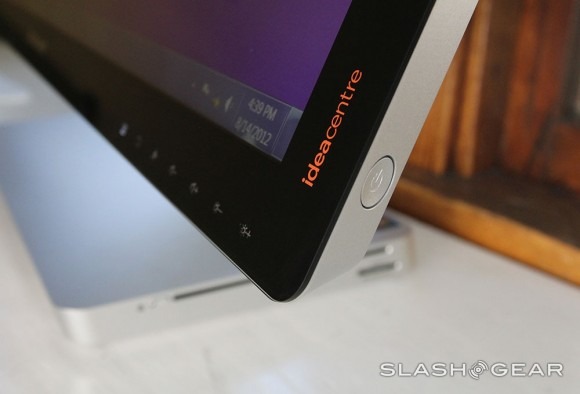 The bottom left of the machine has two HDMI ports, one in, one out. There you can connect with your smartphone – as most smartphones now have such a connection in one way or another, or you can push content out to a much more major-league HD display. In other words, you can make this computer the biggest wired remote control of all time!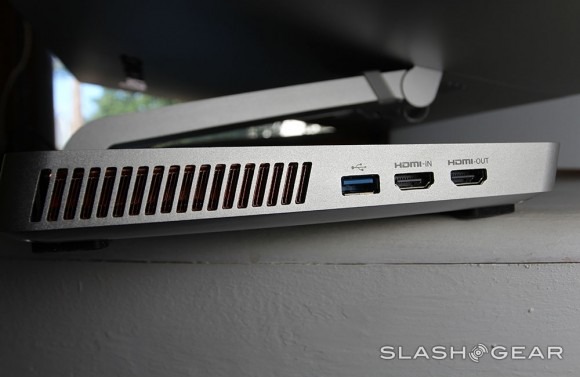 You also have one USB 3.0 port on that side and three USB 2.0 ports on the back. Also on the back is your power port and Ethernet port as well. Then there's your ability to adjust the display. The whole computer is massively heavy – ringing in at 11.6kg or 25.6 pounds. You'll be able to view the display anywhere between 90 degrees straight up and down and 0 degrees (flat). Moving the display (as demonstrated in our hands-on video below) is extremely easy yet keeps the machine tight in place wherever you want to leave it.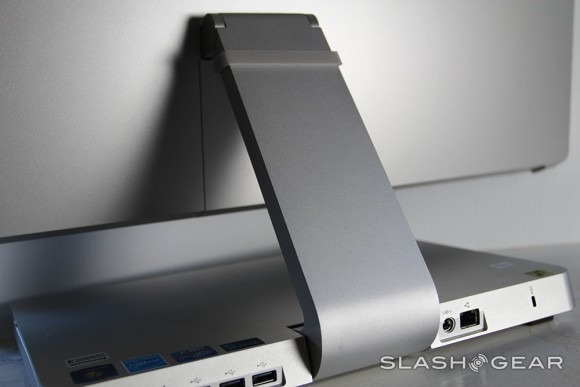 The speaker grilles you've got up front of the base are part of this machine's Dolby Home Theater v4 setup, and they sound rather nice. This machine presents one of those situations where you wont be needing additional side-speakers all around just to hear it across the room – you're set! Along the right side of the base of the machine you've got a Blu-ray Disc slot where you'll be able to read and burn Blu-ray disks as well as CDs and DVDs.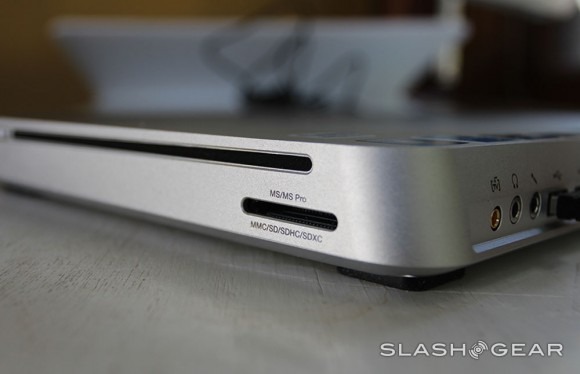 Also included in the review pack we've received is the optional TV tuner so we can pick up some sweet channels and make this an even more inclusive device. This package also includes an IR Windows Media Center remote control which has worked like a charm with the included receiver which you simply plug in to the machine and click away.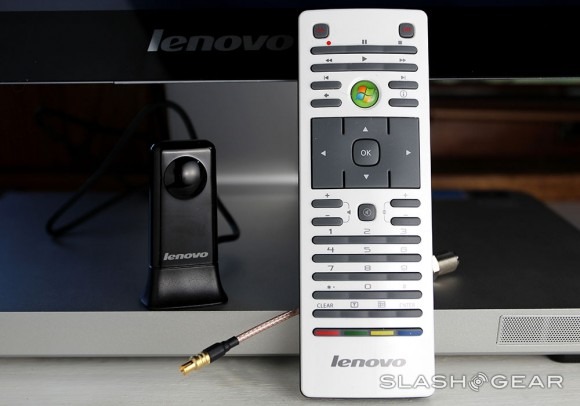 Up top on the front of the screen you've got a 720p HD webcam so you'll be able to Skype the whole night through – and also make use of some brand new interactive Kinect-like games as well (you'll see more of this in our hands-on video below as well.) Have a peek at some additional features inside this device in the following readout:
[sgbenchmark id=174 show=system]
Software
For graphics you've got a lovely NVIDIA GeForce GT630M 2GB discrete graphics which you'll certainly need to love as there aren't any options for switching when you pick up this machine. That said, we've had no problem working with any game that's been thrown at the machine with Batman: Arkham City flowing like a charm and Diablo III having no graphics issues to speak of. Playing Batman with a wireless game pad and this massive display was an extra treat as the hardware lends itself to a pushed-back appearance. In other words, there's nothing to distract from the fun.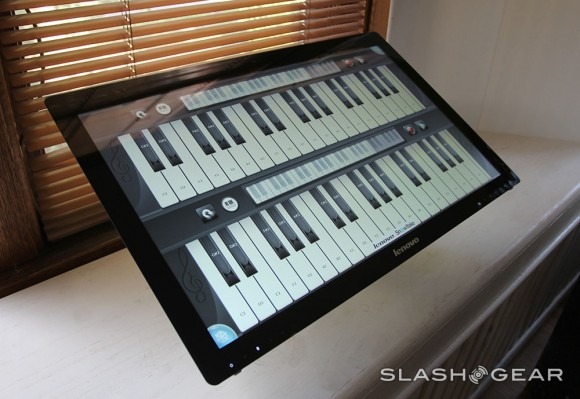 Because this is a touchscreen-centric device, Lenovo has included a hub where you can play a set of games that work entirely with touch. You've got 10-finger touch sensitivity, which makes things rather interesting for the updated Pong they've got ready for you, and you can play the keyboard as well – the musical keyboard, that is. This system is demonstrated in the hands-on video we've got prepared for you right here, as it were.
You'll see that not only does this computer make use of its touchscreen surface to make music and to play games, it's ready to make use of the camera as well to play some interesting video games. The camera-centric games aren't nearly as fine-tuned as the touchscreen games, which is why you won't see them advertised as a feature on this system. They are there though, and they're fun to work with. Windows 7 is here as well, and it's clear that though this system is working with a perfectly legitimate set of extras (like a pull-out onscreen keyboard) to make your experience nice in the meantime, Lenovo has prepared this system for Windows 8 – that's not an official statement from them, but it seems pretty clear when you're working with the machine.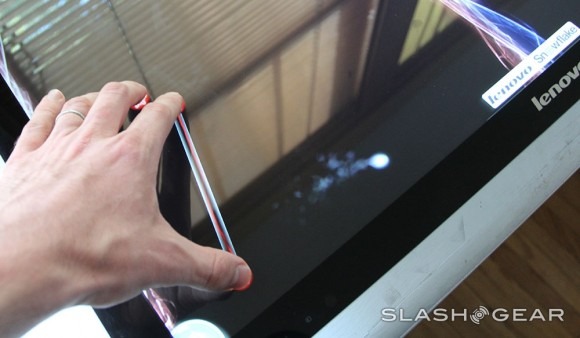 As for performance, you'll find this machine working perfectly well for an all-in-one system, and with the quad-core i7 under the hood, you're good to go for processing video and playing hardcore games at your leisure. Of course it's no beastly custom-made gaming computer, but it's really not meant to be. What you've got here is more an entertainment machine than a workhorse.
[sgbenchmark id=174 show=score]
It would be nice to have a more vast collection of touch-friendly applications out there in the world of Windows 7 right this minute, but alas, someone has to go first with the hardware. You'll find Angry Birds and Fruit Ninja – as well as the awesome two-finger version of space hockey – to be more than enough to play with until the new wave of touchscreen apps comes on later this year.
Wrap-Up
The Lenovo IdeaCentre A720 is a home run for Lenovo. You won't find a better touchscreen PC for this price, not until Windows 8 makes touchscreen PCs a commodity. For now they're still somewhat of a rarity – and this machine is one of the good ones. This machine is well worth the cash and ready to be your school or home-friendly all-in-one computer right this minute. You'll find this all-in-one monster available online right now for right around $1849 straight from Lenovo.