Lenovo goes official with C100 all-in-one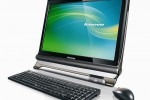 Lenovo has gone all officially official with the C100 all-in-one we scoped back in August. We already knew quite a bit about the machine like the fact that it would have an 18.5-inch 16:9 LCD and pack all its tech inside the monitor.
The C100 all-in-one PC is only two inches thick and can be optioned with either an Intel Atom 230 single core CPU or an Atom 330 dual core processor. A DVD burner is integrated into the machine and the system has four USB ports.
Lenovo also installs software that it thinks you will need like Lenovo System Recovery with OneKey Antivirus and OneKey Recovery. The machine is available right now at retailers starting at $399.