Lenovo G455 and G555 plus touchscreen C315 desktop outed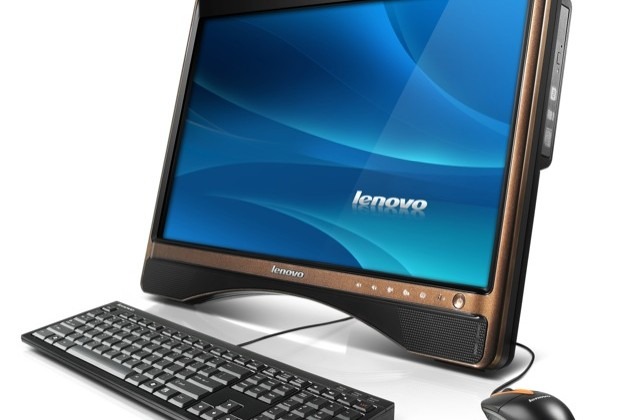 Lenovo have announced two new consumer notebooks, the Lenovo G455 and G555, along with an all-in-one touchscreen desktop, the Lenovo C315.  The company haven't confirmed full specifications as yet, but we do know that both notebooks use AMD Turion II dual-core processors and Radeon HD graphics, while the 20-inch C315 desktop gets an Athlon CPU and 4GB of memory.
All three machines run Windows 7, and the touch-enabled C315 gets Lenovo IdeaTouch, a bundle of homegrown finger-friendly multimedia apps including PowerCinema, AutoCollage and VeriTouch.  VeriTouch takes on the difficult challenge of making logging in to Windows 7 "fun and interactive", one area of the OS we never realized needed an injection of joy.
Pricing for the Lenovo G455 and G55 kicks off at $449, while the Lenovo C315 starts at $649.  The notebooks will begin shipping from March, while we'll have to wait until April for the touchscreen desktop.
Press Release:
New Lenovo Brand PCs Deliver Ultimate Performance and Reliability

Introduces First Lenovo Consumer Notebooks and All-In-One PC with the Latest Technology from AMD

RESEARCH TRIANGLE PARK, N.C., Feb 11, 2010 (BUSINESS WIRE) — Lenovo (HKSE: 0992) (ADR: LNVGY) today announced three new PCs for consumers — the Lenovo G455 and G555 notebooks and the Lenovo C315 all-in-one desktop — all based on the AMD platform featuring innovative Lenovo software to improve the overall computing experience. Designed for mainstream consumers, they support up to the latest AMD Turion(TM) and Athlon(TM) processors and ATI graphics. With Lenovo applications such as OneKey(TM) Rescue System and Energy Management on the G455 and G555 and IdeaTouch multitouch applications on the C315, these new PCs deliver affordable, dual-core, worry-free computing.

"Our new G series notebooks and C series all-in-one desktop are designed for users who want a simple but powerful computing experience without any headaches," said Dion Weisler, vice president, Business Operations, Lenovo. "By working closely with AMD engineers and leveraging AMD advanced technologies, we have created products that offer superior performance in the areas of graphics and power efficiency at an affordable price point."

"These innovative Lenovo notebooks and all-in-one desktop solution are prime examples of how VISION Technology from AMD helps our key partners design compelling consumer products," said Rick Bergman, senior vice president and general manager, AMD Products Group. "The expanded technology partnership with Lenovo demonstrates our commitment to deliver solutions that meet the evolving needs of the mainstream consumer market."

Lenovo G Series Notebooks for Versatility and Reliability with Affordable Appeal

The Lenovo G445 and G555 notebooks include 16:9 widescreen High-Definition displays and support up to an AMD Turion(TM) II Dual-Core processor and ATI Radeon(TM) HD integrated graphics. Users can enjoy rich digital content with High Definition video and DirectX(R) 10 for running Windows 7 as advanced graphics features such as Aero Peek and Aero Flip. These stylish notebooks boast an ergonomic keyboard designed for rigidity and support to improve typing accuracy and key responsiveness. Both the G455 and G555 come with Lenovo Energy Management 5.0 which lets users select from several energy-saving modes to help decrease energy consumption and extend battery life. Energy Management 5.0 also protects the long-term durability of a PC's battery by preventing unnecessary recharges. These notebooks also feature OneKey(TM) Rescue System, a one-touch backup, repair and recovery tool, as well as VeriFace(TM) facial recognition, which give users a fun and interactive way to log on to the PC.

Lenovo C315 All-In-One Delivers Multitouch and Entertainment for the Interactive Family

The new Lenovo C315 allows consumers to enjoy videos, music and games without sacrificing computing power and ease-of-use. The C315 comes with a large 20-inch, High-Definition16:9 widescreen display and NaturalTouch touch screen technology, making it a great addition to any room in the home. With AMD Athlon(TM) dual core processors, 4GB of memory and ATI Mobility Radeon(TM) graphics, C315 offers dependable performance in a compact and stylish design. The C315 also features Lenovo IdeaTouch – a suite of touch-optimized multimedia applications, which includes PowerCinema, AutoCollage and VeriTouch(TM) software that adds a fun and interactive way to log in. In addition, AutoCollage automatically creates a collage from any selection of photos on the PC — an exciting way to enjoy photos of family and friends.

Pricing and Availability

The Lenovo G455 and G555 notebooks start at $449 and will be available in the U.S. beginning in March. The starting price of the Lenovo C315 all-in-one desktop is $649. It will be available in the U.S. beginning in April.

For the latest Lenovo news, subscribe to Lenovo RSS feeds and follow Lenovo on Twitter and Facebook.

About Lenovo

Lenovo (HKSE: 0992) (ADR: LNVGY) is dedicated to building exceptionally engineered personal computers. Lenovo's business model is built on innovation, operational efficiency and customer satisfaction as well as a focus on investment in emerging markets. Formed by Lenovo Group's acquisition of the former IBM Personal Computing Division, the company develops, manufactures and markets reliable, high-quality, secure and easy-to-use technology products and services worldwide. Lenovo has major research centers in Yamato, Japan; Beijing, Shanghai and Shenzhen, China; and Raleigh, North Carolina. For more information see www.lenovo.com.