Lenovo battery recall impacts six model ranges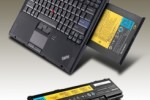 We may receive a commission on purchases made from links.
Lenovo have issued a battery recall for certain ThinkPad models, which may either throw up "irreparable damage" or "battery cannot be charged" error messages, or simply have unusually low capacity.  The issue affects models from the company's ThinkPad T60, T61, R60, R61, X60 and X61 ranges, though only specific batteries for those notebooks.
A battery diagnostic tool is available on the company's site to check whether a user's power pack is affected and, if so, if they are eligible for a free replacement.  No word on how long it will take for that replacement to appear, nor how many affected machines there may be, but Lenovo are insisting that the problem causes no safety issues to users.