Lenovo-Backed ZUK Z1 Goes International In October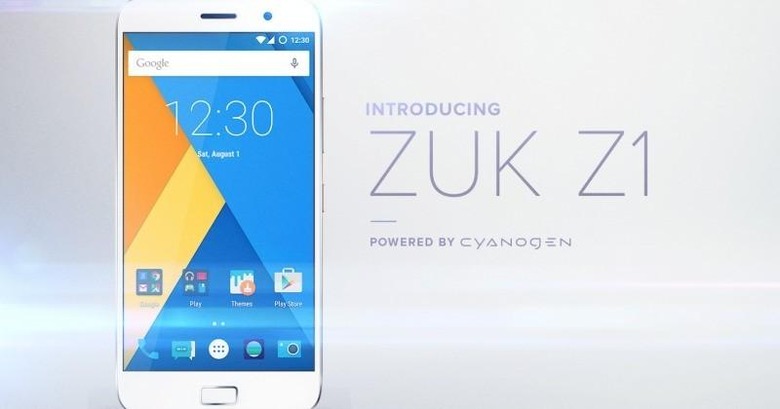 You may never have heard of the company ZUK before, but that's OK. For one, it's completely new and for another, it's still confined to China. The latter, however, will be changing in two months, as the ZUK Z1, the company's first smart smartphone, will be making its way to still unnamed international markets, trying to repeat elsewhere the spurt of popularity that it enjoyed in China. And with the ZUK Z1 will come Cyanogen's second device after the OnePlus One to make its international debut as well.
ZUK is curious for two particular reasons. The first is that it is backed by Lenovo and is practically seen as Lenovo's online-only mobile brand. Lenovo has been trying to come up with ways to increase its chances in the mobile market, partly by trying to imitate Xiaomi's business model of taking most of its business, both sales and customer service, online. But ZUK also comes at a time when Lenovo is also girding up its loins because of losses in that particular market.
The second appeal of ZUK, particularly the Z1 smartphone, is Cyanogen. The Android version for the Chinese version has not been named but, for the international version, ZUK and Cyanogen announced their new partnership. This is Cyanogen's third biggest OEM partnership and its second to go worldwide. The first was with OnePlus, which eventually ended up in a messy divorce. Cyanogen's exclusive tie up with Micromax, on the other hand, is limited to India. ZUK Z1 could, in theory, help bring Cyanogen's goal of a Google-free Android OS to more people. Whether or not it will succeed in doing so it a different story.
The ZUK Z1 itself is a strange mix of high and low end specs. The 5.5-inch screen, for example, only reaches Full HD and the CPU is a rather dated Qualcomm Snapdragon 801. The RAM, on the other hand, boats 3 GB and the 64 GB storage is no small matter either. The 13 megapixel rear camera sensor comes from Sony and the front camera flaunts 8 megapixels with an f/2.2 aperture. It has a large 4,100 mAh battery which is complemented by Qualcomm's Quick Charge tech. And to complete the list of buzzwords, it also sports a USB Type-C port. The Z1 features a rather odd U-Touch home button that not only has a fingerprint sensor but also acts as multi-tasking, back, and menu button all in one.
Cyanogen reveals that the international version of the ZUK Z1 will make its rounds by mid-October though no specific date has been given. The price is also still up in the air, though it shouldn't stray too far from the 1,799 RMB ($290) price tag in China, which does make the smartphone look a bit appetizing.