Lenovo announces the Windows 8-optimized ThinkPad X1 Carbon Touch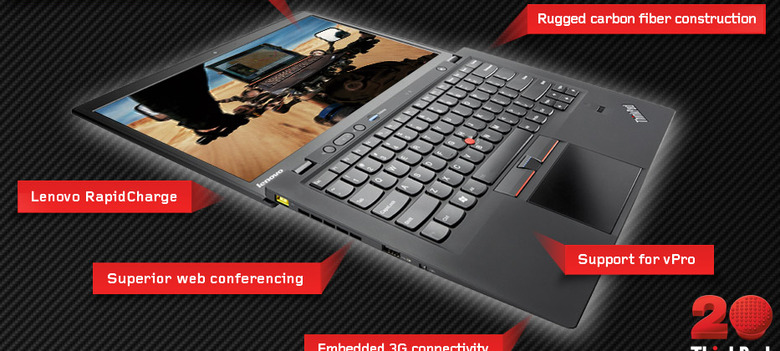 Lenovo has announced the world's lightest 14-inch touch laptop, the X1 Carbon Touch. This laptop is optimized for Windows 8, and is made from carbon fiber, hence its name. We first saw the machine when it popped up on Lenovo's website on November 20, only to be taken down again a short while later, providing some tantalizing details and little else.
The X1 Carbon Touch features a 14-inch HD+ display with 10-finger touch support, as well as a multi-gesture touch pad. The machine weighs in at only 3.4lbs, and is 20.8mm thick, making it a nice combination of portable and durable. The AC adapter is designed to be light and portable as well, boasting a weight 235g, about 53-percent less than your average laptop charger.
Inside you'll find an Intel Core i5 (or i7, depending on configuration) processor, as well as Dolby Home Theater v4 audio technology. The Carbon Touch boasts the title of first ultrabook that is certified as Microsoft Lync optimized. It offers an HD face-tracking camera and dual-array mics for high-end video conferences and recordings.
Lenovo Product Group's President Peter Hortensius offered this statement. "Bringing touch gesture control to our best ThinkPad ever is a natural evolution of the portfolio and a big step towards fulfilling our promise to bring computers into a new PC+ era. We are excited to be able to offer customers the best experience in a thin and light business class Ultrabook. The X1 Carbon Touch is the Ultrabook to beat." The laptop is available now starting at $1,499.
[via Lenovo]