ThinkPad X1 Carbon Touch unveiled on Lenovo's website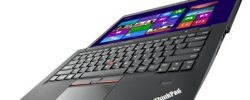 While we're not sure if it was deliberate or just an accident, some information about Lenovo's newest touchscreen ultrabook, the ThinkPad X1 Carbon Touch, has popped up on the company's website. The webpage teases visitors with a product shot of the new ultrabook, but not much else except a release date of sometime in December. However, the page has since been taken down, so we're guessing it was an accidental leak on Lenovo's part.
Optimized for Windows 8, the touch-friendly ThinkPad ultrabook doesn't have a lot of details to go along with it, but we do know it'll be available at some point in December and it will run Windows 8. Then again, if the touch-enabled ThinkPad is anything like the non-touch version, we should see some of the same specs on the inside.
Lenovo claimed the non-touch ThinkPad X1 Carbon as the world's lightest business-class 14-inch laptop, so we're guessing the touch-enabled version will tout a similar claim. It weighs just under 3 pounds and measures 0.74 inches thick. It packs up to an Intel Core i7 processor, Intel HD Graphics 4000, up to 8GB of DDR3 memory, 128GB or 256GB SSD, and Dolby Home Theater v4 sound, with pricing starting at just over $1,100.
However, the X1 Carbon Touch will feature a 14-inch "HD+" (most likely 1600x900) display with 10-finger multi-touch support and also full support for Windows 8 touchpad gestures. Other than that, Lenovo just mentions that it's "thin and light" and has a "carbon-fiber construction," just like the original ThinkPad X1 Carbon ultrabook.
[via The Verge]