Lenovo 2010 Roadmap Leak Tips X201 Tablet, W701 Workstation, More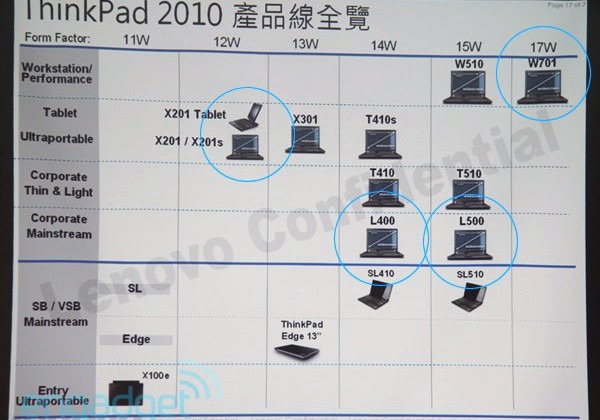 You're nobody in the tech world if you haven't got a leaked roadmap out in the wild, and Lenovo join the heady ranks today with their 2010 lineup splayed open.  The slide details several previously-unseen models, including the X201 tablet and X201/X201s ultraportables, the W701 performance workstation, and the L400 and L500 mainstream notebooks.
Of course, the roadmap doesn't detail anything in the way of specifications, which leaves us pretty much guessing as to what each model will deliver.  The X201 range is likely to be a reasonably incremental update on top of the X200 Tablet we reviewed last October, likely bringing Intel's latest CPUs on board, while the W701 has already been spotted clearing the FCC with an Intel Core i7 processor.
As for the L400 and L500 models, we'd guess at 14-inch and/or 15-inch displays and perhaps some Core i5 processor action.  Of course we'll have to wait to later in the year to find out for sure.