LEGO Star Wars Cloud City: Why this one's unique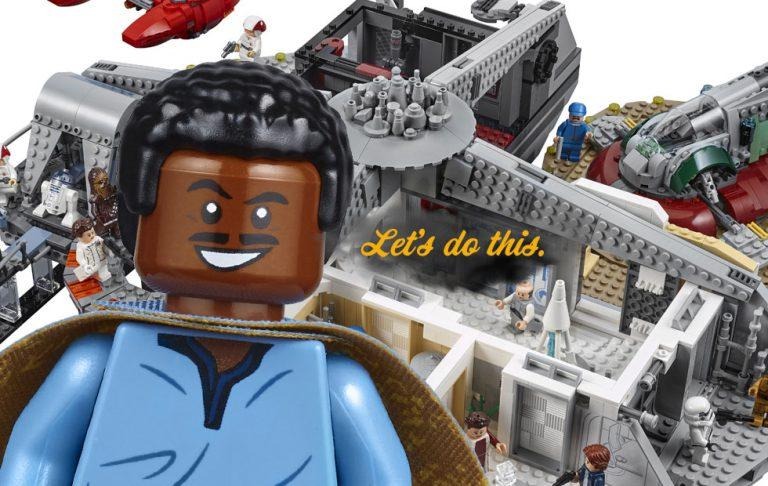 The time at which Star Wars and LEGO have reached peak insanity is now. Here, in 2018, we've gotten back to the point at which the most fabled and legendary of original Star Wars LEGO sets was hatched is back. This is Star Wars: Cloud City, in LEGO form. If you're a hardcore Star Wars LEGO collector, you know the original is basically unattainable. If you're new to the game, you'll understand why this set's reboot is about to keep with the tradition of mind-boggling largeness.
Floating above the gas planetoid Bespin is the tibanna gas mining operation in Cloud City. It's here that the main climax of the film Star Wars: The Empire Strikes Back takes place. It's here that we meet our most favorite of Star Wars characters, the always fashionable, smooth, and beautiful Lando Calrissian.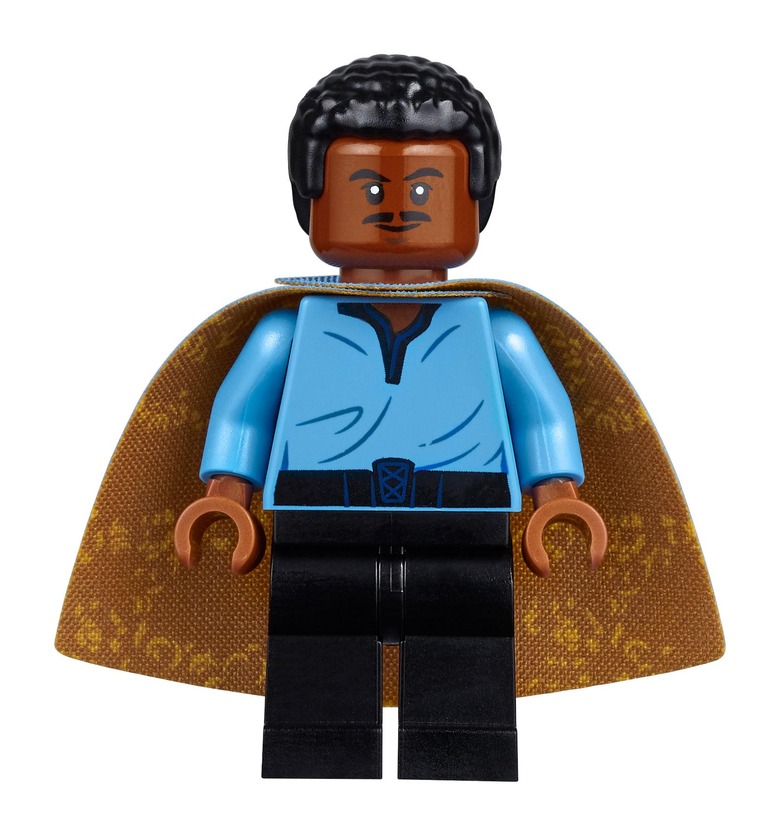 While Lando no longer rolls with his original Kessel Run-style Millennium Falcon, he's got an entire town to keep track of. This new edition of the most massive original Star Wars LEGO set features four individual sections. As LEGO revealed today, each one of these sections is basically a set in and of itself.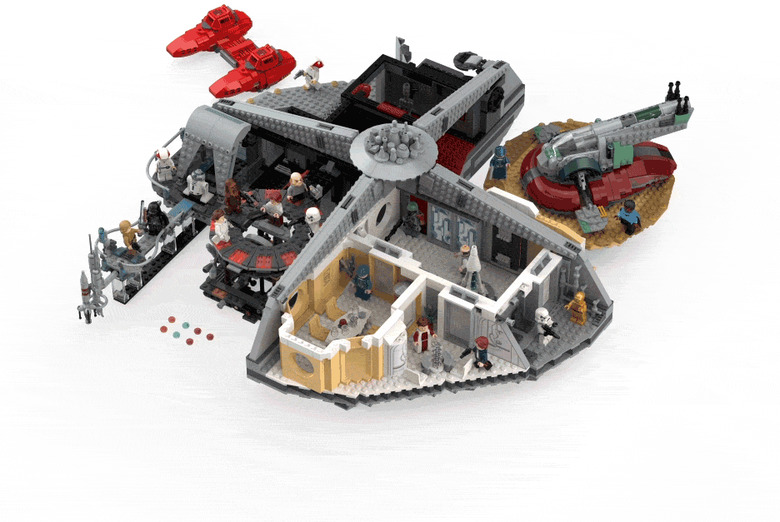 "I saw a city in the clouds..." – Luke Skywalker
Section 1: The landing platform from whens Boba Fett's Slave 1 removes Han Solo from the clutches of the Empire. This section of the city features an actual Slave 1 ship for Boba Fett – easily the cutest and most chibi version of the ship yet created by LEGO.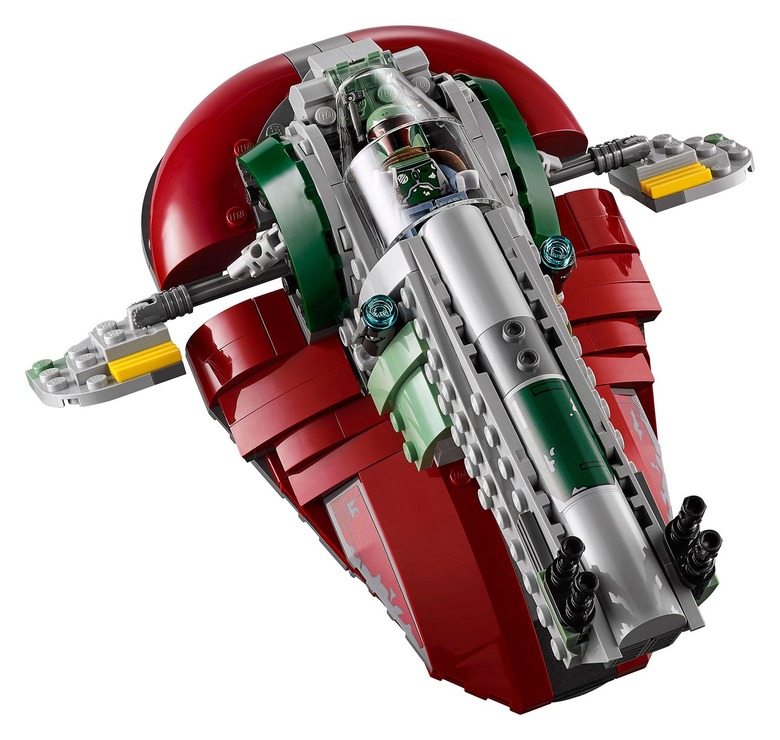 Section 2: The dining room where Darth Vader invites his guests for a fun meal full of negotiations. This section also features the room where C-3PO happens upon hidden Stormtroopers, the room where Leia expresses concern over C-3PO's absence, and a lovely original-style Cloud City corridor.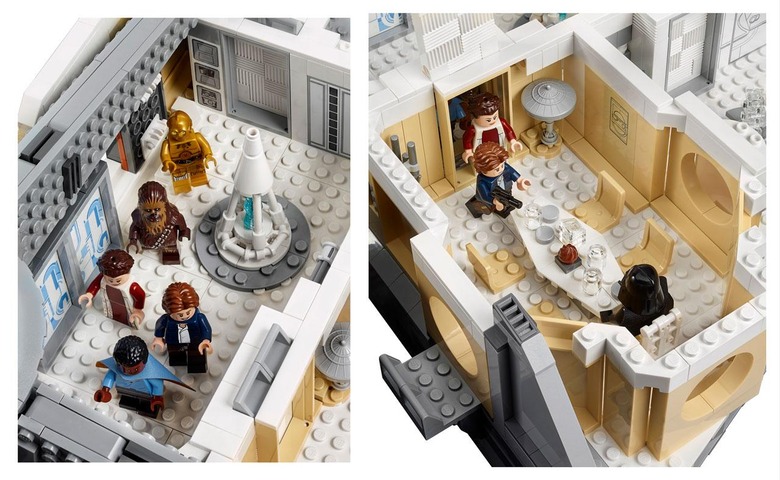 Section 3: This is probably the most dark section of the four. Here we've got a dark corridor where evil deals go down. We've got the garbage incinerator with conveyor belt – complete with deactivated IG droid, just like the easter egg in the film. We've got the RED corridor where Lando says "this deal is getting worse all the time."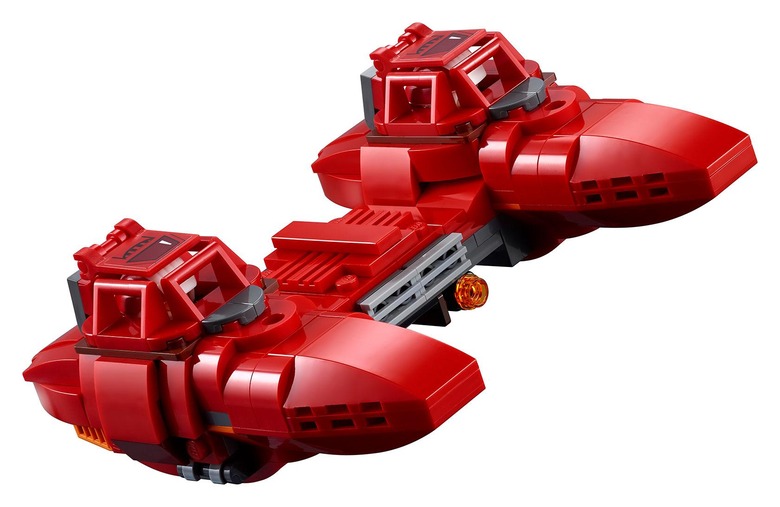 We've also got the interrogation room, complete with interrogation sparky-ouch-zap chair thingy. That's where Darth Vader zaps Han Solo a bunch so Luke will see him in pain in his visions of the future.
"They didn't even ask me any questions..." – Han Solo
Section 4: The most epic of sections. It's here that we've got the miniaturized version o the Carbon Freezing Chamber. Interesting here will be the differences between this and the big-style version of the chamber released last year – that's LEGO set 75137, 231 pieces (retired set).
Section 4 also features the bridge to nowhere, the place where Luke discovers the true nature of his father's disappearance. Feel free to bust out your own Star Wars sound board to make sure Luke's falling down is accompanied by the proper NOOOOOOO!!!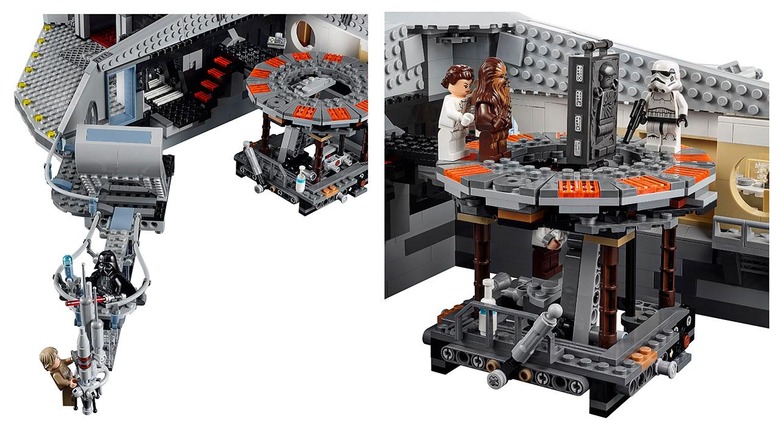 This set includes a number of elements that are either entirely new or newly modified. For example you'll find "Lobot's cybernetic band" – something I can't imagine was ever produced as a toy on its own, ever before, LEGO or otherwise.
Per the official description of this set, "New minifigure details include Leia's red dress, Han's Corellian blood stripe, Luke's dark-tan Dagobah outfit, the Ugnaught's head decoration and the cloud car pilots."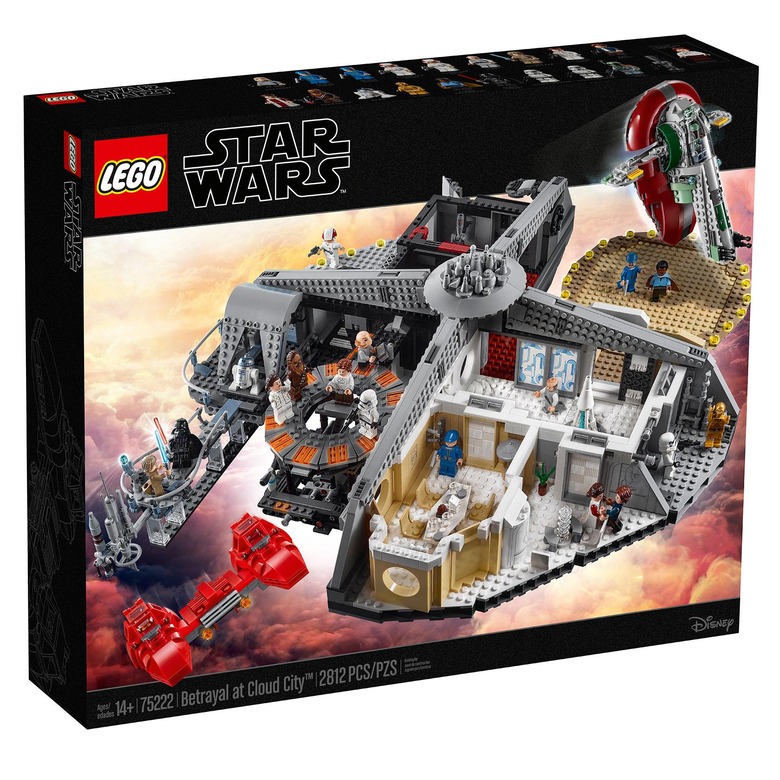 This new LEGO Star Wars Cloud City measures in at over 6-inches (16cm) tall, 22-inches (58cm) wide, and 22-inches (56cm) deep when fully constructed. This is set number 75222 "Betrayal at Cloud City." It comes with 2,812 pieces and will ring in at US $349.99 –CA $399.99 –DE 349.99€ –UK £299.99 –FR 349.99€ –DK 2999DK. Release will take place at LEGO Stores and LEGO online from October 1st, 2018, and VIP availability starts on September 13th.