LEGO Movie 2 Minifigure Packs Revealed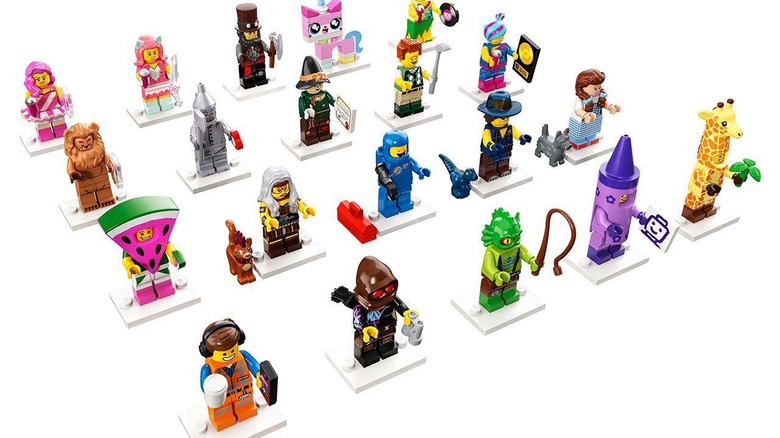 Today we're taking a peek at the first wave of Minifigure blind packs from the movie which is forthcoming. This is a release similar to that of the blind bag collection released with the first movie, with both main, major characters and minor, obscure characters in the mix. This might well be the only place you're able to find some of these oddities – and they're all wild, of that you can be sure.
Each of these little characters comes with one or more accessory element, as well as a "unique display baseplate." That's a new one, as previous releases had only the black plates for every single character. This collection has 20 characters from The LEGO Movie 2, including new-for-February-2019 elements aplenty.
New elements include all of the following:
• Emmet's headphone wig
• Lucy's Hood
• President Business's golf club
• Apocalypse cat
• Abraham Lincoln headpiece
• Rex's Fedora/Wig
• Watermelon costume
• Giraffe costume
• Dorothy's hairpiece
• Tin Man's Hat
• Scarecrow's Hat
• Cowardly Lion's Mane
If you'll take a peek at the list there you'll find that the last four elements are all from The Wizard of OZ. Much like several previous releases, LEGO is using The LEGO Movie 2 to bring more intellectual property into the mix – including some they previously only released to the video game LEGO Dimensions.
• Awesome Remix Emmet
• Battle-Ready Lucy
• Apocalypse Benny,
• Giraffe Guy
• Crayon Girl
• Sherry Scratchen-Post & Scarfield
• Hula Lula
• Watermelon Dude
• Flashback Lucy
• The Swamp Creature
• Candy Rapper
• Gone Golfin' President Business
• Apocalypseburg Abe (Lincoln)
• Vest Friend Rex
• Kitty Pop
• Dorothy Gale & Toto
• Cowardly Lion
• Scarecrow
• Tin Man
• One super cute new Unikitty figure!
This set includes all the characters listed above. Once we get to know the LEGO Movie 2 minifigures dot patterns, we'll let you know those as well. Gotta catch em all, after all, be you in the United States where these will cost $3.99, or Canada where they'll cost $4.99 CAD. These blind packs will be available in stores everywhere starting on February 1st, 2019.