LEGO Minifigures Online hast left its Beta once again, this time bringing a serious effort without the "free-to-play" nonsense of the past. This version of the game, being released for the first time today, will cost you – but only one time. Once you've got the game, the only paying you'll be doing is if you'd like to buy your own minifigures in real life – in physical toy stores – allowing you then to enter codes to gain access to the figures you've purchased. Other than that, you're free to go wild. This version of the game is the first to launch cross-platform on Windows PC, OS X, Linux, iOS (iPhone), and Android, all at once.
The first version of the game to be released to the public just wasn't working. That's what LEGO creators at Funcom told us this past week when we got our first hands-on experience with this newest version of the game. Instead of continuing to work with a broken model, with a game that fans just weren't latching onto, the Funcom crew moved forward with a new model – just the opposite – one where you pay once and access the whole lot.
What we've gotten to play so far has been a riot.
While the game is made with the overarching LEGO brand "everyone should be able to safely enjoy this product" sort of ethos, adults are going to be able to have just as much fun as tiny tots.
LEGO Minifigures Online is like the LEGO version of the game Diablo. So much so, as it turns out, that there's a Secret Cow Level. While we're not going to ruin it for you and show you exactly what we mean, know this: this secret level isn't filled with cows, it's filled with chickens.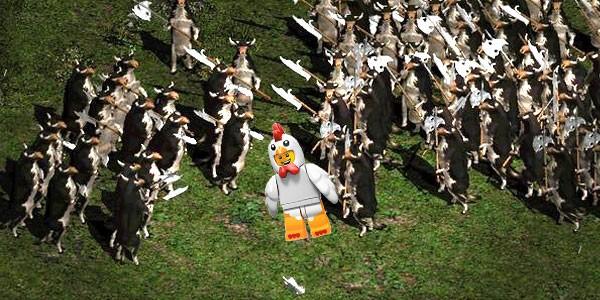 This game is a hack-and-slash sort of adventure, where you run around bashing your enemies – or firing pizzas at them, or dropping music notes from your saxophone, or shooting alien blaster rays. It's a diverse sort of environment.
Each minifigure has his or her own unique abilities, and you have the option of working with three minifigures at a time. Choose wisely, but know that you're always going to be in a world where the difficulty level isn't too far above what your 8-year-old niece or nephew can handle.
It's a game for kids and it's a game for adults, but it's made to be appropriate for kids first and foremost. Keep that in mind when you're chatting live with friends online.
This game is launching this week through the PlayMinifigures portal – let us know your name, we'll find you – we'll quest together!
Or you could just wait for LEGO Dimensions – a completely separate but equally epic game in the works right this minute.