LEGO Avengers SHIELD Helicarrier revealed: very massive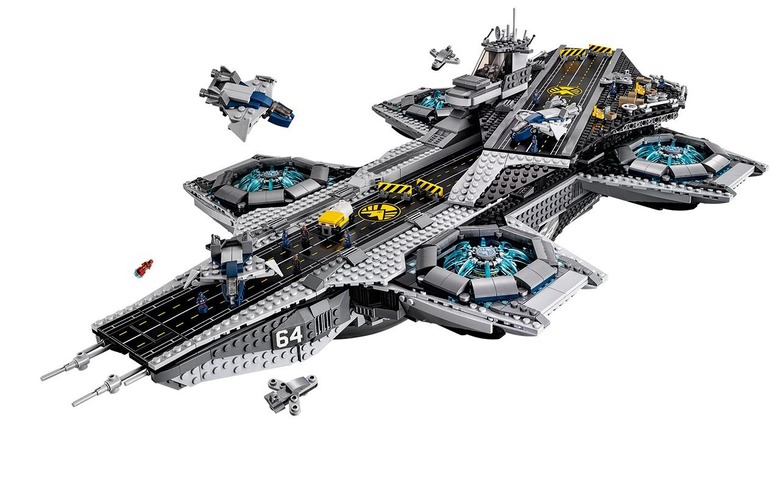 To be entirely clear up front, this model does NOT reflect what we're about to see in the Avengers: Age of Ultron film. Instead, this is a set made based on the first Avengers film, already released in theaters and long since placed on Blu-ray, DVD, etc. This particular set also reminds us that there's more than one scale at which LEGO sets are built – this one contains several super tiny minifigs (called MICROfigures) that allow this set to exist on a scale that's reasonable for the average builder.
A real standard minifig-scale SHIELD Helicarrier would be big enough to fill your living room. This one is made to work with minifigs that are just one peg big – microfigures. In this set you'll get 12 microfigures – Nick Fury, Hawkeye, Captain America, Iron Man and 8 SHIELD agents.

Just so you're not weeping in the corner at the idea of getting no standard minifigs with this set, you'll also be getting Nick Fury, Black Widow, Captain America, Hawkeye, and Maria Hill in standard minifig format – plus a SHIELD eagle stand to display them on.

At 2,996 pieces, this model is even larger than the MetalBeard's Sea Cow set we reviewed last year. Super gigantic!

While you'll be able to turn the rotors of the Helicarrier manually, you can also make them move with 88000, 8883 and 8870 LEGO® Power Functions sets (sold separately) – lights too!
This set is over 11-inches high, 31-inches long, and 17-inches wide. So you'll need to make room for it.
76042 The SHIELD Helicarrier is not made for tiny children – it's rated one of the highest age ranges of any LEGO set at 16 years or older. This set comes in at US $349.99 – CA $399.99 – DE 349.99€ – UK £269.99 – DK 2999.00 DKK and further pricing will vary based on country.